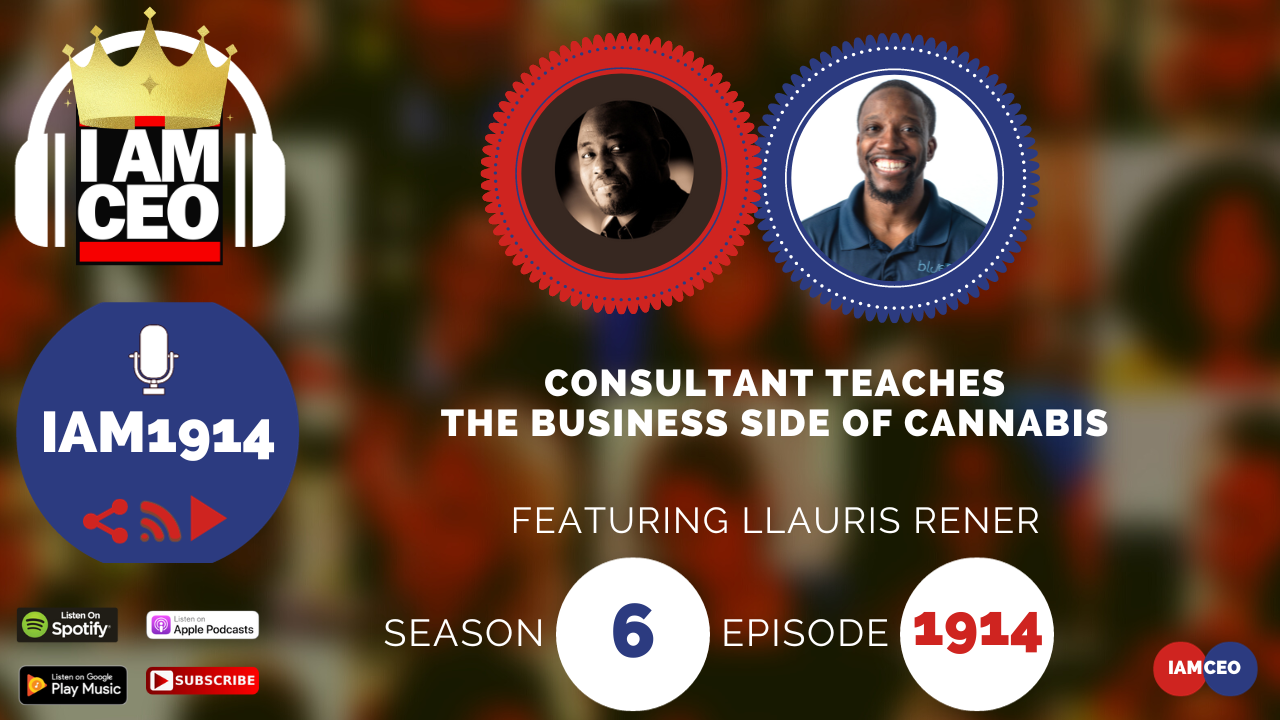 Why it was selected for "CBNation Architects":
In this episode, the guest speaker is Llauris Rener, the creative director and founder of 710 Squared and lead instructor of Green Skooled.
Key Points:
710 Squared and Green Skooled: These platforms teach the business side of Cannabis.
Llauris Rener's Background: Having lectured across the United States on branding, visual vocabulary, viral video marketing, user experience design, and sales. He served as a re-branding board member of CEO SPACE International and has been a faculty member for many years. Rener is referred to as 'The Branding Guy' and his skill set is diverse.
Experience: Over a decade ago, Rener produced the first educational car detailing web series, Final Touch TV, which has achieved over a million views on YouTube. Today, Rener is an accomplished consultant, strategist, educator, and designer. His client portfolio includes Fast Frame, Wendy Ida Fitness, Bombay Saphire, John Leslie Brown, and many others undisclosed due to non-disclosure agreements.
CEO Hack: Rener is a big proponent of listening to audiobooks for learning and inspiration.
CEO Nugget: He believes that the best customers one can have are the most uneducated ones, implying that there are opportunities in educating and nurturing customers about one's product.
CEO Defined: For Rener, leadership comes down to action.
Check out our CEO Hack Buzz Newsletter–our premium newsletter with hacks and nuggets to level up your organization. Sign up 
HERE
. 

I AM CEO Handbook Volume 3
 is HERE and it's FREE. Get your copy here: 
http://cbnation.co/iamceo3
. Get the 100+ things that you can learn from 1600 business podcasts we recorded. Hear Gresh's story, learn the 16 business pillars from the podcast, find out about CBNation Architects and why you might be one and so much more. Did we mention it was FREE? Download it today!
Transcription:
The full transcription is only available to CBNation Library Members. Sign up today!
Llauris Rener Teaser 00:00
So content creation hacks, how to get PR and high-end publications like Wired or Wall Street Journal and how to get reporters to come to you. So a lot of growth hacking, content creation strategy, brand strategy.
Even how to raise capital, how to be attractive to VCs and, people who have money to pump into your business to be able to expand your footprint.
Intro 00:26
Do you want to learn effective ways to build relationships, generate sales, and grow your business from successful entrepreneurs, startups, and CEOs without listening to a long, long, long interview?
If so, you've come to the right place. Gresham Harkless values your time and is ready to share with you precisely the information you're in search of.
This is the IAMCEO podcast.
Gresham Harkless 00:53
Hello, hello, hello. This is Gresh from the IAMCEO podcast, and I appreciate you listening to this episode. If you've been listening this year, you know that we hit 1600 episodes at the beginning of this year. We're doing something a little bit different where we're repurposing our favorite episodes around certain categories, topics, or as I like to call them, business pillars that we think are going to be extremely impactful for CEOs, entrepreneurs, and business owners, or what I like to call CB Nation architects who are looking to level up their organizations.
This month, we are focused on innovation, disruption, women entrepreneurship, DEI, gig economy, remote economy, even the cannabis industry. Think about these industries and these disruptive technologies that really sometimes aren't as disruptive. But there are people that are just paying attention to what the market needs, and they're providing that. So really think about the things that are quote and quote outside of the norm, but really help entrepreneurship to grow and fully develop.
I think it's an extremely exciting time when we're talking about any type of innovation or disruption, because I think that there are so many opportunities and needs that aren't felt that are starting to be filled by different groups, different organizations, or even different industries. So what I want you to do is sit back and enjoy this special episode of the IAMCEO podcast.
Hello. Hello. Hello. This is Gresh from the IAMCEO podcast and I have a very special guest on the show today. I've Llauris Rener of 710 squared. Llauris, it's awesome to have you on the show?
Llauris Rener 02:17
Thank you. Thank you for having me.
Gresham Harkless 02:19
No problem. Super excited to have you on. And what I want to do is just read a little bit more about LLauris, so you can hear about all the awesome things that he's doing.
Llauris, is the creative director and founder of 710 squared. He is also lead instructor of green school where they teach the business side of cannabis, Mr. Rener has lectured coast to coast on the rudiments of branding, visual vocabulary, viral video, marketing sales, and user experience design.
He served as the only African American on the rebranding board of CEO space international and was a distinguished member of their faculty for many years, often known as the branding guy. His skillsets are incredibly diverse. Over 10 years ago, he produced the first educational car detailing web series final touch TV, which has grossed over a million views on YouTube.
Today, Mr. Rener is a highly accomplished and sought after consultant, strategist, educator, and designer. He has worked with a plethora of clients that include Fast Frame, Wendy, IDA Fitness, Bombay Sapphire, John Leslie Brown, and many other clients whose names can't be divulged because of standing non-disclosure agreements.
Llauris, are you ready to speak to the IAMCEO community?
Llauris Rener 03:23
I am ready.