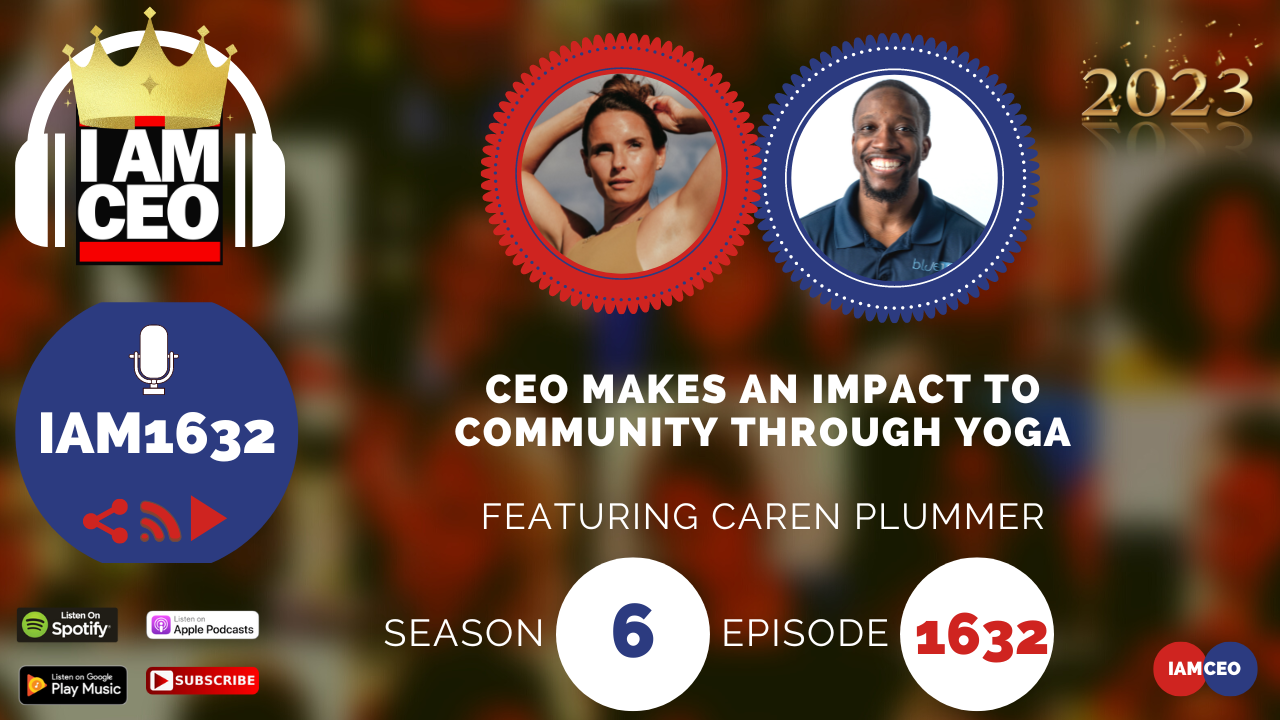 Why it was selected for "CBNation Architects": Speaking with Caren, it was so powerful to hear how powerful an impact our passions, gifts, and even organizations can be for ourselves but also other people's lives and building those communities. For Caren, it was Yoga and she used it as a way to tackle community causes. We spoke about vulnerability, authenticity, and staying true to self. Even how losing her father and taking a passion of her father and making an impact on the DMV.
Check out premium content in the CBNation Library at http://cbnation.co/library and pick up our eBook to hear some of the best lessons at http://cbnation.co/shop.
Previous Episode: https://iamceo.co/2022/03/17/iam1312-ceo-makes-an-impact-to-community-through-yoga/
Transcription:

Caren Plummer 00:00
You know, as a CEO or as an entrepreneur, your goal is to kind of be authentic to yourself. You know, if you're stepping out into this space and stepping onto your platform, let's say, and you're not attaching to that authentic version of yourself, you're gonna be able to be seen through pretty quickly, and chances are your community's not gonna support you, right?
Intro 00:20
Do you want to learn effective ways to build relationships, generate sales and grow your business from successful entrepreneurs, startups, and CEOs without listening to a long, long, long interview? If so, you've come to the right place. Gresham Harkless values your time and is ready to share with you precisely the information you're in search of. This is the I am CEO podcast.
Gresham Harkless 00:47
Hello, hello, hello. This is Gresh from the I am CEO podcast and we're doing something a little bit different, this year with some of our episodes. We're repurposing some of our favorite episodes around specific topics related to entrepreneurship. This month we're focusing on entrepreneurship and community. Us, We, our, together, and we're gonna look at entrepreneurship and industries and different types of entrepreneurship and ultimately what that really means. But we're also gonna delve deeper into the importance of community networking niche communities and how that supports being a CEO entrepreneur and business owner. So sit back. And enjoy these special episodes around entrepreneurship and community. Hello, hello, hello. This is Gresh from the I am CEO podcast. I have a very special guest on the show today. I have Caren Plummer of CP Yoga. Caren, it's great to have you on the show.
Caren Plummer 01:33 Thank you. It's good to be here.
Gresham Harkless 01:35
Yes. Super excited to have you on and before we jump into the interview I want to read a little bit more about Karen, so you can hear about some of the awesome things that she's doing. Gratitude, service, and the importance of community is what drives and inspires Caren of CP Yoga. Her vision was to create a welcoming space for all people to explore their physical and mental well-being through the power of movement, while intentionally giving back to the community through fundraising and campaign awareness. Over the course of 2021, she and her community raised $8,000 and worked with 11 different organizations serving 11 different causes. She has grown her community and following from three to 90 unique members all motivated to make a difference and impact on the community that surrounds around them. Caren, super excited again to have you on the show and even more excited about the work that you do. Are you ready to speak to the I am CEO community?
Caren Plummer 02:22
I am. I'm looking forward to it.