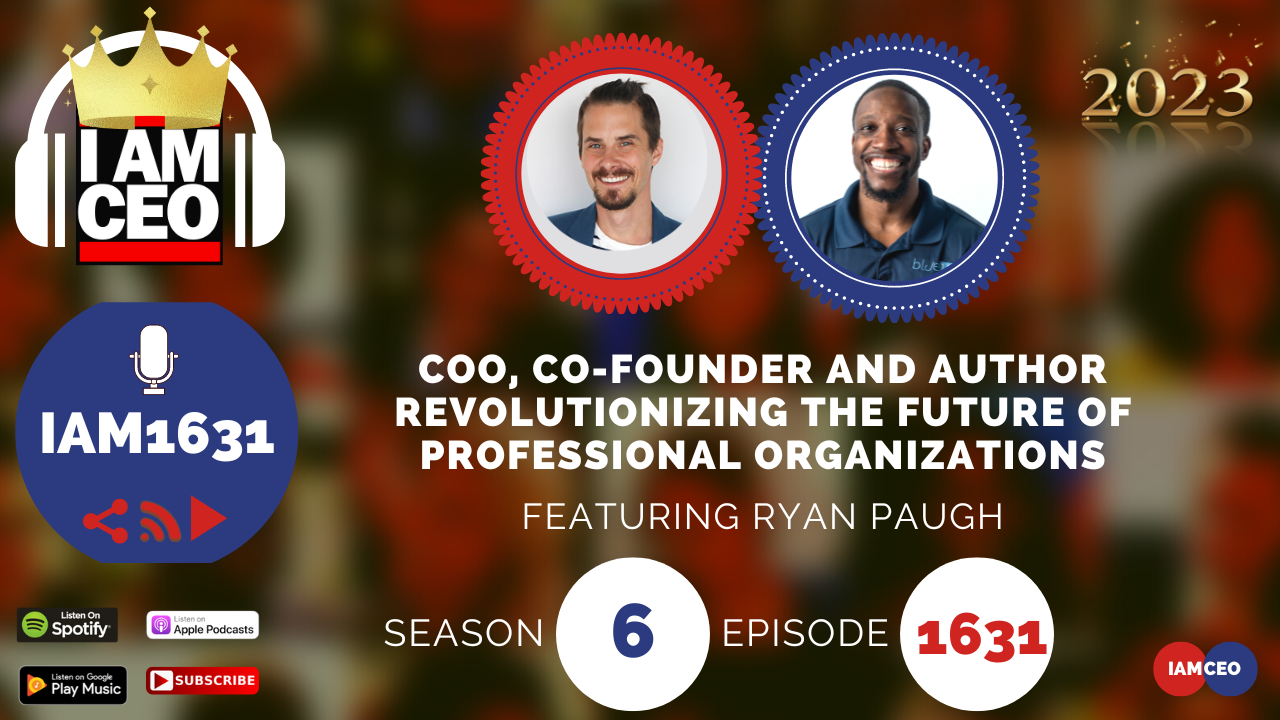 Why it was selected for "CBNation Architects": Speaking with Ryan, it was awesome to hear about his past and how that sparked his entrepreneurship spirit. He called himself a "Community Nerd" and hearing about his book and also how they've built their company from that. He talks about the slow impact of building relationships and not being quick to hit that "easy button" in building relationships but even entrepreneurship and building anything. We also talked about how social media has impacted connection and how sometimes we get relationship-building wrong.
Check out premium content in the CBNation Library at http://cbnation.co/library and pick up our eBook to hear some of the best lessons at http://cbnation.co/shop.
Previous Episode: https://iamceo.co/2018/12/31/iam140-coo-co-founder-and-author-revolutionizing-the-future-of-professional-organizations/
Transcription:

Ryan Paugh 00:00
The way that we work and the way that we build relationships are in need of change. The social media era has been a blessing and a curse, a blessing because we are more connected than ever before. We can have meetings like this and completely different cities, miles and miles away across the country, and make meaningful connections, but it's also made it more difficult to find the right people because of the noise of social media.
Intro 00:26
Do you want to learn effective ways to build relationships, generate sales, and grow your business from successful entrepreneurs, startups, and CEOs without listening to a long, long, long interview? If so, you've come to the right place. Gresham Harkless values your time and is ready to share with you precisely the information you are in search of. This is the I am CEO podcast.
Gresham Harkless 00:50
Hello, hello, hello, this is Gresh from the I am CEO podcast and I have a very special guest on the show today. I have Ryan Paugh of the Community Company. Ryan, it is awesome to have you on the show.
Ryan Paugh 00:59
Thanks for having me. Really, really happy to be here.
Gresham Harkless 01:01
No problem. Happy to have you on again. We had you on our CEO Chat podcast and what I want to do is just read a little bit more about Ryan so you can hear about all the awesome things that he's doing. Ryan Paugh is a COO and co-founder of the Community Company, the organization revolutionizing the future of professional organizations. He's the author of Superconnector: Stop Networking and Start Building Business Relationships That Matter and a renowned thought leader on creating strong communities and teams. Ryan co-founded Brazen Careerist, a career-management site for high-achieving young professionals and ambitious college students and the Young Entrepreneur Council, (YEC), an invitation-only organization for leading entrepreneurs. Ryan, are you ready to speak to the I am CEO community?
Ryan Paugh 01:42
Let's do it, man. I'm ready.