I AM CEO PODCAST
IAM1630 – Coach Helps Clients Level Up Their Leadership
Podcast Interview with Alan Heymann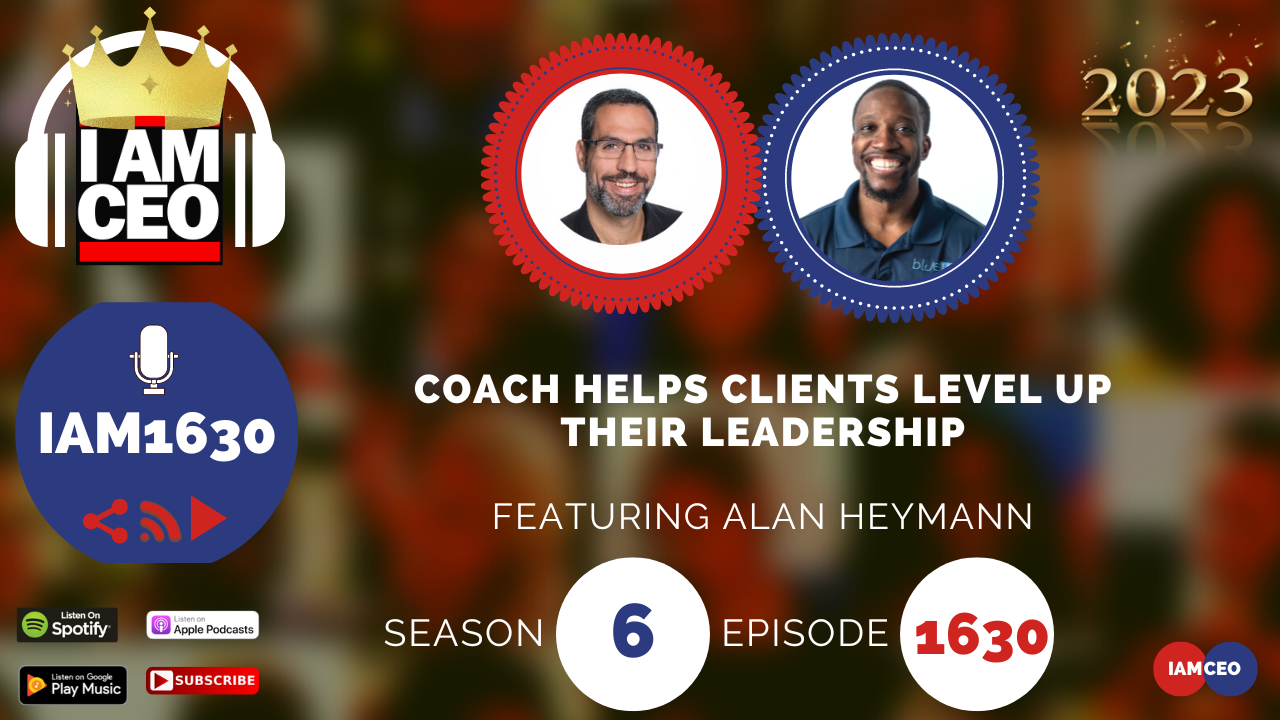 Why it was selected for "CBNation Architects": Leadership is so important and while many believe that it's lacking I think that it's really understanding leadership and knowing that you have the power to be a leader and redirect the business, world or anything you decide to where you want them to be. Alan touched on this and the resilience, turbulence, and how change has impacted everything.
Check out premium content in the CBNation Library at http://cbnation.co/library and pick up our eBook to hear some of the best lessons at http://cbnation.co/shop.
Previous Episode: https://iamceo.co/2021/05/01/iam992-coach-helps-clients-level-up-their-leadership/
Transcription:

Alan Heymann Teaser 00:00
I think patience which is a hard lesson for me to learn sometimes, but the process of building up contacts and getting your name out there especially if you're trying to do something different, takes time.
Intro 00:12
Are you ready to hear business stories and learn effective ways to build relationships, generate sales, and level up your business from awesome CEOs, entrepreneurs, and founders, without listening to a long, long, long interview? If so, you've come to the right place. Gresh values your time and is ready to share with you the valuable info you're in search of. This is the I am CEO podcast.
Gresham Harkless 00:40
Hello, hello, hello. This is Gresh from the I am CEO podcast and I have a very, very special guest on the show today, I have Alan Heymann of Peaceful Direction. Alan, it's awesome to have you on the show.
Alan Heymann 00:47
It's so great to be here. I don't get two very very usually. So this is great.
Gresham Harkless 00:51
Yes, I'm very, very, very, very excited. I'll give you three for that. And what I'll do is before we jump into the interview, I'll read a little bit more about Alan so you hear about all the awesome things that he's doing, and Alan, who is a JD and PCC, specializes in coaching through transitions such as the transition from individual contributor to leader, the transition into a larger and more complex role, and or the transition into a different career. He brings a warm and open and energetic presence to his coaching clients.
Today, Alan has coached leaders who are born in 16 countries and work in five continents. An expert communicator and an engaging speaker, Alan spends more than two decades in public government and nonprofit com communications, leading teams from two to more than 100 people who use words and images to inspire positive change in society. Inspired by a career transformation he brought about with the support of an executive coach, Alan decided to become a coach himself. He founded Peaceful Direction in April 2019. Alan, are you ready to speak to the I am CEO community?
Alan Heymann 01:50 I'm so ready.