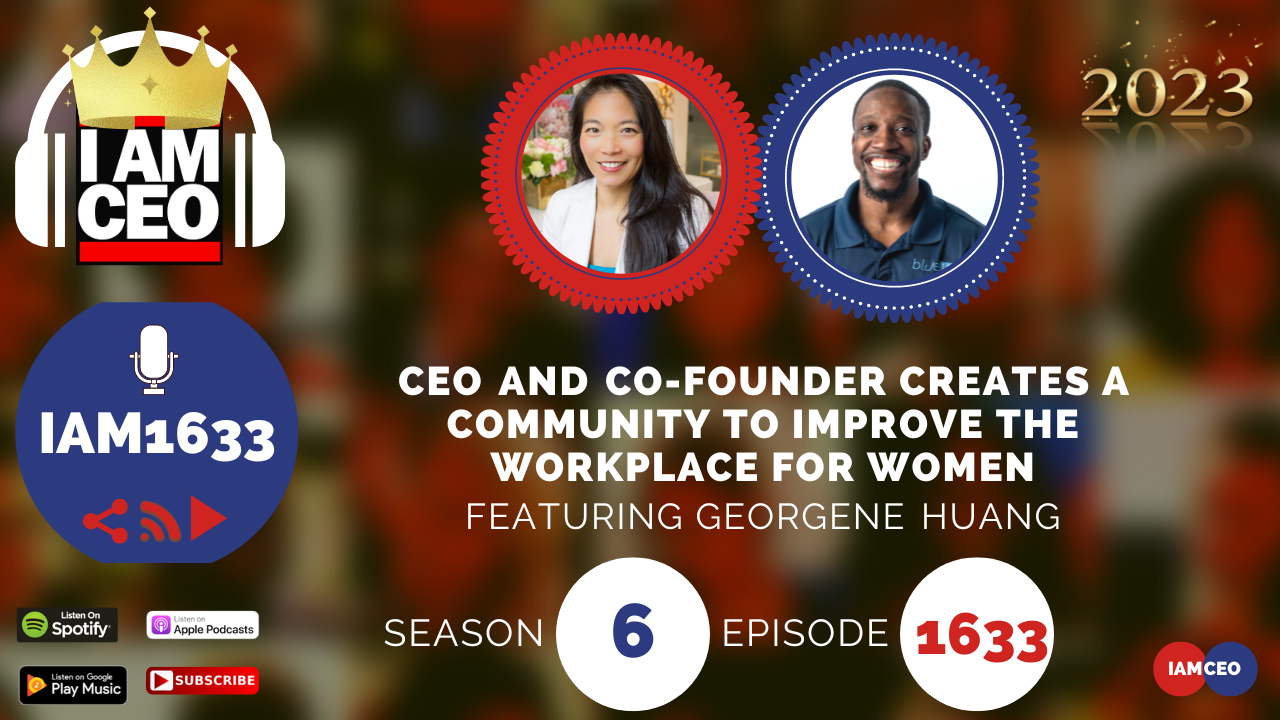 Why it was selected for "CBNation Architects": Speaking with Georgene, we love everything that she has built and grown. It's disheartening to hear the experience that she went through but we love how she took that opportunity and ran with it into her organization that's reaching over 2M women each month.
Check out premium content in the CBNation Library at http://cbnation.co/library and pick up our eBook to hear some of the best lessons at http://cbnation.co/shop.
Previous Episode:
https://iamceo.co/2018/12/28/iam139-%E2%80%8Bceo%E2%80%8B-%E2%80%8Band%E2%80%8B-%E2%80%8Bco-founder-creates-community-to-improve-the-workplace-for-women/
Transcription:

Georgene​ ​Huang 00:00
If you think about the career communities out there, LinkedIn probably comes to mind and what LinkedIn is essentially doing, It's a great company, but it's putting your face next to your resume, which means that while it's great to research who people are and understand who you're connected to, what it's really bad at doing is helping you have authentic conversations around things that you might feel less than hundred percent secure about. You're supposed to be the best version of yourself.
Intro 00:24
Do you want to learn effective ways to build relationships, generate sales, and grow your business from successful entrepreneurs, startups, and CEOs without listening to a long, long, long interview? If so, you've come to the right place. Gresham Harkless values your time and is ready to share with you precisely the information you're in search of. This is the I am CEO podcast.
Gresham Harkless 00:48
Hello, hello, hello. This is Gresh from the I am CEO podcast and we're doing something a little bit different this year with some of our episodes. We're repurposing some of our favorite episodes around specific topics related to entrepreneurship. This month we're focusing on entrepreneurship and community. Us, We, our, together and we're gonna look at entrepreneurship and industries and different types of entrepreneurship and ultimately what that really means. But we're also gonna delve deeper into the importance of community, networking, niche communities and how that supports being a CEO entrepreneur and business owner. So sit back and enjoy these special episodes around entrepreneurship and community.
Hello? Hello, hello. This is Gresh from the I Am CEO podcast and I have a very special guest on the show today. I have Georgene Huang, of Fairygodboss. Georgene, it's awesome to have you on the show.
Georgene​ ​Huang  01:32 It's great to be with you.
Gresham Harkless  01:33
I appreciate you for taking some time out. What I wanted to do was read a little bit more about Georgene so you can hear about all the awesome things that she's doing. Georgene is obsessed with improving the workplace for women. She's a CEO and co-founder of Fairygodboss, the largest career community for women to discover the hard-defined intel on work-life balance, salary, maternity leave policies, and how companies treat women. Previously she ran the enterprise business at Dow Jones and was a managing director at Bloomberg Ventures. She's a graduate of Cornell and Stanford Universities. Georgene, are you ready to speak to the I am CEO community?
Georgene​ ​Huang 02:07 Yes, I am.