I AM CEO PODCAST
PodCEO
IAM1626 – Business Coach Helps Women Have a Positive Impact
Podcast Interview with Jaclyn DiGregorio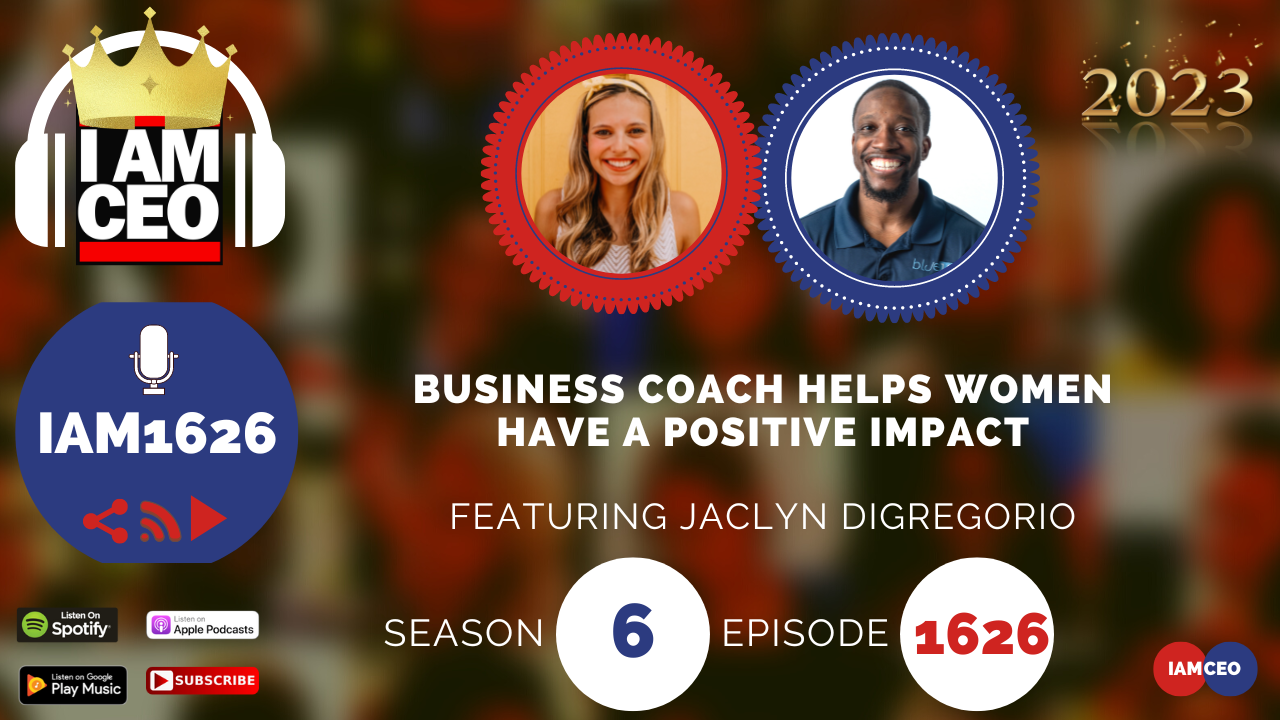 Why it was selected for "CBNation Architects": One of the most impactful things I heard over, and over and over again was the importance of the morning routine and while it seems obvious it is often overlooked. When starting something new and thinking of planning and preparation, don't forget about the morning routine. Jaclyn is doing what I love to do which is "hack" your morning routine to always make it better.  Jaclyn had a great story and hearing how her goals, desires have grown and evolved over the years. One powerful thing is that people will say "I don't know what I want" is because they don't want to say what they ultimately do want. Her energy is infectious and you can hear why it is so important to her, her clients and her business.
Check out premium content in the CBNation Library at http://cbnation.co/library and pick up our eBook to hear some of the best lessons at http://cbnation.co/shop.
Previous Episode: https://iamceo.co/2020/02/08/iam544-business-coach-helps-women-have-a-positive-impact/
Transcription:

Jaclyn DiGregorio Teaser 00:00
So if you are an entrepreneur and you're like afraid of failure or you're like, I might fail, I get that. No. Like, be so freaking open to it. Journal as much as you can about all the lessons you learn and apply them because if you don't learn them, you're gonna keep hitting the same failures. The universe is gonna keep sending you those lessons until you learn them.
So I wish that I learned them quicker and was more open to failure and had. Really winning mindset to just pick myself back up a little bit faster.
Intro 00:27
Do you want to learn effective ways to build relationships, generate sales, and grow your business from successful entrepreneurs, startups, and CEOs without listening to a long, long, long interview?
If so, you've come to the right place. Gresham Harkless values your time and is ready to share with you precisely the information you're in search of. This is the I am CEO podcast.
Gresham Harkless 00:54 Hello, hello, hello. This is Gresh from the I am CEO podcast and I have a very special guest on the show today. I have, Jaclyn DiGregorio of Clarity and Action Consulting. Jaclyn is awesome to have you on the show.
Jaclyn DiGregorio 01:03
Thank you so much for having me here.
Gresham Harkless 01:05
No problem. Super excited to have you on, and what I wanted to do was just read a little bit more about Jaclyn so you can hear about all the awesome things that she's doing.
And Jaclyn is a business coach, speaker, and bestselling author. As the founder of Clarity and Action Consulting, Jaclyn helps women build successful businesses so they can positively impact their families, their community, and the world. At age 21, Jaclyn started her first business from her dorm room at Georgetown University.
And Jaclyn has been featured by Forbes Elite Daily Bustle, and Washington Business Journal and her book has been featured on Good Morning, Washington. Jaclyn, are you ready to speak to the I am CEO community?
Jaclyn DiGregorio 01:39
I have never been more ready.