I AM CEO PODCAST
IAM1627 – Coach Helps Corporate Women Become Entrepreneurs
Podcast Interview with Laura Tynan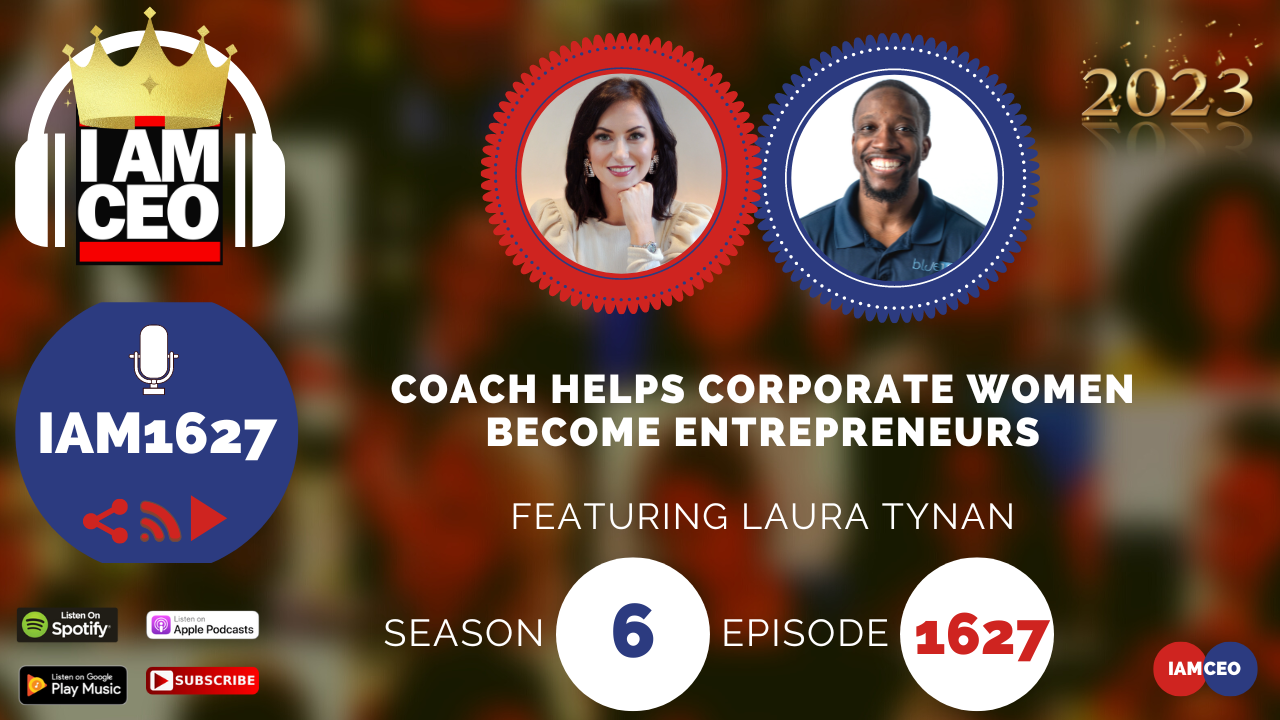 Why it was selected for "CBNation Architects": One of the most impactful things I heard over, and over and over again was the importance of the morning routine and while it seems obvious it is often overlooked. When starting something new and thinking of planning and preparation, don't forget about the morning routine. Laura talked a lot about her journey and how we may not feel comfortable and that might lead to the opportunity. She talked about how powerful the "Triple A"–alignment, awareness, and action–is for the women she works with.
Check out premium content in the CBNation Library at http://cbnation.co/library and pick up our eBook to hear some of the best lessons at http://cbnation.co/shop.
Previous Episode: https://iamceo.co/2020/03/23/iam588-coach-helps-corporate-women-become-entrepreneurs/
Transcription:

Laura Tynan Teaser 00:00
Then finally the action stage, which is actually so interesting because a lot of the corporate women I work with as I would've been, we live in our masculine energy to survive in these corporate like male-dominated worlds. And so we're very action oriented. And so action sometimes is like the first place we wanna go to. But realizing that, you have to align, get aware of your mindset, and then the action becomes inspired action. And it's so much easier to move forward. And that's the kind of step when we start to work on things together.
Intro 00:26
Do you want to learn effective ways to build relationships, generate sales, and grow your business from successful entrepreneurs, startups, and CEOs without listening to a long, long, long interview? If so, you've come to the right place. Gresham Harkless values your time and is ready to share with you precisely the information you're in search of. This is the I am CEO podcast.
Gresham Harkless 00:53
Hello, hello, hello, this is Gresh from the I am CEO podcast and I have a very special guest on the show today. I have Laura Tynan of lauratynan.com. Laura, it's awesome to have you on the show.
Laura Tynan 01:01
I'm pleased to be here. Thanks, Gresh.
Gresham Harkless 01:03
No problem. Super excited to have you on and what I wanted to do was just read a little bit more about Laura so you can hear about all the awesome things that she's doing. Laura's a business coach and mentor to corporate women who are ready to turn their entrepreneurial ideas into reality. She's an international award-winning speaker and has spoken on stages across Europe including at Forbes under 30. Laura has also been recognized by the Financial Times and Yahoo Finance as a global role model for women in business, for the work she has done in empowering women to rise to become their own CEO. Laura, are you ready to speak to the I am CEO community?
Laura Tynan 01:34
Yes, absolutely. Very excited.