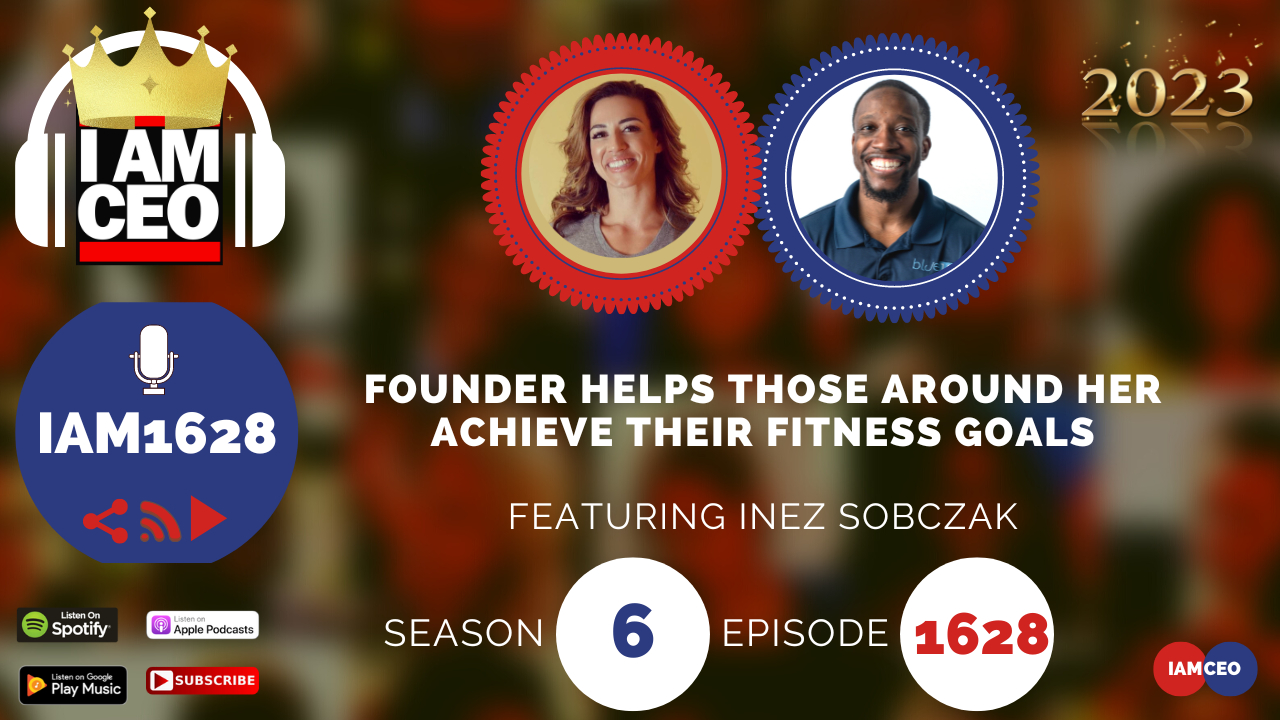 Why it was selected for "CBNation Architects": One of the most impactful things I heard over, and over and over again was the importance of the morning routine and while it seems obvious it is often overlooked. When starting something new and thinking of planning and preparation, don't forget about the morning routine. Inez spoke about the morning routine and her story but I loved the fact she mentioned the way to get ahead was by planning the day before.
Check out premium content in the CBNation Library at http://cbnation.co/library and pick up our eBook to hear some of the best lessons at http://cbnation.co/shop.
Previous Episode: https://iamceo.co/2020/05/02/iam628-founder-helps-those-around-her-achieve-their-fitness-goals/
Transcription:

Inez Sobczak Teaser 00:00
Corporate wellness is on the horizon. I would love the opportunity to create this for your company. Give me a shot and based on that, I got some. Yes, let's do it, Inez. And that allowed me to have some seed money in order to create fitness. So that is the short story on how fitness evolved, and more importantly, how I became the CEO of my company.
Intro 00:30
Do you want to learn effective ways to build relationships, generate sales, and grow your business from successful entrepreneurs, startups, and CEOs without listening to a long, long, long interview? If so, you've come to the right place. Gresham Harkless values your time and is ready to share with you precisely.
The information you're in search of this is the I am CEO podcast.
Gresham Harkless 00:58
Hello, hello, hello. This is Gresh from the I am CEO podcast and I have a very special guest on the show today I have Inez Sobczak of Fit-Nez, Inez it's awesome to have you on the show.
Inez Sobczak 01:07
I am so happy to be on the show, Gresh, thank you so much for including me.
Gresham Harkless 01:11
No problem. Super excited to have you on and what I want to do is just read a little bit more about Inez so you can hear about all the awesome things that she's doing. And Inez is the founder and Master Trainer of Fit-Nez and has over a decade of experience as an innovator in health and fitness. What began as a passion for sports and aerobics in her youth culminated in her founding of Fit-Nez located in Arlington, Virginia.
Inez was first certified as a group fitness instructor while still in high school and while in college, she created and ran a wellness program for the college, including nutrition, education, and fitness classes. Upon graduating, she embarked on a career in sales. During her lunch hours and weekends, she continued her commitment to helping those around her achieve their fitness goals by teaching cardio classes.
And after a few years in sales, she decided to turn her passion into a full-time mission by opening Fit-Nez. In addition to successfully coaching her Fit-Nez clients. Inez holds over a dozen health and fitness and nutritional certifications. She's a national figure competitor, a marathon runner, and a widely recognized expert in corporate wellness.
She maintains a complete commitment to living the fitness lifestyle she imparts to her clients. Inez, are you ready to speak to the I am CEO community?
Inez Sobczak 02:20
I am ready. Let's do it.