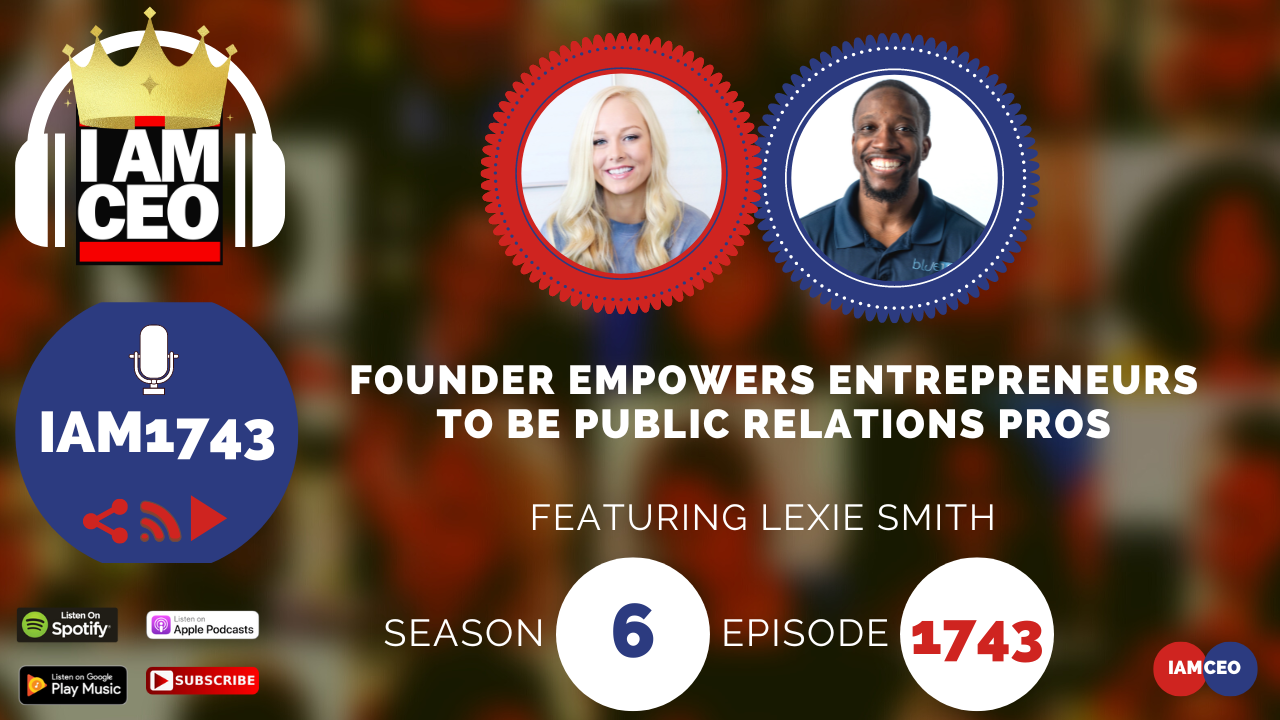 Why it was selected for "CBNation Architects"
: In this episode of the CEO
Podcasts
, host Gresham Harkless interviews Lexie Smith, founder of THEPRBAR Inc., a
public relations
agency that empowers entrepreneurs and small business owners to build their own empires.
Lexie has nearly 10 years of PR and
marketing
experience and has helped companies and entrepreneurs gain accelerated success through the world of
public relations
. During the interview, Lexie talked about PR and helped define what it is and why it's important.  She shared her CEO hacks, which include using CRM tools like Salesforce, Hubspot, and Pipedrive for sales management, Slack for program communication, and payment processing tools like Paypal and SamCart.
She also discusses the pros and cons of hiring a PR agency (which is also relevant for any hiring and investing), highlighting the time-saving benefits of such a decision but also acknowledging the high cost and the fact that media contacts are attached to the PR firm.
Overall, the
podcast
provides insights into the world of public relations and offers valuable advice for entrepreneurs looking to build their own empires through effective communication and
marketing
strategies. She also shared a term that we also borrow from here "DWY – Done with you."
Check out one of our favorite CEO Hack's CEO Web Shop. Get your free audiobook and check out more of our favorite CEO Hacks
HERE
.
I AM CEO Handbook Volume 3
 is HERE and it's FREE. Get your copy here: 
http://cbnation.co/iamceo3
. Get the 100+ things that you can learn from 1600 business podcasts we recorded. Hear Gresh's story, learn the 16 business pillars from the podcast, find out about CBNation Architects and why you might be one and so much more. Did we mention it was FREE? Download it today!
Transcription:
The full transcription is only available to CBNation Library Members. Sign up today!
Lexie Smith Teaser 00:00
Business model in general is an agency alternative. So that right there is one difference. Past that, when you then look into the online coaching space, what makes me different there, the end goal of my program is to have you confident to DIY do it yourself. But during the program, I haven't coined it personally, I've heard a term and now I use it called DWY, which means done with you.
Intro 00:27
Do you want to learn effective ways to build relationships, generate sales, and grow your business from successful entrepreneurs, startups, and CEOs, without listening to a long, long, long interview?
If so, You've come to the right place. Gresham Harkless values your time and is ready to share with you precisely the information you're in search of.
This is the I AM CEO podcast.
Gresham Harkless 00:53
Hello, hello, hello. This is Gresh from the I AM CEO podcast and I appreciate you listening to this episode. If you were listening this year, you know that we hit 1600 episodes at the beginning of this year. We're doing something a little bit different where we're repurposing our favorite episodes around certain categories or topics or as I like to call them, the business pillars that we think are going to be extremely impactful for CEOs, entrepreneurs, and business owners, and what I like to call the CB nation architects who are looking to level up their organizations.
This month we are focused on our greatest asset- talent management and hiring. Think from great resignation to the great renovation. And if you disagree with me, maybe these episodes might be especially for you. Life and especially business has changed. It has forced those that are within organizations to look differently at talent, and how it's being managed.
When we talk about change, think about it, we have to realize that business as usual is no longer here. That's evident in attracting and retaining clients, but also in setting up people within organizations to succeed. Think onboarding, think DEI- diversity, equity, inclusion, and belonging. How it is working from home and even going back into the office.
Things are different in this month. We are going to explore these topics by featuring CEO hacks and CEO nuggets, but also interviews that focus on these changes and how organizations can make sure they care for and attract the most valuable asset- their people. Sit back and enjoy this special episode of the I AM CEO podcast.
Hello, hello, hello. This is Gresh from the I AM CEO podcast. I have a very special guest on the show today. I have Lexie Smith of THEPRBAR, Inc. Lexie, it's awesome to have you on the show.
Lexie Smith 02:25
Thank you so much for having me. It's great to be here.
Gresham Harkless 02:28
No problem. Super excited to have you on, and before we jumped in, I wanted to read a little bit more about Lexie so you can hear about all the awesome things that she's doing.
From winning Shark Tank brands to some Inc. Magazine's fastest-growing companies in America, Lexie Smith founded THEPRBAR Inc. that has helped countless companies and entrepreneurs gain accelerated success through the world of PR.
With nearly 10 years of experience in public relations and marketing, serving most recently as a VP of a high eight-figure industry disruptor, Smith has been recognized as a top "20 in her 20s" and a "Brilliant PR expert under 30". Her clients have earned accolades such as Entrepreneur of the Year in the most entrepreneurial companies in America, and have been featured in outlets such as Forbes, Entrepreneur Magazine. Inc., CNN, LA Times, Eater, USA Today, FabFitFun, the Huffington Post, Thrillist, ABC, CBS, Wired and many, many more.
In 2019, Lexie founded THEPRBAR Inc. to establish a fun and inspired brand that empowers entrepreneurs and small business owners to build their very own empires.
Lexie, are you ready to speak to the I AM CEO community?
Lexie Smith 03:32
Yes, I'm ready.