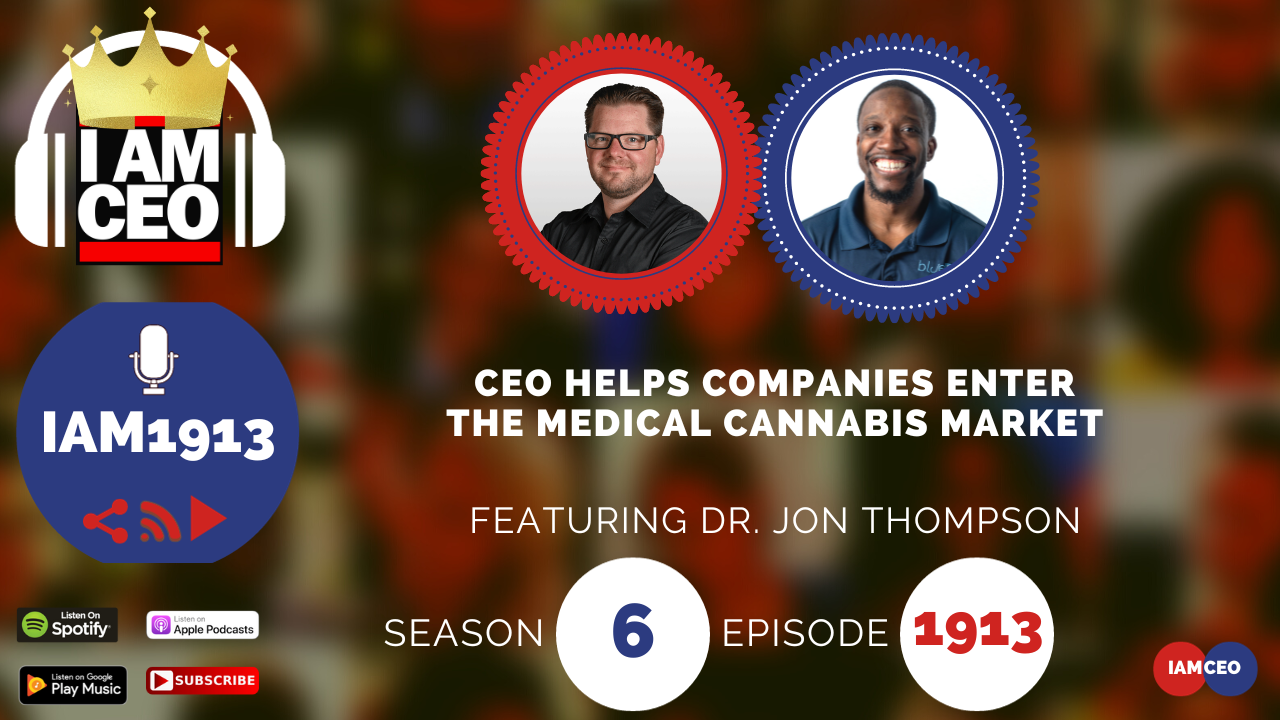 Why it was selected for "CBNation Architects":
In this episode, the guest speaker is Dr. Jon Thompson, the Founder, and CEO of extraktLAB.
Here are the key points from the episode:
Background: Dr. Jon Thompson is a separation scientist, inventor, and entrepreneur, with a Chemistry PhD from the University of Minnesota. Beyond his work on classified projects with NASA, he has great experience in assisting companies in entering the medical cannabis market.
ExtraktLAB: This company aids its customers in achieving success in the realm of pharmaceutical-grade botanical extraction and refinement. They focus on helping clients navigate the steadily growing medical cannabis industry.
CEO Hack: Dr. Jon Thompson recommends waking up early as a means of staying productive and focused.
CEO Nugget: Dr. Thompson advises entrepreneurs to carefully consider their personal character and the character of potential business partners to ensure alignment and positive business relationships.
CEO Defined: According to Dr. Thompson, being a CEO involves responsibility, leadership, and caring for the people around you.
Check out our CEO Hack Buzz Newsletter–our premium newsletter with hacks and nuggets to level up your organization. Sign up 
HERE
. 

I AM CEO Handbook Volume 3
 is HERE and it's FREE. Get your copy here: 
http://cbnation.co/iamceo3
. Get the 100+ things that you can learn from 1600 business podcasts we recorded. Hear Gresh's story, learn the 16 business pillars from the podcast, find out about CBNation Architects and why you might be one and so much more. Did we mention it was FREE? Download it today!
Transcription:
The full transcription is only available to CBNation Library Members. Sign up today!
Dr. Jon Thompson Teaser 00:00
Be careful who you hire and be careful who your business partners are. Okay, so if you look at the end of the day, if you have a business, you got to really make sure that your business partners are aligned with your values.
And where you see the company going, if they're not, they're going to make your life a living nightmare.
Intro 00:19
Are you ready to hear business stories and learn effective ways to build relationships, generate sales, and level up your business from awesome CEOs, entrepreneurs, and founders without listening to a long, long, long interview?
If so, you've come to the right place. Gresh values your time and is ready to share with you the valuable info you're in search of.
This is the IAMCEO Podcast.
Gresham Harkless 00:46
Hello, hello, hello. This is Gresh from the IAMCEO podcast, and I appreciate you listening to this episode. If you've been listening this year, you know that we hit 1600 episodes at the beginning of this year. We're doing something a little bit different where we're repurposing our favorite episodes around certain categories, topics, or as I like to call them business pillars that we think are going to be extremely impactful for CEOs, entrepreneurs, and business owners, or what I like to call CB Nation architects who are looking to level up their organizations.
This month, we are focused on innovation, disruption, women, entrepreneurship, DEI, gig economy, remote economy, even the cannabis industry. Think about these industries and these disruptive technologies that really sometimes aren't as disruptive but there are people that are just paying attention to what the market needs, and they're providing that. So really think about the things that are quote and quote outside of the norm, but really help entrepreneurship to grow and fully develop.
I think it's an extremely exciting time when you're talking about any type of innovation or disruption, because I think that there are so many opportunities and needs that aren't felt that are starting to be filled by different groups, different organizations, or even different industries. So what I want you to do is sit back and enjoy this special episode of the IAMCEO podcast.
Hello. Hello. Hello. This is Gresh from the IAMCEO podcast. I have a very special guest on the show today. I have Dr. Jonathan Thompson of extraktLAB. Dr. John, it's great to have you on the show.
Dr. Jon Thompson 02:10
Oh, thanks. Thanks for having me.
Gresham Harkless 02:12
Yeah. Super excited to have you on as well. Before we jumped into the interview, I want to read a little bit more about Dr. Jon, so you hear about all the awesome things that he's doing.
Dr. Jon, is the founder and CEO of extraktLAB, a separation scientist, inventor and entrepreneur. He received his Doctorate of Chemistry Degree in 2001 from the University of Minnesota, and has since worked on everything from secret projects with NASA to helping companies enter the medical cannabis market.
His company helps people find success in the business of pharmaceutical grade, botanical extraction and refinement. Dr. Jon guides his businesses through ESG, which is environmental, social, and governance policies, and believes we all deserve a sustainable future. Dr. Jon, love everything you're doing.
We had lots of great laughs before I hit record. Are you ready to speak to the IAMCEO community?
Dr. Jon Thompson 02:58
I'm ready. It's going to be a good time.