Healthy CEO
I AM CEO PODCAST
IAM1443 – Coach Helps Individuals Identify their Natural Numbers
Podcast Interview with Susan and Martin Fisher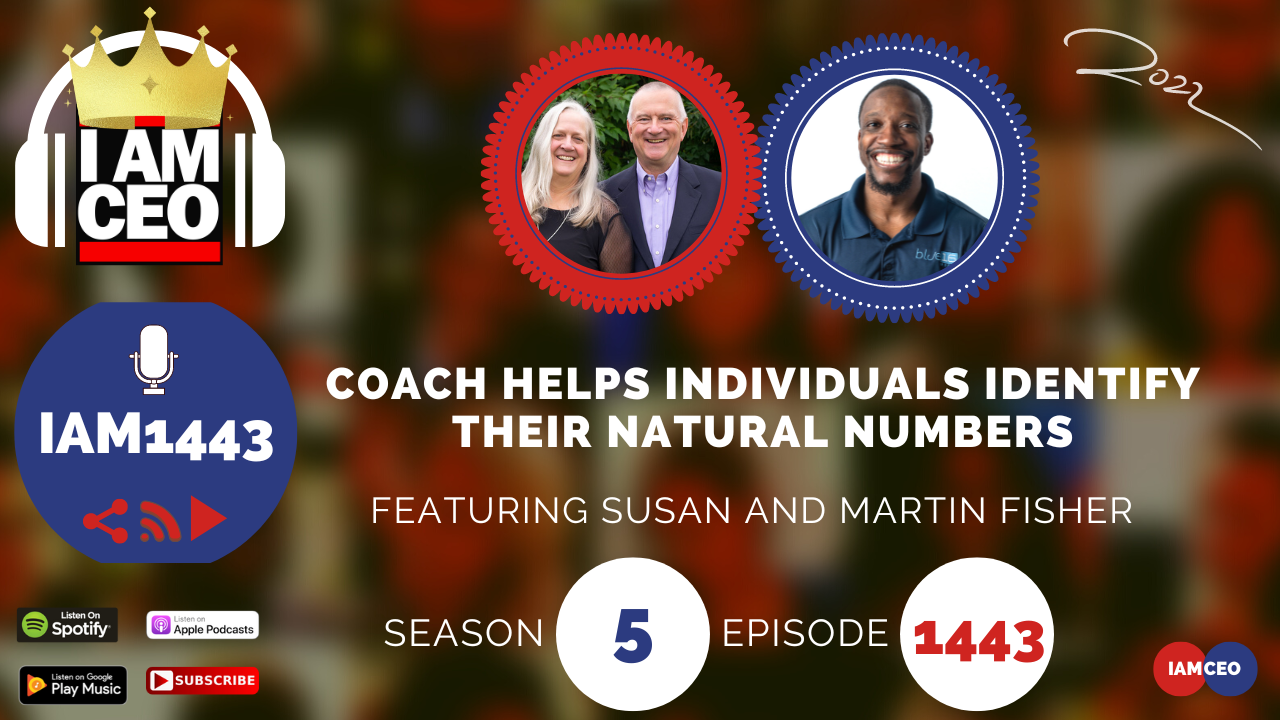 Susan Bennett Fisher and Martin Fisher are the Co-Founders and Teachers of Body of 9. Body of 9 is an innovative, body-based personality assessment that, through your posture, body type, and how you physically express yourself, identifies your Natural Number. This gives you an experience of your innate self, taking your understanding of who you are to a whole new level.
Numbers tell the truth. Each of us has our own Natural Number, from 1 to 9, which is the key to who we are, and how we think, react, act, and interact. The Body of 9 system reveals those innate differences and helps us learn to resolve them, bringing us closer together. Once you know that Natural Number (and those of the people around you), you'll discover how to have more awareness of yourself, your relationships, your life, and how you communicate to bridge deeper and more meaningful connections.
Susan Bennett Fisher and Martin Fisher are pioneers in the study and research of the 9 Natural Numbers. With over thirty years of combined research and experience with Body of 9, their work has led to many new discoveries and a deeper understanding of the importance, power, and impact of knowing your Natural Number and learning to consciously use this aspect of your body. Since 2012, Susan and Martin Fisher have been working together to identify over 8000 people from around the world and to build and share the understanding of how the Body of 9 shows up in so many aspects of human experience.
CEO Story: It was in 2002 that Susan found her natural numbers through her leadership programs and life coach, and then doing her research. Since 2012 have been doing research on knowing your natural number, over 50 countries all over the world understand the body of 9 contexts of who we really are.
Business Service: Natural number identification. Coaches and practitioners training program – powerful healing program. Test that is body base.
Secret Sauce: The ability to know your number and lock all 9, revelation of the nature of your body's information.
CEO Hack: Simple exercise so the energy moves more effectively. Breathe your way. Breathe the way your body wants to breathe.
CEO Nugget: Understanding who you are in the fundamental step to success, the key to your life. Know your natural number.
CEO Defined: Being in a place where you can build an organization, changing into a better self. Growing into your cosmic self. Hold a vision and lead people into that vision and become cosmic people.
Facebook: https://www.facebook.com/Bodyof9
LinkedIn: https://www.linkedin.com/company/body-of-9/
Instagram: https://www.instagram.com/body_of_9/
Facebook Groups: https://www.facebook.com/groups/295243882582863/
https://www.facebook.com/groups/507347977355550
---
Check out one of our favorite CEO Hack's Audible. Get your free audiobook and check out more of our favorite CEO Hacks HERE