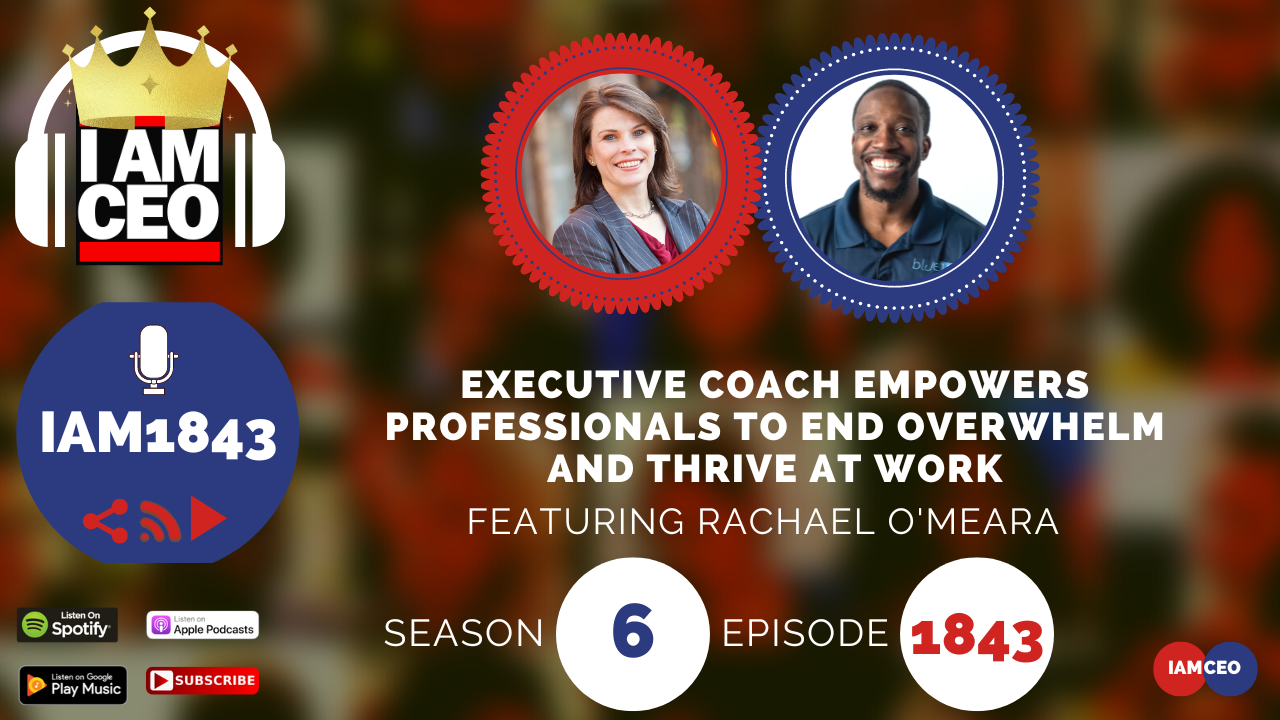 Why it was selected for "CBNation Architects":
This episode on I AM CEO Podcasts features Rachael O'Meara, an executive coach who focuses on empowering professionals to overcome overwhelm and thrive in their work. Rachael's decade of experience in sales and client services at Google has equipped her with insights into successful leadership, avoiding burnout, and maintaining focus on one's mission.
She is the author of the book "Pause," which has been recognized as one of the top business books for career development. Rachael has also been featured in esteemed publications such as The New York Times, The Wall Street Journal, and Harvard Business Review.
The episode highlights Rachael's CEO hack of taking up to four breaks in a day to foster creativity. She also shares a CEO nugget of advice, emphasizing that individuals have the power to choose and create their own experiences rather than being a victim of circumstances. Rachael believes that being a CEO means being the author of one's own life and is centered around conscious and authentic decision-making.
Check out our CEO Hack Buzz Newsletter–our premium newsletter with hacks and nuggets to level up your organization. Sign up 
HERE
. 

I AM CEO Handbook Volume 3
 is HERE and it's FREE. Get your copy here: 
http://cbnation.co/iamceo3
. Get the 100+ things that you can learn from 1600 business podcasts we recorded. Hear Gresh's story, learn the 16 business pillars from the podcast, find out about CBNation Architects and why you might be one and so much more. Did we mention it was FREE? Download it today!
Transcription:
The full transcription is only available to CBNation Library Members. Sign up today!
Rachael O'Meara Teaser 00:00
I think mastering yourself starts with EI, starts with knowing how you feel. It's paired with things like maybe being mindful in the moment, meaning I can know what I'm doing.
But what the mastery skill there is if I don't know how I'm doing, how can I be in relationship with someone else, whether it's my peer or my boss or my team and be in relationship with them so that we have a solid mutual rapport and we trust each other.
If I'm not in that mode for myself, chances are it's probably not translating to others either.
Intro 00:33
Do you want to learn effective ways to build relationships, generate sales, and grow your business from successful entrepreneurs, startups, and CEOs without listening to a long, long, long interview?
If so, you've come to the right place. Gresham Harkless values your time and is ready to share with you precisely the information you're in search of.
This is the I AM CEO podcast.
Gresham Harkless 00:58
Hello. Hello. Hello. This is Gresh from the I AM CEO podcast and I appreciate you listening to this episode. If you've been listening this year, you know that we've hit 1600 episodes at the beginning of this year. We're doing something a little bit different where we're repurposing our favorite episodes around certain categories, topics, or as I like to call them, business pillars that we think are going to be extremely impactful for CEOs, entrepreneurs, and business owners, just like you, what I like to call the CB nation architects who are looking to level up their organizations.
This month, we are focusing on CEO Hacks and CEO Nuggets. This is by far one of my favorite questions I asked on the show. In other words, I asked, what are the apps, books, and habits that makes you more effective and efficient. Those were the CEO hacks. Then I asked for a word of wisdom or a piece of advice or something that you might tell your younger business self if you were to hop into a time machine. Those were the CEO nuggets. That's what we'll focus on this month and some of the top ones that can instantly impact your business.
I love all the questions, but with every episode, I thought I would walk away with something I could look at and implement right there to save the precious resources, time and money. Or I would also learn about the advice, tips, and tidbits or tools of the trade on how to level up our organizations. So you'll hear some of these this month. Sit back and enjoy this special episode of the I AM CEO podcast.
Hello, hello, hello. This is Gresh from the I AM CEO podcast and I have a very special guest on the show today. I have Rachael O'Meara of rachaelomeara.com. Rachael, it's awesome to have you on the show.
Rachael O'Meara 02:34
Hello, Gresh. It's great to be here. Thanks for having me.
Gresham Harkless 02:37
No problem. Super excited to have you on. What I want to do is just read a little bit more about Rachel so you can hear about all the awesome things that she's doing.
Rachael is a transformational leadership and executive coach who empowers professionals to learn how to end, overwhelm, and thrive at work. For the past decade, Rachael's experience in sales and client services at Google has helped her have a pulse on what it takes to be a successful and thriving leader.
Meaning steering clear of burnout, staying on missions, and feeling great as you do so. Her book Pause was one of the top business books for your career, and she's been featured in the New York Times, Wall Street Journal, and Harvard Business Review.
One fun thing about Rachael is she's back in grad school again, getting her MA in Transformational Leadership at the Wright Graduate University in Chicago and currently studying how to live purposefully a fun subject. She has a lot of helpful information for CEOs and I'm super excited to hear some of this.
Rachael, are you ready to speak to the community?
Rachael O'Meara 03:35
Absolutely. I'm very excited to share more.