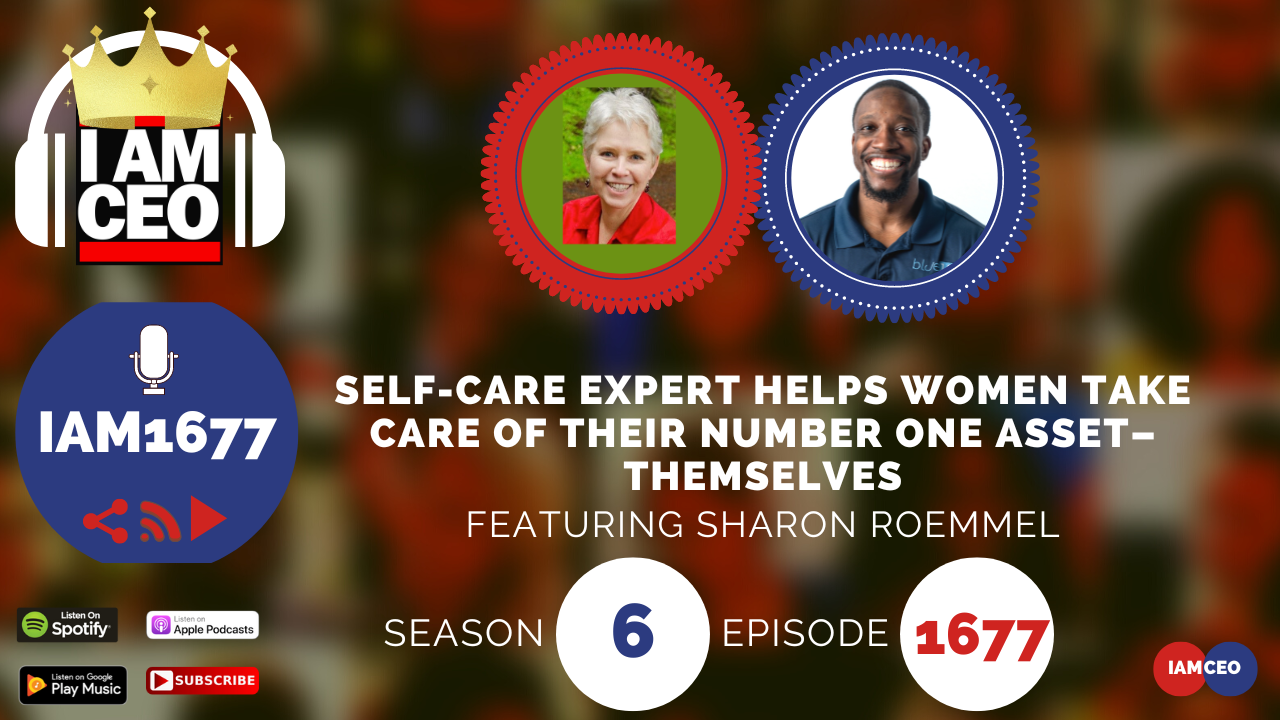 Why it was selected for "CBNation Architects": Sharon talks about how our most important asset is ourselves. Just like in business where we need to remember the importance of the people in business. It is important to understand how that is ourselves to be able to make an impact. Sharon has a "smorgasbord" of modalities that help her serve her clients and it's a great reminder that sometimes we may need a different approach to help us.
Check out premium content in the CBNation Library at http://cbnation.co/library and pick up our eBook to hear some of the best lessons at http://cbnation.co/shop.
Previous Episode: https://iamceo.co/2018/08/27/052-self-care-expert-helps-women-take-care-of-their-number-one-asset-themselves/
Transcription:

Sharon Roemmel Teaer 00:00
Have this kind of a suite or a smorgasbord of tools, plus its years of experience. I combine the tools, but also with a kind of intuitive approach to that. People will sometimes say to me, wow, 30 minutes of coaching was more effective than three hours of counseling. Not that I'm trying to compete or replace counselors, I think the combination as well, is intuitively knowing what people need and what might be beneficial.
Intro 00:29
Do you want to learn effective ways to build relationships, generate sales, and grow your business from successful entrepreneurs, startups, and CEOs without listening to a long, long, long interview? If so, you've come to the right place. Gresham Harkless values your time and is ready to share with you precisely the information you're in search of. This is the I am CEO podcast.
Gresham Harkless 00:56
Hello. Hello, this is Gresh from the I am CEO podcast and I appreciate you listening to this episode. And if you've been listening this year, we're doing something a little bit different we're repurposing our favorite episodes under certain categories or topics that we think are gonna be extremely impactful for CEOs, entrepreneurs, and business owners, this month is going to be about not forgetting about the human part of business. Often we forget about the human part of life. We often forget about the human part of business. So look forward to for self cares, hips, fitness, burnout, purpose, biz and personal, personal branding, motivation, drive, success, understanding your why and of course how important customer service is. But at the heart of it, it's all about remembering the human part of business. So sit back and enjoy this special episode of the I am CEO podcast.
Hello, hello, hello, this is Gresh from the I am CEO podcast and I have a very special guest on the show today. I've Sharon Roemmel of Practically Enlightened You. Sharon, it is awesome to have you on the show.
Sharon Roemmel 01:54
Thank you. It's great to be here. I appreciate you inviting me.
Gresham Harkless 01:57
No problem. And what I wanted to do was just read a little bit more about Sharon so you can hear about all the awesome things that she's been able to accomplish. And Sharon Roemmel helps women who are excited about their purpose become equally passionate about taking care of their number one asset, themselves. As a self-care expert, she draws on over 30 years of working in the wellness and empowerment field. Sharon's experience includes being a certified coach, a registered yoga teacher, a certified aroma therapist, and a licensed massage therapist.
In addition to working with individuals teaching classes in leading retreats, Sharon has been interviewed as an expert in national and local media, including Natural Health Magazine and on the Mindfulness Mode podcast. Her articles appear in her blog, Align and Thrive, as well as in publications such as Massage and Body Work.
Sharon, are you ready to speak to the I am CEO community?
Sharon Roemmel 02:51
I am. Thank you, Gresham.