DMV CEO
I AM CEO PODCAST
IAM1370 – Marketer Helps Businesses Attract Prospects in the Digital Space
Podcast Interview with Jon DeNunzio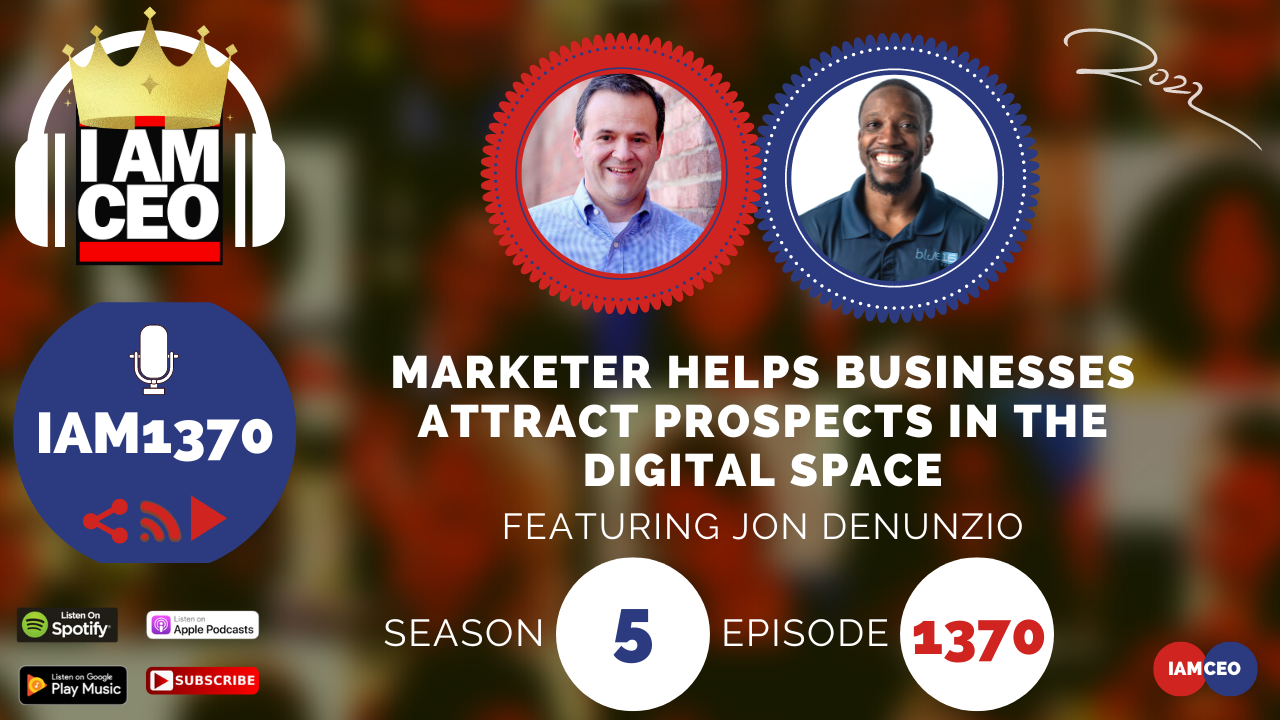 Jon runs Squarely Digital, a digital marketing agency that specializes in content marketing and pay-per-click advertising.
The company's mission — and Jon's passion — is to help small businesses navigate the complex and confusing world of digital marketing so they can attract the prospects, leads, clients, and customers they need.
Jon founded Squarely Digital in 2013 after more than 20 years in journalism. Most of that time was spent at the Washington Post, where Jon worked on both the print edition and the website, in the sports department and newsroom-wide roles.
Jon lives in Alexandria, Va., with his wife, Pam, daughters JJ and Ellie, and dogs Duncan and Nutella.
CEO Story: Jon was a journalist but the digital world really spoke to him because of being interactive. Doing it since 2013 helping businesses make it a win-win for both. Backed with a successful family business background since young – so creating a business of his own is part of his DNA.
Business Service: Content marketing and paper click advertising.
Secret Sauce: Laser-focused on client's campaigns. Marketing thru telling engaging stories. Knowing the clients well by spending time and asking questions.
CEO Hack: Repurposing what you have, and placing your content in different forms makes a big difference. Book mention; Twelve Week Year by Brian Moran (12-week goals and break it down)
CEO Nugget: Keep your clients in the loop all the time. You still need to connect even if they don't seem to care.
CEO Defined: When you're a solopreneur -you do the work for your client while working on improving your business. When you have a team is to put your team into a position to do their best work, to grow professionally to be able to achieve their goals.
LinkedIn: jondenunzio
Twitter: SquarelyDigital
Facebook: SquarelyDigital
---
Check out one of our favorite CEO Hack's Audible. Get your free audiobook and check out more of our favorite CEO Hacks HERE