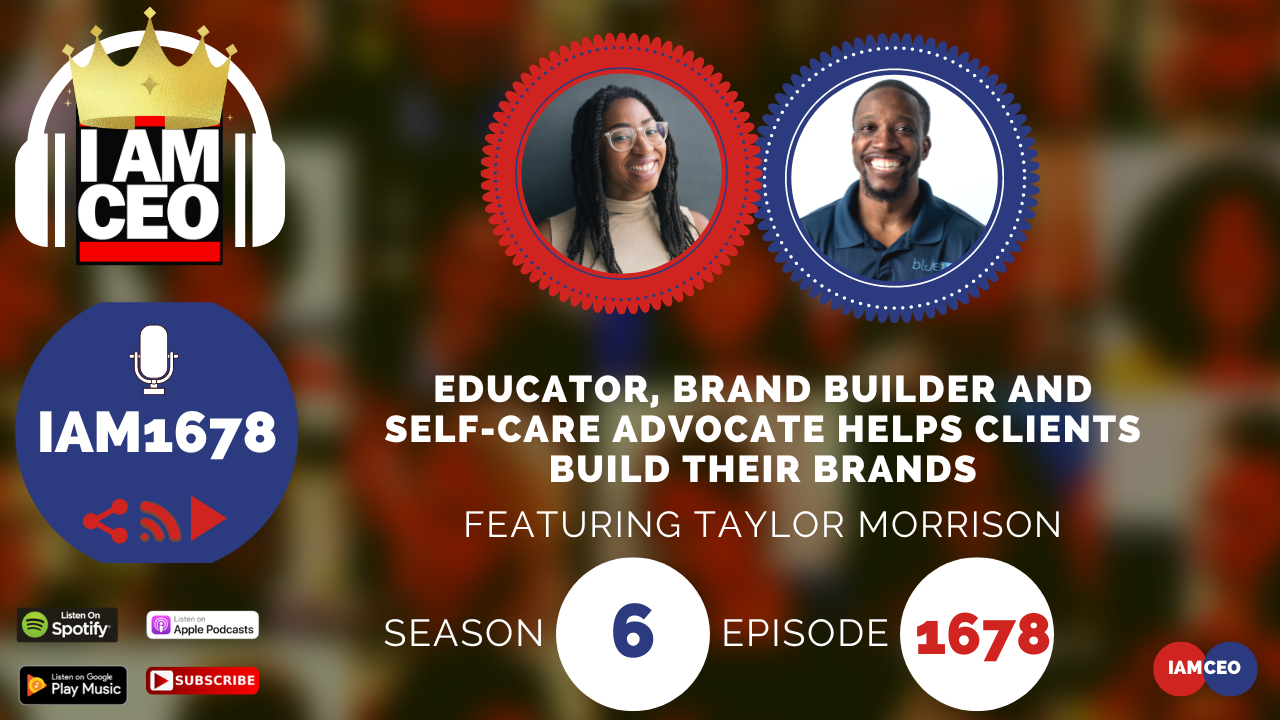 Why it was selected for "CBNation Architects": Mission, vision, and values are so important. I love speaking with Taylor and her process and how she understood this when there is a tough decision that her clients have to make to be a good filter and guide the ultimate decision to be in alignment. I think the mission, vision, and values speak to this human aspect of the business so it's so impactful that this is the first thing she gets when working with clients.
Check out premium content in the CBNation Library at http://cbnation.co/library and pick up our eBook to hear some of the best lessons at http://cbnation.co/shop.
Previous Episode: https://iamceo.co/2019/02/02/iam173-educator-brand-builder-and-self-care-advocate-helps-clients-build-their-brands/
Transcription:

Taylor Morrison Teaser 00:00
I created Jubilant about three years ago, and it was really because I discovered I loved helping entrepreneurs build these companies and really get clear on their brand stories and then also create the companies in such a way that the companies were something that was bringing them joy instead of a lot of stress, and was also bringing their customers joy.
Intro 00:24
Do you want to learn effective ways to build relationships, generate sales, and grow your business from successful entrepreneurs, startups, and CEOs without listening to a long, long, long interview?
If so, you've come to the right place. Gresham Harkless values your time and is ready to share with you precisely the information you're in search of. This is the I am CEO podcast.
Gresham Harkless 00:51
Hello, hello, hello. This is Gresh from the I am CEO podcast, and I appreciate you listening to this episode. And if you've been listening this year, we're doing something a little bit different where we're repurposing our favorite episodes under certain categories or topics that we think are gonna be extremely impactful for CEOs, entrepreneurs, and business.
This month is going to be about not forgetting about the human part of business. Often we forget about the human part of life. We often forget about the human part of business. So look forward, self-care tips, fitness, burnout, purpose, biz and personal, personal branding, motivation, drive, success, understanding your why, and of course, how important customer service is.
But at the heart of it, it's all about, remembering the human part of business. So sit back and enjoy this special episode of the I am CEO podcast.
Hello, hello, hello. This is Gresh from the I am CEO podcast and I have a very special guest on the show today, I have Taylor Morrison of Jubilant. Taylor, it's awesome to have you on the show.
Taylor Morrison 01:48
Gresh, thank you so much for having me. I'm excited to be here.
Gresham Harkless 01:51
I'm excited to have you on as well. And what I wanted to do is just read a little bit more about Taylor so you can hear about all the awesome things that she's doing.
And Taylor Elyse Morrison is an educator, brand builder, and self-care advocate. She owns Jubilant, a brand experience firm where she helps clients connect to their mission, vision, and values, strategically build their brands and create brands aligned processes that are efficient and enjoyable for all involved. Taylor, are you ready to speak to the I am CEO community?
Taylor Morrison 02:20
Yes, I am.