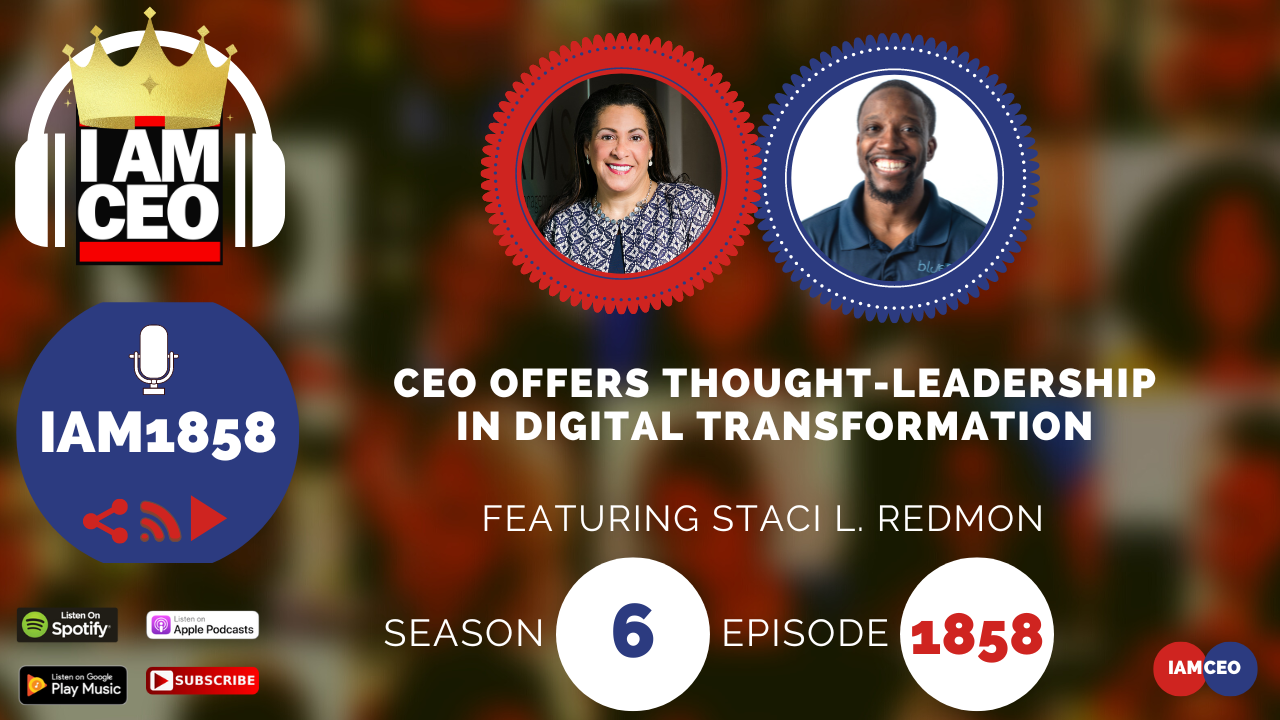 Why it was selected for "CBNation Architects"
:
In this episode of I AM CEO Podcast, we get to hear from Staci L. Redmon, the President, and CEO of Strategy and Management Services, Inc., an information technology organization.
CEO Story: Staci is a veteran of the Department of Defense with over 20 years of experience. She has successfully applied her knowledge and skills from the military to the digital technology landscape. Having a deep understanding of the role information technology plays in modern organizations, Staci helps address complex problems related to the digital era.
Business Service: Strategy and Management Services, Inc. is at the forefront of the digital transformation, providing information technology solutions based on military-grade processes.
CEO Hack: Staci shares three bounding principles: 1) The ability to say 'No' and forward the opportunity to someone else; 2) Delegation aids in reducing the personal workload; and 3) Limiting the time spent checking emails to a couple of times within a certain period.
CEO Nugget: Staci shares three nuggets: 1) Follow your passion; 2) Be aware of your blind spots; and 3) Every opportunity is a learning experience.
CEO Defined: For Staci, being a CEO involves providing leadership, building trust, and taking responsibility for the business.
Check out our CEO Hack Buzz Newsletter–our premium newsletter with hacks and nuggets to level up your organization. Sign up 
HERE
. 
Transcription:
The full transcription is only available to CBNation Library Members. Sign up today!
Staci L. Redmon Teaser 00:00
We were making decisions on and it just impacted me in such a way that I thought, okay, there's gotta be a better way to do this.
And I was open to exploring it and took that leap of faith at which led me down the road to creating Sams.
Intro 00:17
Do you want to learn effective ways to build relationships, generate sales, and grow your business from successful entrepreneurs, startups, and CEOs without listening to a long, long, long interview?
If so, you've come to the right place. Gresham Harkless values your time and is ready to share with you precisely the information you're in search of.
This is the I AM CEO podcast.
Gresham Harkless 00:41
Hello, hello, hello. This is Gresh from the I AM CEO podcast and I appreciate you listening to this episode. If you've been listening this year you know that we hit 1600 episodes at the beginning of this year. We're doing something a little bit different where we're repurposing our favorite episodes around certain categories, topics, or as I like to call them business pillars that we think are going to be extremely impactful for CEOs, entrepreneurs, and business owners, or what I like to call the CB nation architects who are looking to level up their organizations.
This month, we are focused on leadership, management and coaching. When we think of leadership management and coaching, we often think of doing all of the other things, but often it's a person that's able to build up their team, that's able to cultivate a creative and innovative culture so that people can excel and actually be their own leaders. So that's why this month we're focusing on those 3 big topics because they make a huge impact on the organizations that we're part of.
Now, you'll hear some of those topics this month, of course, some really great perspectives on how people are even defining leadership, which I think is extremely exciting. So sit back and enjoy this special episode of the I AM CEO podcast.
Hello. Hello. Hello. This is Gresh from the I AM CEO podcast. And I have a very special guest on the show today at Staci L. Redmon of Strategy and Management Services. Incorporated. Staci, it's awesome to have you on the show.
Staci L. Redmon 02:02
Oh, it's so great to be here. Thank you so much for having me.
Gresham Harkless 02:05
No problem. I'm super appreciative of you taking some time out to hop on the podcast. What I want to do is just read a little bit more about Staci so you can hear about all the awesome things that she's doing.
Staci L. Redmon is the president and CEO of pioneering information technology organization, Strategy and Management Services Incorporated.
Stacey brings her 20-plus years of experience, a DOD experience to the forefront of the digital transformation by applying military grade processes solutions to the information technology innovations panorama within excellent understanding of information technologies role in the modern organization.
Staci offers thought-leadership in the most complex and current problems of the digital era. With a dedication to serving and a passion for learning, Staci looks to the future with the goal of staying ahead of the curve and finding success for those organizations that need it the most.
Staci, are you ready to speak to the I AM CEO community?
Staci L. Redmon 02:58
I am. Thank you.