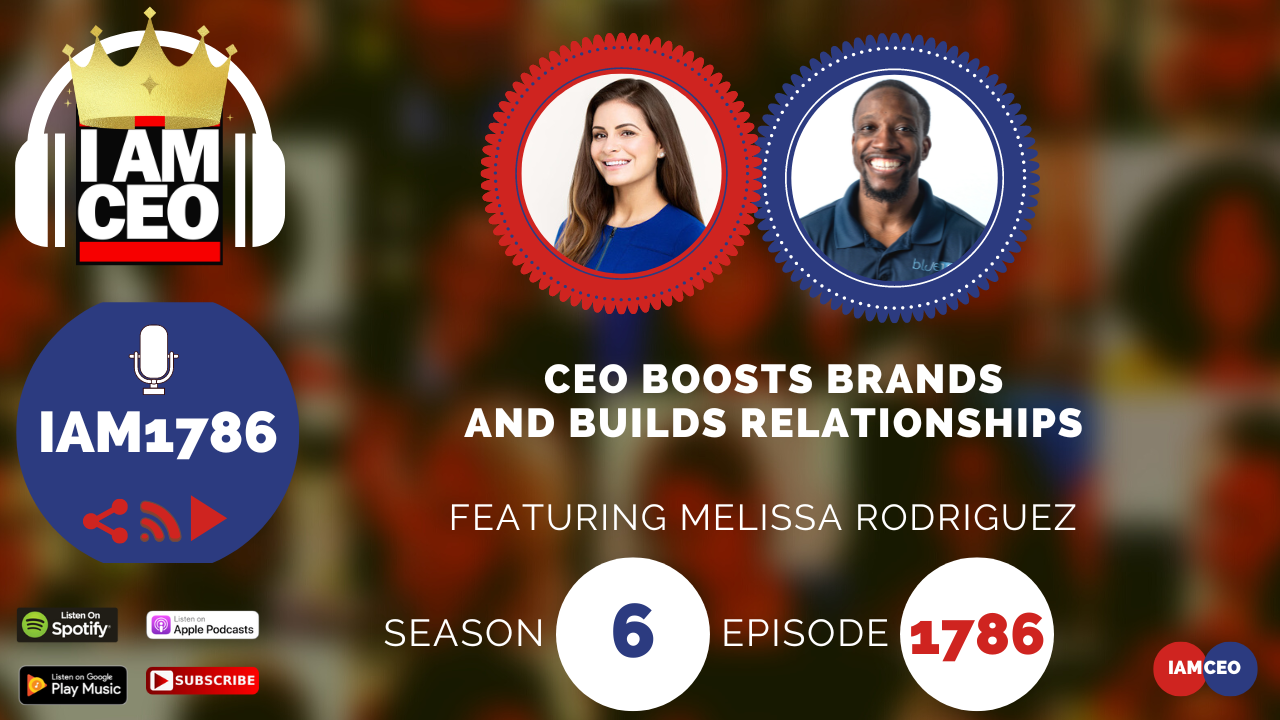 Why it was selected for "CBNation Architects":
In this episode of the I AM CEO Podcast, host Gresham Harkless Jr. interviews Melissa Rodriguez, the founder of Social Media Relations, a full-service agency that specializes in branding, content production, social media marketing, and public relations. With over 10 years of experience in the industry, Melissa is a marketing and advertising specialist who holds BS degrees in Global Perspectives and Corporate Finance and Accounting from Bentley University.
Throughout the episode, Melissa shares valuable insights on branding and building relationships, emphasizing the importance of intentionality in building community. She talks about her journey from public accounting to marketing, and how she left a six-figure job to pursue her calling. She also discusses her approach to working with clients, building custom plans that align with their goals and help bring their brands to life.
In addition to sharing her expertise, Melissa offers practical tips and advice for entrepreneurs and business leaders. She recommends meditation as a helpful tool for gaining insight and making clearer decisions and emphasizes the importance of understanding successful people's mindsets in order to achieve success oneself.
Overall, the episode provides valuable insights and advice for anyone looking to improve their branding and marketing efforts, particularly in the realm of social media and public relations.
Check out one of our favorite CEO Hack's CEO Web Shop. Get your free audiobook and check out more of our favorite CEO Hacks HERE.

I AM CEO Handbook Volume 3
 is HERE and it's FREE. Get your copy here: 
http://cbnation.co/iamceo3
. Get the 100+ things that you can learn from 1600 business podcasts we recorded. Hear Gresh's story, learn the 16 business pillars from the podcast, find out about CBNation Architects and why you might be one and so much more. Did we mention it was FREE? Download it today!
Transcription:
The full transcription is only available to CBNation Library Members. Sign up today!
Melissa Rodriguez Teaser 00:00
Understanding successful people's mindset is far more important than understanding what they did to get there, because what they did to get there can change, and evolve with time. It can be different, but mindset, what they were thinking, how they were thinking, what was driving them, what was their perceptions and their awareness, that is the juice. That is the magic socks.
Intro 00:23
Do you want to learn effective ways to build relationships, generate sales, and grow your business from successful entrepreneurs, startups, and CEOs without listening to a long, long, long interview?
If so, you've come to the right place. Gresham Harkless values your time and is ready to share with you precisely the information you're in search of.
This is the I AM CEO podcast.
Gresham Harkless 00:50
Hello, hello, hello. This is Gresh from the I AM CEO podcast and I appreciate you listening to this episode. If you've been listening this year, you know that we hit over 1600 episodes at the beginning of this year.
We're doing something a little bit different where we are repurposing our favorite episodes around certain categories, topics, or as I like to call them, the business pillars that we think are gonna be extremely impactful for CEOs, entrepreneurs, business owners, and what I like to call CB Nation architects who are looking to level up their organizations.
This month we are focused on the visibility game, a.k.a. marketing, advertising, PR, and sales. I often say the name of the game is being found, and these tools will help you to do that. We have heard the philosophical question, if the tree falls in the forest and no one is around, does it make a sound? If there's a really, really great product or service and no one knows about it, How great is it really? What impact does it ultimately make? This is where we will go into this month looking at visibility, branding, marketing, public relations, sales being the lifeblood of businesses, building, meeting companies, and so much more.
This is probably one of the most exciting and probably the most excruciating topics, but we hope this month to demystify or maybe even vanquish the fear and help and arm you with the tools to be able to increase your visibility. So buckle up and sit back and enjoy this special episode of the I AM CEO podcast.
Hello, hello, hello. This is Gresh from the I AM CEO podcast. I have a very special guest on the show today. I have Melissa Rodriguez of Social Media Relations. Melissa, super excited to have you on the show.
Melissa Rodriguez 02:21
Thank you, Gresh. I'm excited to be here.
Gresham Harkless 02:23
Yes, excited to hear about all the awesome things that you're doing, and before we jump into that, I want to read a little bit more about Melissa, so you'd hear about some of those awesome things.
Melissa is a marketing advertising specialist and the founder of Social Media Relations out of Los Angeles, California. With over 10 years of experience, she specializes in branding, content production, social media marketing, and public relations.
Melissa holds a BS degree in global perspective in Corporate Finance and Accounting from Bentley University. Melissa's contribution to social media relations have contributed to their five-star rating across multiple platforms, including Google, Yelp, and Facebook.
A visionary at heart, it is Melissa's mission to take your brand online and create relationships that matter. Super excited again to have you on Melissa, are you ready to speak to the I AM CEO community?