DMV CEO
I AM CEO PODCAST
IAM1642 – Founder Creates a Community of Creatives and Entrepreneurs
Podcast Interview with Sara Alepin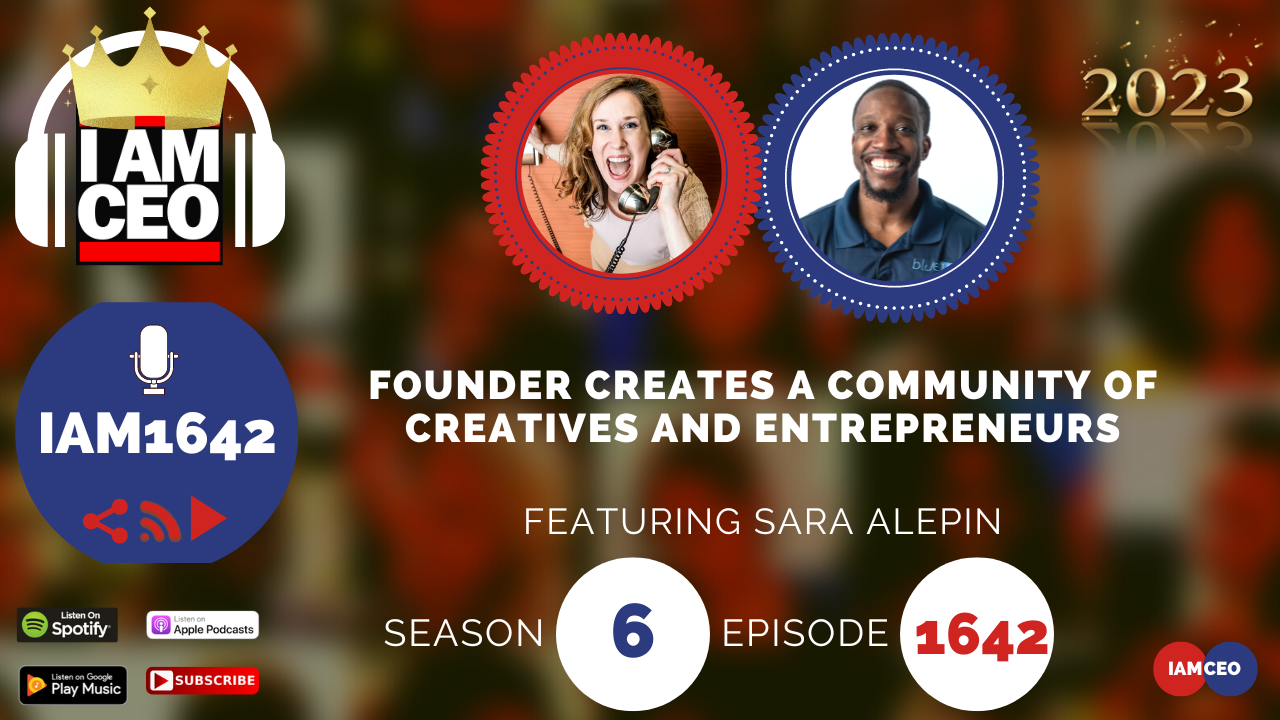 Why it was selected for "CBNation Architects": Sara has so much positive energy toward building a community. Sara spoke about finding her people by connecting and wanting to help people to succeed.
Check out premium content in the CBNation Library at http://cbnation.co/library and pick up our eBook to hear some of the best lessons at http://cbnation.co/shop.
Previous Episode: https://iamceo.co/2020/01/13/iam518-founder-creates-a-community-of-creatives-and-entrepreneurs/
Transcription:

Sara Alepin Teaser 00:00
Really awesome thing that we did when we started this membership thing was the benefits are just like off the charts. Like it's a huge SEO bump. You have the ability to blog on our guest blog on our site. You get access to all kinds of stuff from our sponsors and free access to workshops. It's a way to kind of almost hold yourself accountable to actually attend networking events and actually build your business.
Intro 00:27
Do you want to learn effective ways to build relationships, generate sales, and grow your business from successful entrepreneurs, startups, and CEOs without listening to a long, long, long interview? If so, you've come to the right place. Gresham Harkless values your time and is ready to share with you, precisely the information you're in search of. This is the I am CEO podcast.
Gresham Harkless 00:54
Hello, hello, hello. This is Gresh from the I am CEO podcast and we're doing something a little bit different this year with some of our episodes. We're repurposing some of our favorite episodes around specific topics related to entrepreneurship. This month we're focusing on entrepreneurship and community. Us, we, our, together, and we're gonna look at entrepreneurship and industries in different types of entrepreneurship and ultimately what that really means. But we're also gonna delve deeper into the importance of community, networking, niche communities and how that supports being a CEO, entrepreneur and business owner. So sit back and enjoy these special episodes around entrepreneurship and community.
Hello, hello, hello. This is Gresh from the I am CEO podcast and I have a very special guest on the show today. I have Sara Alepin of District Bliss. Sara, it's awesome to have you on the show.
Sara Alepin 01:41
Yeah, thanks for having me. I'm really excited to be here.
Gresham Harkless 01:44
No problem. Super excited to have you on. And what I want to do is just read a little bit more about Sara, so you can hear about all the awesome things that she's doing. Sara is a go-getter with a background in art education. After founding photos from the Harty, Sara realized something was missing. Hoping to create a community of supportive and like-minded creatives and entrepreneurs, she launched District Bliss. Sara continues to be amazed at how many wonderful, talented people have joined the District Bliss chapters across the United States. Sara, are you ready to speak to the I am CEO community?
Sara Alepin 02:12
I am.