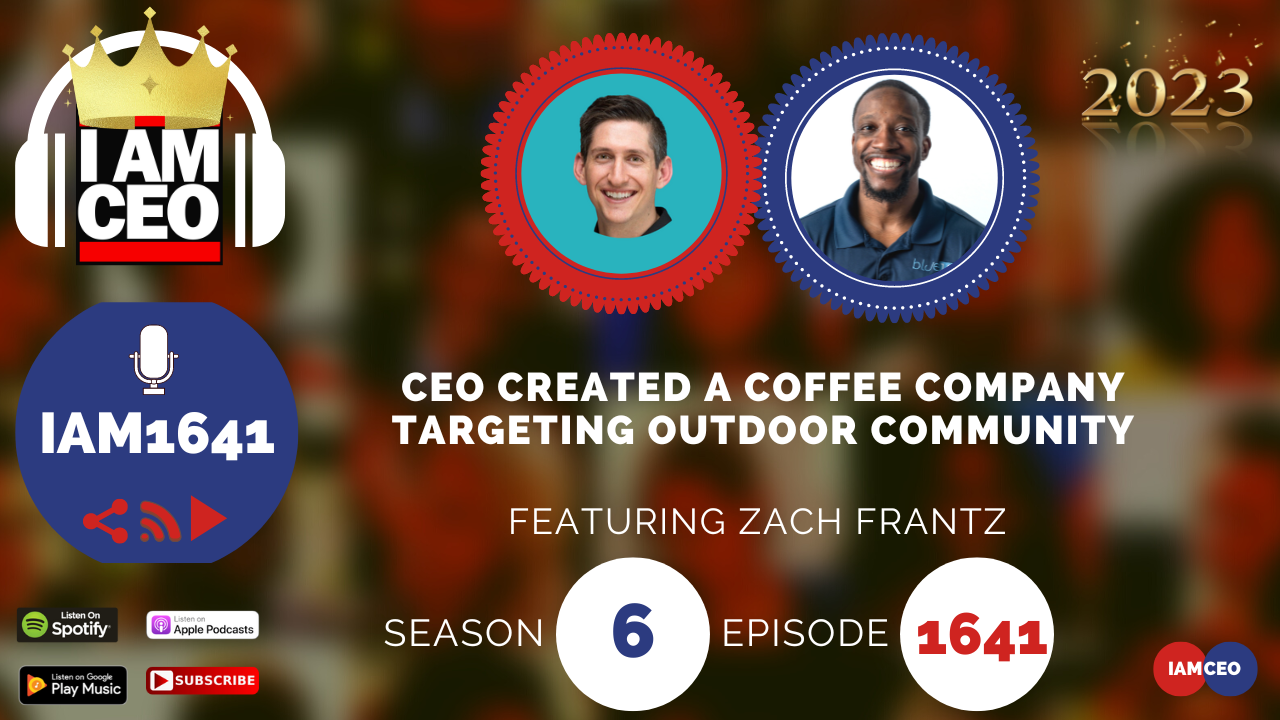 Why it was selected for "CBNation Architects": Zach talked about the entrepreneurial journey and how it doesn't happen overnight. Also related to the community, they focus on UGC – User Generated Content and how important it is to niche down and how that helps to serve the community that you are serving.
Check out premium content in the CBNation Library at http://cbnation.co/library and pick up our eBook to hear some of the best lessons at http://cbnation.co/shop.
Previous Episode: https://iamceo.co/2022/01/30/iam1266-ceo-created-a-coffee-company-targeting-outdoor-community/
Transcription:

Zach Frantz Teaser 00:00
You know, when I'm writing copy or when I'm posting on Instagram, it's very just like I'm talking to my friends, right? I'm big on UGC like I don't spend almost any money on content. I just take what people posted on their stories and I post it on my post.
Intro 00:18
Do you want to learn effective ways to build relationships, generate sales, and grow your business from successful entrepreneurs, startups, and CEOs without listening to a long, long, long interview?
If so, you'll come to the right place. Gresham Harkless values your time and is ready to share with you precisely the information you're in search of. This is the I am CEO podcast.
Gresham Harkless 00:44
Hello. Hello, this is Gresh from the I am CEO podcast and we're doing something a little bit different this year with some of our episodes we're repurposing some of our favorite episodes around specific topics related to entrepreneurship. This month we're focusing on entrepreneurship and community.
Us, we, our, together and we're gonna look at entrepreneurship and industries and different, types of entrepreneurship and ultimately what that really means. But we're also gonna delve deeper into the importance of community networking niche communities and how that supports being a CEO, entrepreneur, and business owner.
So sit back and enjoy these special episodes around entrepreneurship and community.
Hello, hello, hello. This is Gresh from the I AM CEO podcast. I have a very special guest on the show today I have Zach France of Wildland Coffee. Zach, super excited to have you on the show.
Zach Frantz 01:30
Thanks, Gresh. Really appreciate it.
Gresham Harkless 01:32
Yeah, definitely appreciate you as well.
And before we jumped into the interview, I wanted to read a little bit more about Zach so you can hear about some of these awesome things that he's doing. And Zach is an entrepreneur, sales expert and the founder of Wildland Coffee growing up in San Diego. He enjoyed two things, starting from a young age, camping and the idea of being an entrepreneur.
In fact, he started his first business cakes by Zach at the age of nine, and after graduating from San Diego State University, Zach, further hone his tech and e-commerce skills by working for two software startups in Salt Lake City. And while living there, Zach and his wife enjoyed many camping trips but would get fed up trying to make good-tasting coffee with a French press.
He knew there had to be a better way to make and enjoy coffee while on the go. And as it turns out, there was. In the hopes of inspiring more people to get outdoors. Zach launched Wildland Coffee in the spring of 2021, and with the brand's innovative Coffee in a teabag, you can easily make tasty coffee wherever you are.
And his motto in both business and in life, his rising tides should lift all boats, which is why he hopes above all to do right by his team, his community, and the environment, and outside of growing Wildland coffee, Zach. Loves to enjoy the outdoors through skiing, hiking, and camping. Absolutely love the progression and hear about all the awesome things you're doing now.
Zach, are you ready to speak to the I'm CEO community?
Zach Frantz 02:44
Yeah, let's do it.