I AM CEO PODCAST
IAM1410 – Best-Selling Author and Speaker Helps Entrepreneurs Write, Self-Publish & Tell Their Stories
Special Throwback Episode - Podcast Interview with Vickie Gould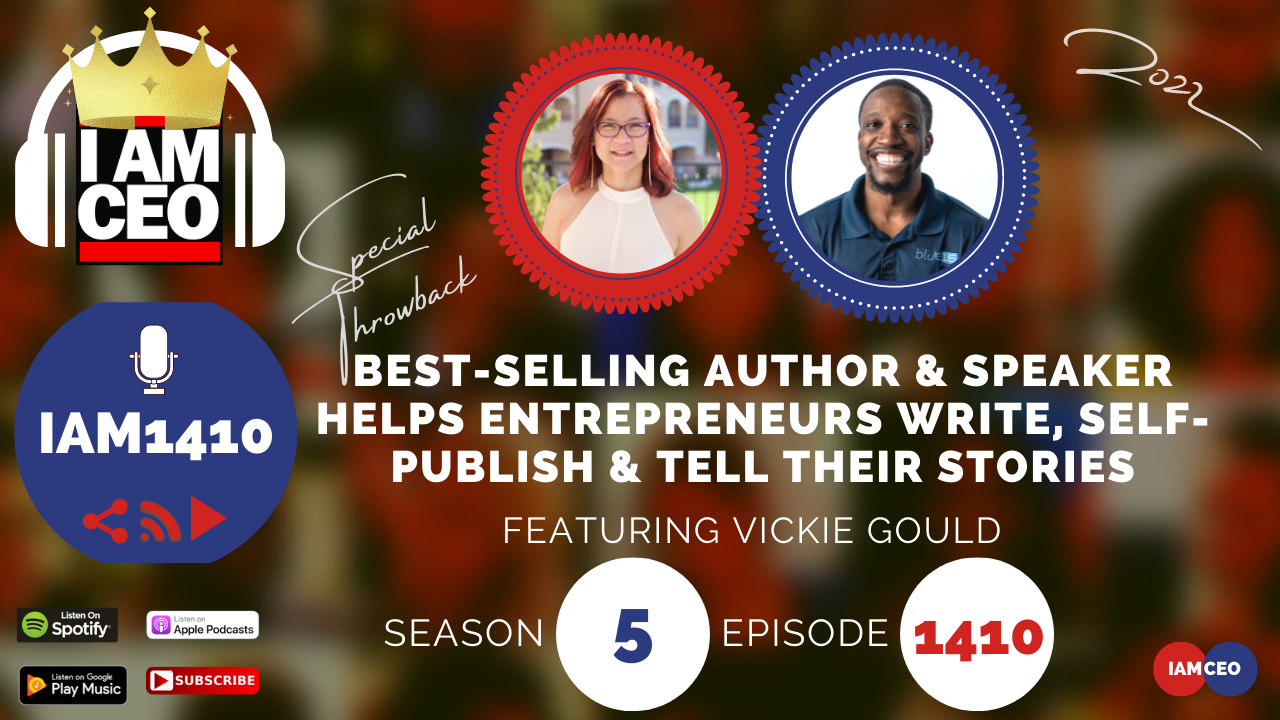 Vickie Gould is a Law of Attraction business and book coach, best-selling author, and speaker. She is the author of the new book (Released September 4, 2018), "Courageous World Catalysts 2," an anthology showcasing over 10 entrepreneurs and their stories. She helps entrepreneurs to write and self-publish their own business books to share their stories, grow their following, and create more impact, reach, and clientele. She has written 8 best sellers such as Hit Publish and Standing in the Gap, and helped nearly 100 others to become best-selling authors as well.
CEO Story: There was a time when Vickie had to run away from her story. But through forgiveness and a deep understanding that everybody has to go through toughness in life so that they can help others who are desperately in need to hear your life story. That is why Vickie has a really deep connection with her readers, because of the uniqueness of her story. And now, she is helping numerous aspiring authors to write a book, not just for fame or authority, but to connect within themselves and to touch the lives of other people.
Business Service: Help people write a book. Turn your readers into a client.
Secret Sauce: Not stopping by just writing a book but getting to another level by leveraging that story into other places and making the book profitable.
CEO Hack: Automation or omnipresence like 

IFTTT

,  

Amplifer

, and 

Byron Katie "Loving What Is" 

CEO Nugget: Be patient.
CEO Defined: Treating your business like a business and not as a solo hobbyist.
Website: http://www.vickiegould.com/
Twitter: https://twitter.com/vickie_gould
LinkedIn: https://www.linkedin.com/in/vickiegould/
Instagram: https://www.instagram.com/vickiegould/
Facebook: https://www.facebook.com/vickiegouldcoach/
Books: https://amzn.to/2OUtw8C
Episode Link: https://iamceo.co/2018/10/02/iam076-best-selling-author-speaker-helps-entrepreneurs-write-self-publish-tell-their-stories
---
Check out one of our favorite CEO Hack's Audible. Get your free audiobook and check out more of our favorite CEO Hacks HERE