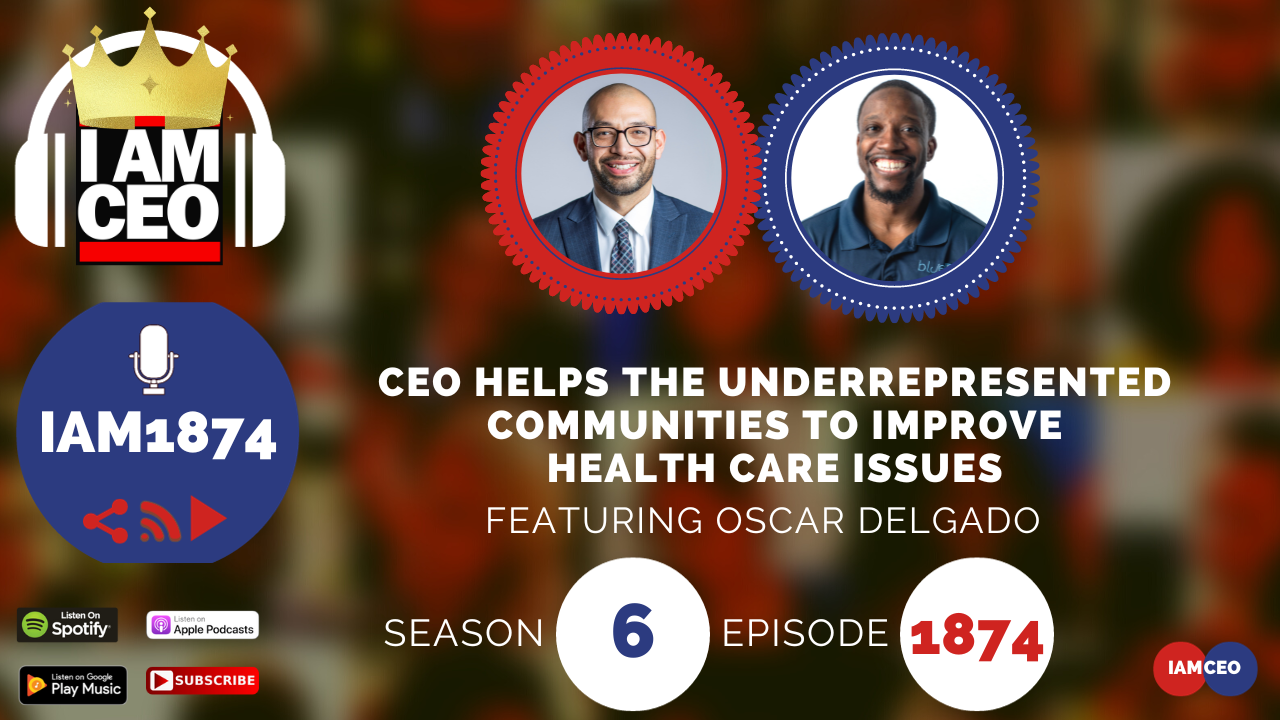 Why it was selected for "CBNation Architects"
:
In this IAMCEO Podcast episode, Oscar Delgado, Chief Executive Officer of Community Health Alliance, shares his inspiring journey in helping underrepresented communities improve healthcare issues. Oscar is a leader in the arena of compassionate healthcare, advocating for medical attention that is caring, respectful, and helpful.
CEO Story: Oscar's journey since childhood was influenced by his mother's compassionate service as a Spanish-speaking translator at Washoe Medical Center. Oscar has devoted his career to ensure that all community members receive proper healthcare that they deserve. With over a decade of health care experience, Oscar has spearheaded outreach programs that improved health outcomes in underrepresented communities.
Business Service: Under Oscar's leadership, Community Health Alliance, with a team of nearly 300 medical and administrative professionals, caters to the needs of primarily low-income patients. With seven clinic locations and a mobile clinic in the Reno-Sparks metropolitan area of northern Nevada, they deliver care to more than 25,000 patients annually.
Secret Sauce: Oscar emphasizes quality patient care and a ground approach. He focuses on always being clear on why they do what they do and pursue it with genuine passion.
CEO Hack: Oscar suggests consistent reading and networking with people outside his industry, preferably those who are honest and respected, to gain different perspectives.
CEO Nugget: Oscar advises getting out of your comfort zone, embracing discomfort as part of the growth process.
CEO Defined: For Oscar, being a CEO involves realizing an ever-changing vision, influenced by the goals of the people he leads.
Check out our CEO Hack Buzz Newsletter–our premium newsletter with hacks and nuggets to level up your organization. Sign up 
HERE
. 

I AM CEO Handbook Volume 3
 is HERE and it's FREE. Get your copy here: 
http://cbnation.co/iamceo3
. Get the 100+ things that you can learn from 1600 business podcasts we recorded. Hear Gresh's story, learn the 16 business pillars from the podcast, find out about CBNation Architects and why you might be one and so much more. Did we mention it was FREE? Download it today!
Transcription:
The full transcription is only available to CBNation Library Members. Sign up today!
Oscar Delgado Teaser 00:00
Just want to represent the community as best we can and mirror the community as best we can. So when people go into our health centers, they feel like they're at home and that's something we've been striving to do, which I'm proud of my team. We've been able to accomplish.
Hopefully, by the end of next month, we'll be serving close to 26, 000 patients and growing and it's pretty exciting because people are seeking us out trying to figure out how do you do what you do.
Intro 00:24
Do you want to learn effective ways to build relationships, generate sales, and grow your business from successful entrepreneurs, startups, and CEOs without listening to a long, long, long interview?
If so, you've come to the right place. Gresham Harkless values your time and is ready to share with you precisely the information you're in search of, this is the IAMCEO podcast.
Gresham Harkless 00:53
Hello. Hello. Hello. This is Gresh from the IAMCEO podcast. And I appreciate you listening to this episode. If you've been listening this year, you know that we hit 1600 episodes at the beginning of this year, and we're doing something a little bit different.
Where we're repurposing our favorite episodes around certain categories, topics, or as I like to call them, the business pillars that we think are going to be extremely impactful for CEOs, entrepreneurs, business owners, and what I like to call the CB Nation architects who are looking to level up their organizations.
This month, we are focusing on operations. The systems will set you free. So think about systems, think about flow, sustainability, potentially working out in your morning routine, waking up early, e-commerce, different business models. Think of the operations, the models that basically set up the foundation to allow the creativity within organizations, but also to make sure the trains are running on time and things are going as they should.
Now, this is extremely important because we often turn to the sexy parts of business and forget about the operations and how important that is. So I really want to focus this month on this specific topic.
So sit back and enjoy this special episode at the IAMCEO podcast.
Hello. Hello. Hello. This is Gresh from the IAMCEO podcast. I have a very special guest on the show today. I have Oscar Delgado of Community Health Alliance. Oscar, super excited to have you on the show.
Oscar Delgado 02:13
Thanks for having me. I'm a big fan.
Gresham Harkless 02:15
Yes, I'm a fan of all the awesome things that you're doing as well too. And of course, before we jumped into that, I'm going to read a little bit more about Oscar so you can see why I'm so much of a fan.
And Oscar's understanding of the power of compassionate health care began when he was a child accompany his mom on errands around Reno and Sparks. His mom helped support her family as a housekeeper in the maternity ward of Washoe Medical Center, now it's renown.
As one of the handful of Spanish speakers. She was called to provide translation services for Spanish-speaking patients who were navigating a largely English-speaking hospital.
They thank Oscar's Mom for her assistance during these stressful times. And these moments suck with Oscar, and he's devoted his career to ensuring that all the members of his community receive caring, respectful and helpful attention to their medical needs.
An experienced and innovative leader, Oscar serves as Chief Executive Officer of Community Health Alliance, where he works with a team of nearly 300 medical and administrative professionals who meet the needs of primarily low-income patients.
With 7 clinic locations, as well as a mobile clinic serving the Reno-Sparks metropolitan area of northern Nevada, Community Health Alliance provides cares to more than 25, 000 patients provides strategic leadership to the organization works closely with other community groups as well, and ensures that the 31Million annual budget of community health alliance provides top-flight health care.
Under Oscar's leadership, the Community Health Alliance takes pride in being health care, that is the equal of any in the region. And when he was named CEO in early 2019, he brought more than a decade of healthcare experience to the position and he spearheaded outreach and development programs and improved health outcomes and underrepresented areas.
And he also played important roles in ensuring that multicultural communities get the word out about state-sponsored health insurance plans. He worked closely with families of Children with learning and physical and behavioral disabilities. And even while he worked long hours on health care issues, Oscar also serves since 2012 as a member of the Reno City Council.
He's been an effective advocate for quality-of-life improvements in the ward he represents as well, too. And he's been a leader of the entire city on issues ranging from zoning and recreation to public safety.
Even as he has blossomed into a respected, effective leader, Oscar never is far from that boy that dedicated to the lessons of respectful compassion he learned from his mother.
Oscar, I love all the awesome things you're doing. Love your story, even more. Are you ready to speak to the IAMCEO community?
Oscar Delgado 04:35
Let's do it. And I appreciate that very much.