I AM CEO PODCAST
IAM1532 – CEO Helps the Underrepresented Communities to Improve Health Care Issues
Podcast Interview with Oscar Delgado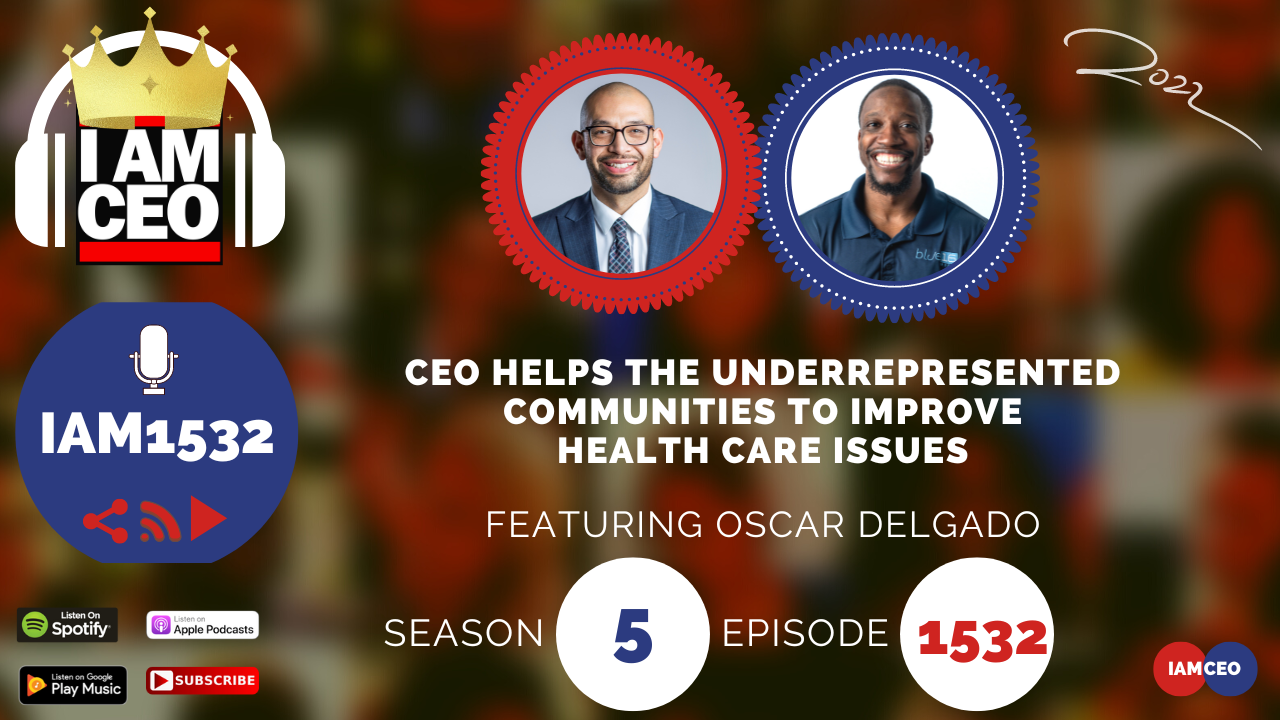 Oscar Delgado's understanding of the power of compassionate healthcare began when he was a child accompanying his Mom on errands around Reno and Sparks.
His Mom helped support her family as a housekeeper in the maternity ward of Washoe Medical Center (now, it's Renown). As one of a handful of Spanish speakers, she was called to provide translation services for Spanish-speaking patients who were navigating a largely English-speaking hospital. They thank Oscar's Mom for her assistance during those stressful times. Those moments stuck with Oscar, and he's devoted his career to ensuring that all the members of his community receive caring, respectful and helpful attention for their medical needs.
An experienced, innovative leader, Oscar Delgado serves as chief executive officer of Community Health Alliance, where he works with a team of nearly 300 medical and administrative professionals who meet the needs of primarily low-income patients. With seven clinic locations as well as a mobile clinic serving the Reno-Sparks metropolitan area of northern Nevada, Community Health Alliance provides care to more than 25,000 patients. Oscar provides strategic leadership to the organization, works closely with other community groups, and ensures that the $31 million annual budget of Community Health Alliance provides top-flight care.
Under Oscar's leadership, the Community Health Alliance team takes pride in providing healthcare that is the equal of any in the region. When Oscar was named CEO of Community Health Alliance in early 2019, he brought more than a decade of healthcare experience to the position. He had spearheaded outreach and development of programs that improved health outcomes in underrepresented communities. He played important roles in ensuring that multicultural communities got the word about state-sponsored health insurance plans. He worked closely with families of children with learning, physical and behavioral disabilities.
Even while he worked long hours on healthcare issues, Oscar also has served since 2012 as a member of the Reno City Council. He's been an effective advocate for quality-of-life improvements in the ward he represents, and he's been a leader for the entire city on issues ranging from zoning and recreation to public safety. But even as he has blossomed into a respected, effective leader, Oscar Delgado is never far from that boy dedicated to the lessons of respectful compassion he learned from his mother.
CEO Story: Oscar's journey since he was a kid was always about serving. It's a joy to see others' success is also their success either as an individual, neighborhood, or for a community. That led Oscar to serve as a public servant whether as a city councilor or health care advocate – making sure to get the proper health care that people deserve.
Business Service: Going to communities that are underserved in terms of health care needs. Providing primary care.
Secret Sauce: How to make sure the patient is taken good care of, how do you stay grounded on who you are best serving. Asking the question what's the Why. Do what you want to do and give your heart unto it.
CEO Hack: Reading a lot. Surrounding yourself not in your industry/healthcare – people that are honest and respected.
CEO Nugget: Get out of your comfort zone. Get comfortable that you will be going to be uncomfortable for quite some time.
CEO Defined: Bringing forward that you have a vision, an organic ever-changing vision, that is compiled by the goals and the people you lead.
---
Check out one of our favorite CEO Hack's Audible. Get your free audiobook and check out more of our favorite CEO Hacks HERE