I AM CEO PODCAST
PodCEO
IAM1533 – Content Creator Helps Businesses on Developing Personal Brand in the Virtual Practice
Podcast Interview with Atty. Brittany Alexander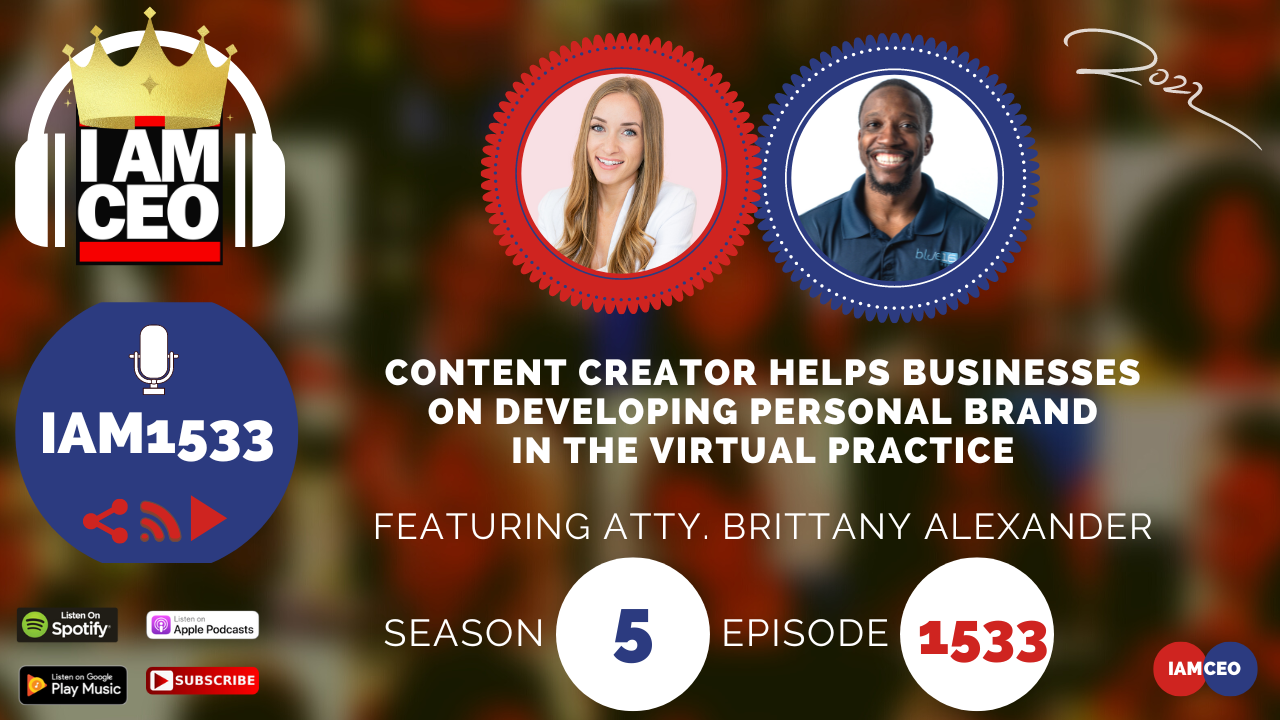 Brittany Alexander, Esq., founder and CEO of Premier Property Law and Host of The Modern Professional Podcast, is revolutionizing the virtual practice of law and teaching other professionals how to create 7-figure businesses with the power of personal branding & content creation. She launched her firm as a one-woman-show in October 2020 and signed 100 clients within her first 100 days. Through her strategic use of social media platforms like Instagram, she grew her company to $1.78 million in year one, with an advertising budget of zero.
CEO Story: After graduating from law school Brittany worked in a big firm and handled cases for insurance claims which for her, was no fun and very exhausting. At one point she represented the side of homeowners and landowners which she noticed she did really well and fell in love with it. After some time she worked for another firm and began to think of pursuing her dream of having her own business and sparking that entrepreneurial spirit within her. With a little push from her fiancé, she started marketing herself on social media posting videos that gain a lot of traction and bringing in clients. And so on October 1st, 2020 she opened her own firm.
Business Service: Help homeowners and property owners if the insurance company won't pay or doesn't pay enough to repair their home after damage from a storm, fire, etc. Brittany's podcast is where she shares her knowledge and passion for business as well as helping clients in her law firm.
Secret Sauce: Modern law firm, 100% remote. Using modern techniques and tools. Communication and efficiency. Very intentional, strategic, and focused on the values. Crafting the client experience through communication and efficiency.
CEO Hack: Thought shifting – taking something negative thought/belief into something positive.
CEO Nugget: Get confident in your abilities and you will get confident in your executions.
CEO Defined: Being able to design and run a company that has value and integrity in the outcome that you wish to see in the business in your industry.
Instagram: lawyer.britt
TikTok: lawyer.britt
YouTube: Lawyer Britt
Facebook: Lawyer Britt
---
Check out one of our favorite CEO Hack's Audible. Get your free audiobook and check out more of our favorite CEO Hacks HERE