I AM CEO PODCAST
PodCEO
IAM1224 – CEO Empowers Small Businesses through Her Negotiation Expertise
Podcast Interview with Christine McKay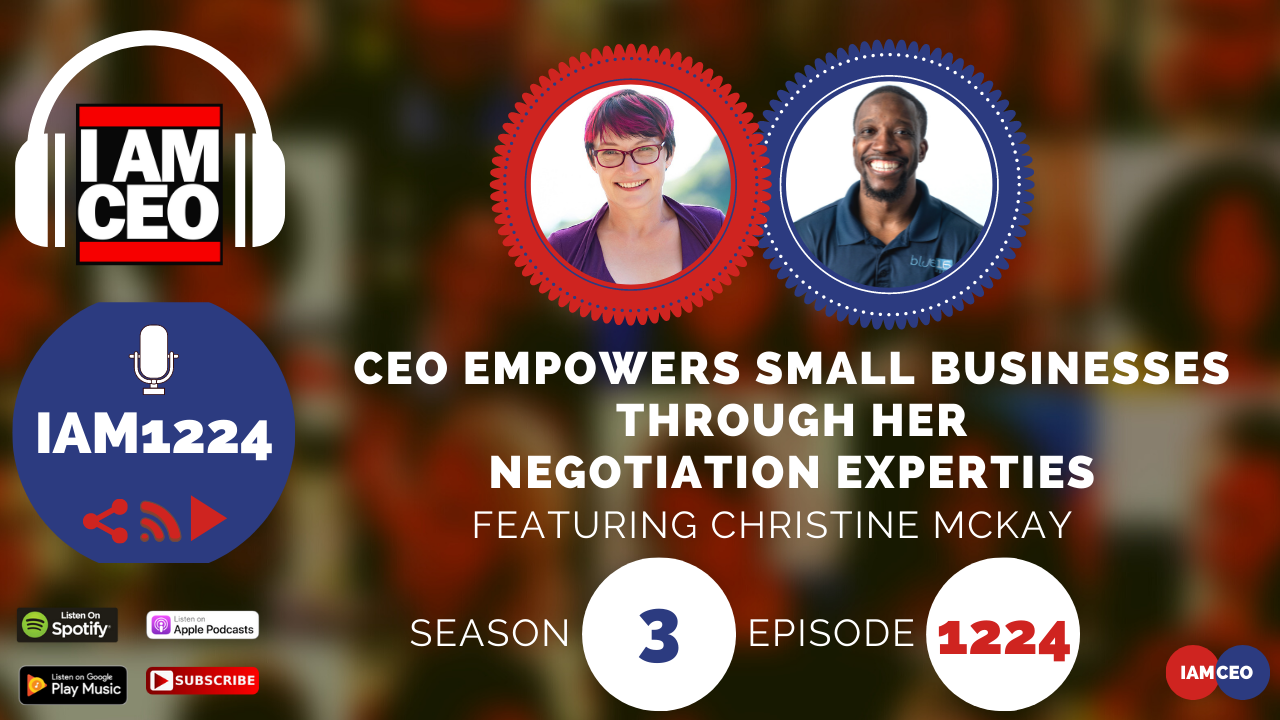 Christine McKay is a Business Negotiation Strategist, international speaker, host of In the Venn Zone podcast, and author of Why Not Ask? A Conversation about Getting More. Christine holds a Harvard MBA and is the CEO/Founder of Venn Negotiation. She has negotiated with more than half of the Fortune 100 & hundreds of small and mid-sized companies across 53 countries. She loves leveling the playing field for her clients and empowers entrepreneurs and business owners to ask for more of what they want and shows them how to get it. Her mission is to reduce business failure rates by helping people elevate their negotiation skills! She was born and raised in a rural community in Montana, graduating with the same 20 kids she grew up with. Christine's been married to the love of her life for almost 30 years and is a proud mom of three grown children.
CEO Story: It didn't start out so well during her college days, but worked her way up and successfully graduated as Cum Laude, even as a single mom and as a full-time student. Started her job negotiating with large telco companies. Subsequently, it hit a point that small companies don't have the resources and training in what she does, that's why she launched Venn negotiation.
Business Service: She helps her clients negotiate with big clients or big corporate suppliers by either coaching them or leading the negotiation with the focus on optimizing the business relationship.
Secret Sauce: The ability to read people, how to ask questions so that people can disclose or share things with her.
CEO Hack: Rocket Book allows you to take notes, on paper, scan it and it automatically loads up to Dropbox or Evernote.
CEO Nugget: Ask for what you want, and expect to get it.
CEO Defined: Giving of ideas, her heart, her economic and it is an ultimate serving role.
Website: www.vennnegotiation.com
Links:
Youtube: www.youtube.com/vennnegotiation
LinkedIn: company/venn-negotiation
Facebook: VennNegotiation
Instagram: vennnegotiation
LinkedIn: christinemckay
Facebook: mckaymch
Twitter: VennNegotiation
---
Check out one of our favorite CEO Hack's Audible. Get your free audiobook and check out more of our favorite CEO Hacks HERE