I AM CEO PODCAST
IAM1690 – CEO Combines Real State and Digital Technology for the Investors
Podcast Interview with Jake Marmulstein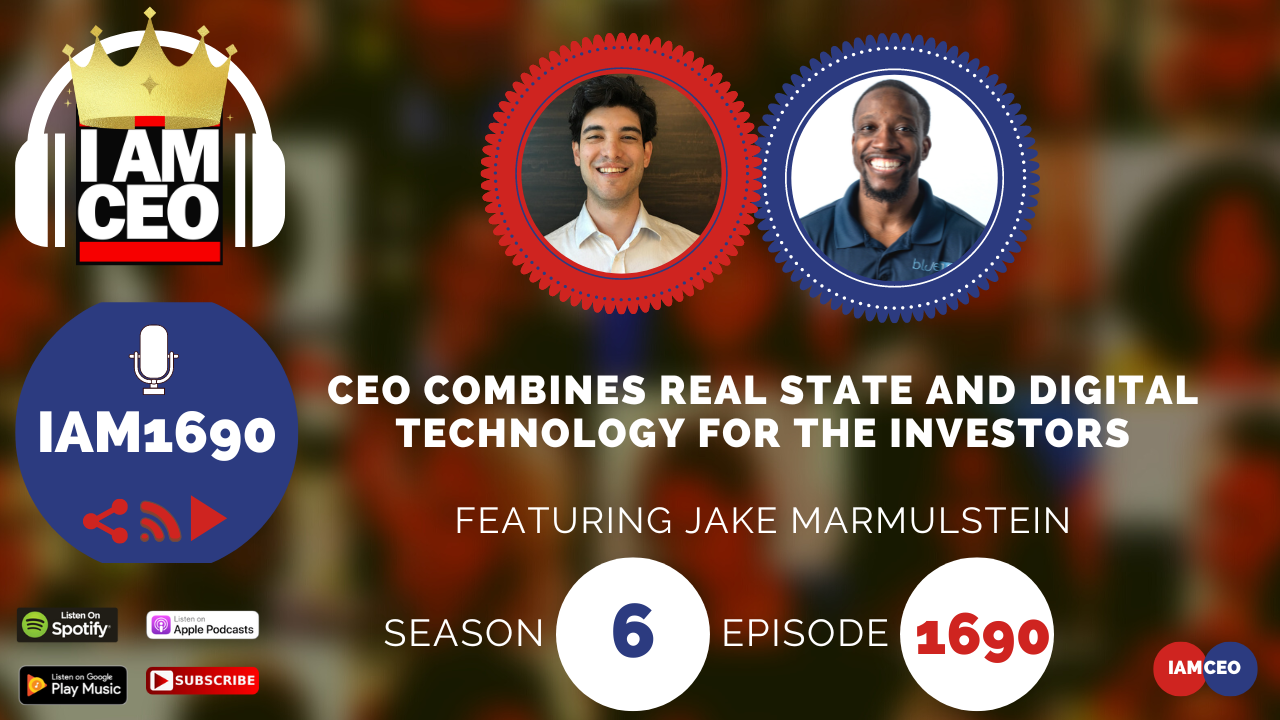 Why it was selected for "CBNation Architects": Jake understands the CEO Nugget that you can see much further by standing on the shoulders of giants. We also talked about the journey of entrepreneurship and how you sometimes do a lot to do a little during that journey. He was able to understand a problem and tried to make it easier and simpler for real estate investors to do what they do best and more impactful. The idea of your zone of genius come up multiple times and how they honed in on making sure they provided a tool and team to support their clients.
I AM CEO Handbook Volume 3 is HERE and it's FREE. Get your copy here: http://cbnation.co/iamceo3. Get the 100+ things that you can learn from 1600 business podcasts we recorded. Hear Gresh's story, learn the 16 business pillars from the podcast, find out about CBNation Architects and why you might be one and so much more. Did we mention it was FREE? Download it today! 
Previous Episode: https://iamceo.co/2022/06/26/iam1413-ceo-combines-real-state-and-digital-technology-for-the-investors/
Transcription:

Jake Marmulstein Teaser 00:00
Groundbreaker has a support team, and that team is like an extension of your team. We'll talk to your investors, we'll make sure that they're taken care of. So you can be a small operator and still get a ton of value out of using something that's gonna make you look professional in more ways than just the technology you get, like this whole team behind you that's gonna make sure that you're successful and be proactive.
Intro 00:26
Do you want to learn effective ways to build relationships, generate sales, and grow your business from successful entrepreneurs, startups, and CEOs without listening to a long, long, long interview? If so, you've come to the right place. Gresham Harkless values your time and is ready to share with you precisely the information you're in search of. This is the I am CEO podcast.
Gresham Harkless 00:53
Hello, hello. This is Gresh from the I am CEO Podcast and I appreciate you listening to this episode. And if you've been listening this year, we're doing something a little bit different where we're repurposing our favorite episodes under certain categories or topics that we think are gonna be extremely impactful for CEOs, entrepreneurs, and business owners.
This month is going to be about not forgetting about the human part of business. Often we forget about the human part of life. We often forget about the human part of business. So look for self-care, hips, fitness, burnout, purpose, biz and personal, personal branding, motivation, drive, success, understanding your why and of course how important customer service is. But at the heart of it, it's all about remembering the human part of business. So sit back and enjoy this special episode of the I am CEO podcast.
Hello, hello, hello. This is Gresh from the I am CEO podcast. I have a very special guest on the show today. I have Jake Marmulstein of Groundbreaker. Jake, it's great to have you on the show.
Jake Marmulstein 01:49
Hey, Gresh, good to be here.
Gresham Harkless 01:51
Yes, definitely. Super excited to have you on and before we jumped into the interview, I want to read a little bit more about Jake, so you'd hear about some of those awesome things. And before founding Groundbreaker, Jake held a number of roles involving real estate and technology, supporting the growth of early-stage digital technology ventures.
In 2011, he started his real estate career while underwriting distressed hotel investments for Watermark Capital Partners, a private REIT based out of Chicago. He graduated from The Hotel School at Cornell University with a concentration in Real Estate Finance. And at Groundbreaker, Jake owns the Company's strategic vision in investor relations. Before moving to Chicago, Jake lived abroad in Europe, Brazil, and Puerto Rico, where he became fluent in Spanish and Portuguese.
Jake, excited to have you on the show again. Are you ready to speak to the I am CEO community?
Jake Marmulstein 02:39
Absolutely. Let's do it.