DMV CEO
I AM CEO PODCAST
IAM1689 – CEO Helps Organizations Overcome Technology & Customer Churn Challenges to Succeed
Podcast Interview with Nicole Maaguo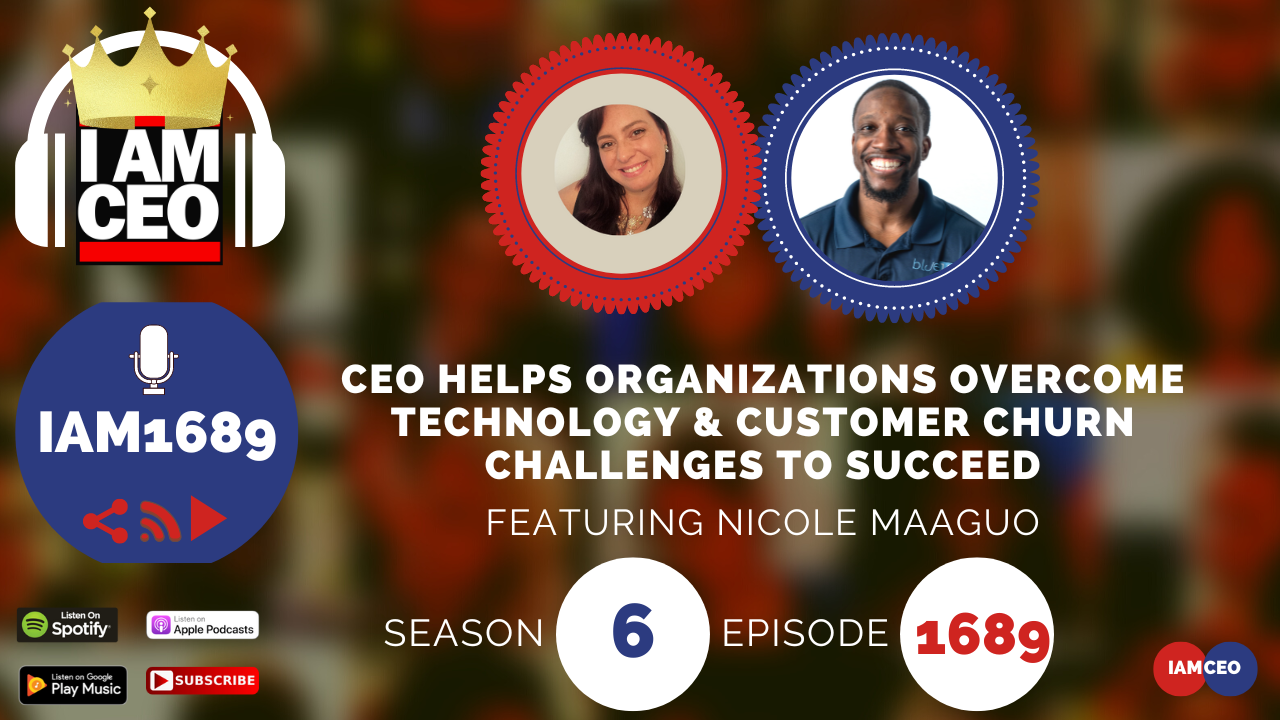 Why it was selected for "CBNation Architects": Nicole's story was motivational and how things sometimes happen and she was "pushed in the right direction." To hear from Nicole that she tells clients that the "technology is supposed to serve you." She helps clients to understand and leverage the technology to hit their goals.
I AM CEO Handbook Volume 3 is HERE and it's FREE. Get your copy here: http://cbnation.co/iamceo3. Get the 100+ things that you can learn from 1600 business podcasts we recorded. Hear Gresh's story, learn the 16 business pillars from the podcast, find out about CBNation Architects and why you might be one and so much more. Did we mention it was FREE? Download it today! 
Previous Episode: https://iamceo.co/2018/10/24/iam092-ceo-helps-organizations-overcome-technology-customer-churn-challenges-to-succeed/
Transcription:

Nicole Maaguo Teaser 00:00
Anytime things look like they're going wrong at the moment, it's just because you can't see the bigger picture of what's meant for you. And I totally feel like that's what happened with my career and my life.
Intro 00:10
Do you want to learn effective ways to build relationships, generate sales, and grow your business from successful entrepreneurs, startups, and CEOs without listening to a long, long, long interview? If so, you'll come to the right place. Gresham Harkless values your time and is ready to share with you. Precisely the information you're in search of. This is the I am CEO podcast.
Gresham Harkless 00:37
Hello, hello, hello. This is Gresh from the I am CEO podcast and I appreciate you listening to this episode. And if you've been listening this year, we're doing something a little bit different where we're repurposing our favorite episodes under certain categories or topics that we think are gonna be extremely impactful for CEOs, entrepreneurs, and business owners.
This month is going to be about not forgetting about the human part of business. Often we forget about the human part of life. We often forget about the human part of business. So look for self-care tips, fitness, burnout, purpose, biz and personal, personal branding, motivation, drive, success, understanding your why, and of course, how important customer service is. But at the heart of it, it's all about, remembering the human part of business. So sit back and enjoy this special episode of the I am CEO podcast.
Hello, hello, hello. This is Gresh from the I am CEO podcast and I have a very special guest on the show today. I have, Nicole Maaguo of Cultivate Ink LLC. Nicole, it's awesome to have you on the show.
Nicole Maaguo 01:35
Thank you so much for inviting me. I really appreciate it.
Gresham Harkless 01:38
No problem. And what I wanted to do was just read a little bit more about Nicole so you can hear about all the awesome things that she's been able to do and accomplish. Nicole is the founder and CEO of Cultivate Ink, LLC, a boutique tech firm that helps organizations overcome technology and customer churn challenges to reach new levels of success.
Cultivate, Ink accomplishes this by elevating strategic priorities and goal setting to help customers align investment with desired outcomes. Over the course of her career, Nicole has served nonprofits, associations, software startups, and Fortune 100 companies. Nicole is also the creator of #ProjectBox, a subscription box of curated professional development for aspiring leaders.
In her spare time, Nicole advances the customer success and women in tech movements as the Co-President of PulseLocal DC and as a contributor for Mstech. Nicole, are you ready to speak to the I am CEO community?
Nicole Maaguo: 02:34
Bring it on. I'm excited.