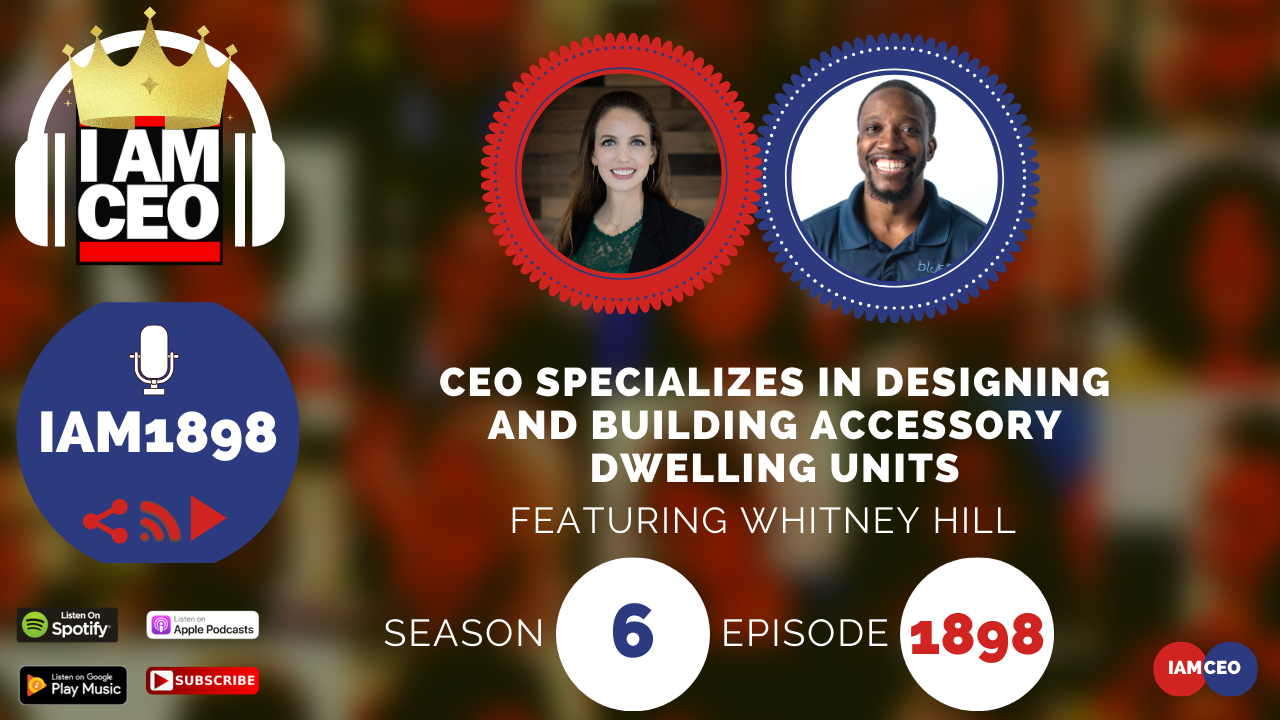 Why it was selected for "CBNation Architects":
In this episode of the IAMCEO podcast, Whitney Hill, co-founder and CEO of SnapADU, talks about her career journey and the operations of her company. SnapADU is a San Diego-based company specializing in the design, permitting, and construction of accessory dwelling units (ADUs). With an impressive track record of building approximately 50 ADUs annually and generating $15M in revenue, the company has established a significant presence in the real estate sector.
Before venturing into residential real estate, Whitney gained strategic and tactical experience as a management consultant for Bain & Company and as an operation manager for an industrial supply distributor. She holds a bachelor's degree in Psychology from Yale University and an MBA from NYU's Stern School of Business.
In the podcast, Whitney shares insightful lessons:
CEO Story: Despite not knowing her particular entrepreneurial path initially, Whitney's experience working in corporate sectors for over 10 years equipped her with the skills required to co-found SnapADU and become a market leader in the design and build industry.
Business Service: SnapADU serves as general contractors. They provide transparent information about their services – including prices, processes, permits, and other relevant details – on their website.
CEO Hack: Whitney recommends using tools like Asana for task management and Buildertrend for project management.
CEO Nugget: She advises focusing on ruthless prioritization to make the most of one's time and leveraging the experience gained while working with established companies.
CEO Defined: Whitney sees a CEO as someone who understands all aspects of the business to better manage and guide their team.
Check out our CEO Hack Buzz Newsletter–our premium newsletter with hacks and nuggets to level up your organization. Sign up 
HERE
. 

I AM CEO Handbook Volume 3
 is HERE and it's FREE. Get your copy here: 
http://cbnation.co/iamceo3
. Get the 100+ things that you can learn from 1600 business podcasts we recorded. Hear Gresh's story, learn the 16 business pillars from the podcast, find out about CBNation Architects and why you might be one and so much more. Did we mention it was FREE? Download it today!
Transcription:
The full transcription is only available to CBNation Library Members. Sign up today!
Whitney Hill Teaser 00:00
Try to understand what your differentiators are and your own skill sets. What are you bringing to the table? And don't worry if you don't understand an industry, like where do I fit in and what would my compliment look like? Because the supercharge you get there, it's I walked into it not knowing anything about construction, but he's not going to let me make a stupid mistake. He's running construction operations. So there's that safety net too.
Intro 00:19
Do you want to learn effective ways to build relationships, generate sales and grow your business from successful entrepreneurs, startups, and CEOs without listening to a long, long, long interview?
If so, you've come to the right place. Gresham Harkless values your time and is ready to share with you precisely the information you're in search of. This is the IAMCEO podcast.
Gresham Harkless 00:47
Hello. Hello. Hello. This is Gresh from the IAMCEO podcast, and I appreciate you listening to this episode. If you've been listening this year, you know that we hit 1600 episodes at the beginning of this year, and we're doing something a little bit different.
Where we're repurposing our favorite episodes around certain categories, topics, or as I like to call them, the business pillars that we think are going to be extremely impactful for CEOs, entrepreneurs, business owners, and what I like to call the CB Nation architects who are looking to level up their organizations.
This month, we are focusing on operations. The systems will set you free. So think about systems, think about flow, sustainability, potentially working out in your morning routine, waking up early e-commerce, and different business models. Think of the operations in the models that basically set up the foundation to allow the creativity within organizations, but also to make sure the trains are running on time and things are going as they should.
Now, this is extremely important because we often can turn to the sexy parts of business and forget about the operations and how. So I really want to focus this month on this specific topic. So sit back and enjoy this special episode of the IAMCEO podcast.
Hello. Hello. Hello. This is from the IAMCEO podcast. I have a very special guest on the show today at Whitney Hill of SnapADU. Whitney, super excited to have you on the show.
Whitney Hill 02:06
Pleasure to be here. Thank you.
Gresham Harkless 02:08
Yes, excited to have you on and talk about all the awesome things that you're doing. And of course, before we jump into that, I want to read a little bit more about Whitney. So you can hear about some of those awesome things.
And Whitney is the Co-founder and CEO of SnapADU, a San Diego based accessory dwelling unit construction company that designs permits and builds 50 ADUs a year with $15 million in annual revenue. Before getting involved in residential real estate, when he gained strategic and tactical experience as a management consultant for Bain and Company and as an operations manager for her for an industrial supply distributor, when he earned a bachelor's degree in psychology from Yale University and an MBA from NYU Stern School of Business.
Whitney, excited again to have you on the show. Are you ready to speak to the IAMCEO community?
Whitney Hill 02:54
I sure am. Let's do it.