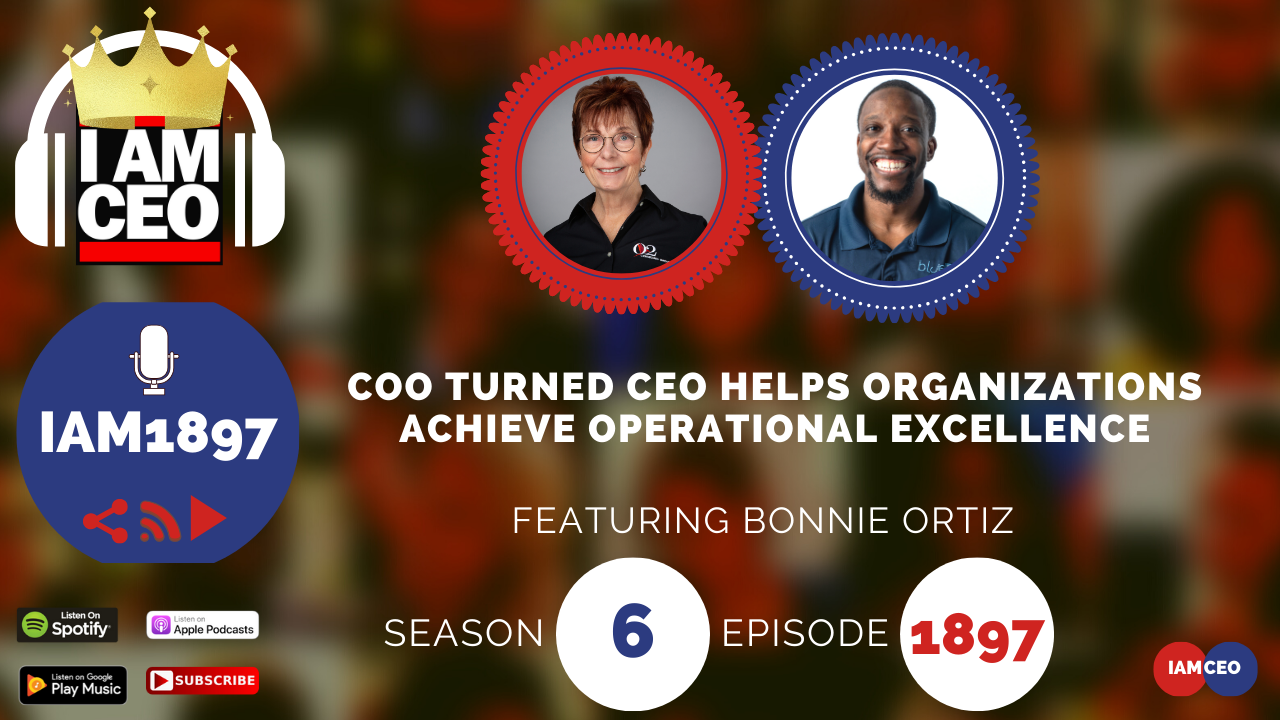 Why it was selected for "CBNation Architects":
In this episode of the IAMCEO podcast, Bonnie Ortiz, the founder of O2 Consulting Group, is the featured guest. Bonnie started O2 Consulting Group, a professional services firm, after nearly a decade as Chief Operating Officer for The Partnership Federal Credit Union.
Bonnie is renowned in strategy formation, process improvement, and project management. She now provides her clients with a comprehensive operational toolkit to align people, processes, and systems with corporate goals.
Throughout her career, Bonnie has worked with a wide range of entities, both commercial for-profit and non-profit, across various industries. Additionally, she has shown her leadership skills by managing substantial budgets and personnel within diverse organizations, from startups to multi-billion-dollar firms.
As an expert in achieving operational excellence, she guides executive teams in different organizations to advance their priorities and achieve their desired outcomes. Outside of her consulting work, Bonnie serves as the Commodore of Herring Bay Yacht Club and Vice Chair of Dream Queen Association Board of Directors, effectively utilizing her experience to mentor the next generation of leaders.
Bonnie shared valuable insights, including:
CEO Hack: She advised the use of Mission Control for appointment scheduling and the significance of Crucial conversations.
CEO Nugget: She emphasized the importance of work-life balance to avoid burnout. Activities like going to the beach, volunteering, etc. can help maintain this balance.
CEO ReDefined: For Bonnie, a CEO's role extends beyond vision creation, it also includes execution.
Check out our CEO Hack Buzz Newsletter–our premium newsletter with hacks and nuggets to level up your organization. Sign up 
HERE
. 

I AM CEO Handbook Volume 3
 is HERE and it's FREE. Get your copy here: 
http://cbnation.co/iamceo3
. Get the 100+ things that you can learn from 1600 business podcasts we recorded. Hear Gresh's story, learn the 16 business pillars from the podcast, find out about CBNation Architects and why you might be one and so much more. Did we mention it was FREE? Download it today!
Transcription:
The full transcription is only available to CBNation Library Members. Sign up today!
Bonnie Ortiz Teaser 00:00 So discovering and data gathering and making recommendations that are doable, that are doable in a realistic time period. And that are accompanied by training, coaching, and mentoring for the staff who will end up doing the job when I leave.
Intro 00:18
Do you want to learn effective ways to build relationships, generate sales, and grow your business from successful entrepreneurs, startups, and CEOs without listening to a long, long, long interview?
If so, you've come to the right place. Gresham Harkless values your time and is ready to share with you precisely the information you're in search of. This is the IAMCEO podcast.
Gresham Harkless 00:44
Hello. Hello. Hello. This is Gresh from the IAMCEO podcast, and I appreciate you listening to this episode. If you've been listening this year, you know that we hit 1600 episodes at the beginning of this year.
And we're doing something a little bit different where we're repurposing our favorite episodes around certain categories, topics, or as I like to call them, the business pillars that we think are going to be extremely impactful for CEOs, entrepreneurs, business owners, and what I like to call the CB Nation architects who are looking to level up their organizations.
This month, we are focusing on operations. The systems will set you free. So think about systems, think about flow, sustainability, potentially working out in your morning routine, waking up early e-commerce, and different business models. Think of the operations in the models that basically set up the foundation to allow the creativity within organizations, but also to make sure the trains are running on time and things are going as they should.
Now, this is extremely important because we often can run Turn to the sexy parts of business and forget about the operations and how important that is. So I really want to focus this month on this specific topic. So sit back and enjoy this special episode at the IAMCEO podcast.
Hello, hello, hello. This is Gresh from the IAMCEO podcast, and I have a very special guest on the show today I have Bonnie Ortiz of O2 Consulting. Bonnie, it's awesome to have you on the show.
Bonnie Ortiz 02:03
Thank you, Gresham.
Gresham Harkless 02:04
Awesome. What I wanted to do was read a little bit more about all the great things that Bonnie has been able to do and accomplish so that you can learn a little bit more about her.
Bonnie Ortiz formed O2 Consulting Group, a premier professional service firm in 2017 after spending almost a decade as the Chief Operating Officer for the Partnership Federal Credit Union, a recognized expert in strategy formation, process Improvement and Project Management.
Bonnie now provides her clients with a comprehensive operational toolkit aligning people, processes and systems to corporate goals. She has worked with commercial for-profit and not-for-profit entities across numerous industries and has managed substantial budgets and staff as a leader with organizations of various sizes, from startups to multi billion dollar firms.
Bonnie's expertise is rooted in the achievement of operational excellence and focusing the organizations executive team on advancing their priorities and achieving their desired results. Bonnie currently serves as a Commodore of the Herring Bay Yacht Club and as the Vice Chair of the Dream Queen Association Board of Directors, giving her time and expertise to cultivate the next generation of leaders.
Bonnie, are you ready to speak to the IAMCEO community?
Bonnie Ortiz 03:19
I sure am.