I AM CEO PODCAST
PodCEO
IAM1624 – Podcast Hosts Share The Passion of Helping Change Lives
Podcast Interview with Joey Braun & Avery Chatman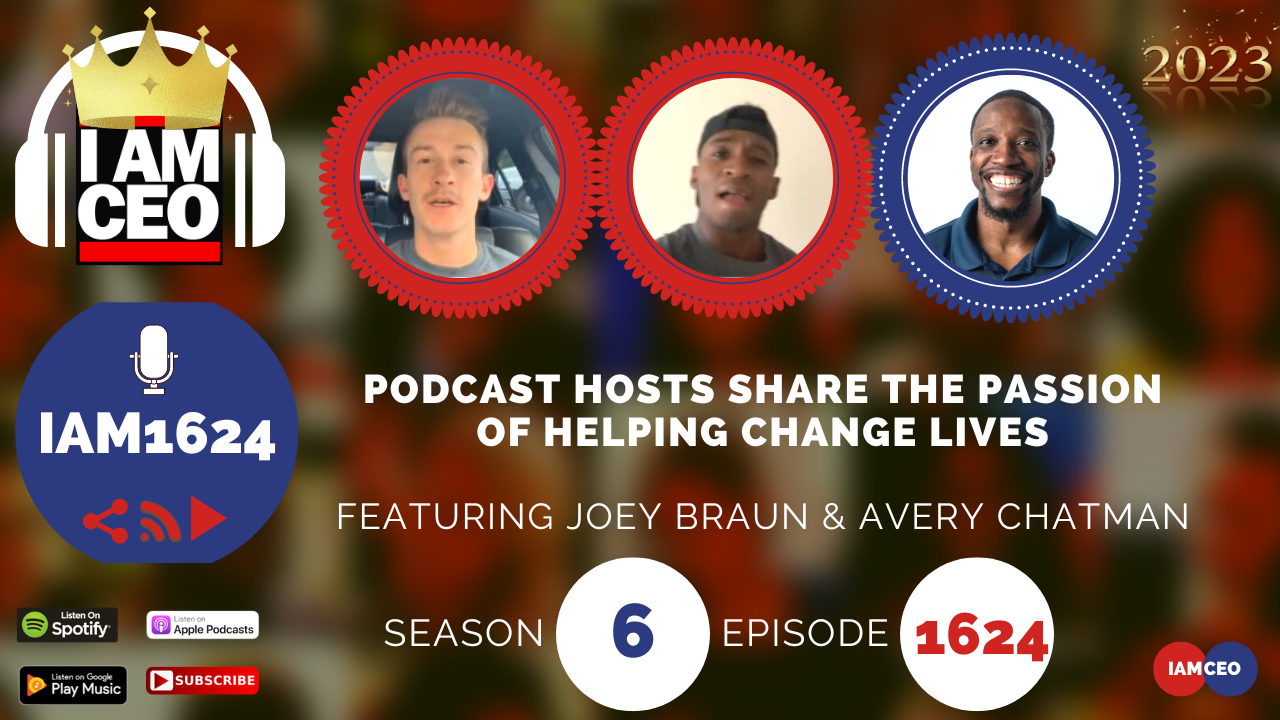 Why it was selected for "CBNation Architects": One of the most impactful things I heard over, and over and over again was the importance of the morning routine and while it seems obvious, it is often overlooked. When starting something new and thinking of planning and preparation, don't forget about the morning routine. For Avery, one of the things he spoke about was how important it was to "make your bed" and how you get to celebrate your day with wins. It was great to hear how Joey and Avery got started by just reaching out and DM but also the power of podcasting as a medium towards hearing people's journeys but also having a platform to change lives.
Check out premium content in the CBNation Library at http://cbnation.co/library and pick up our eBook to hear some of the best lessons at http://cbnation.co/shop.
Previous Episode: https://iamceo.co/2019/10/11/iam424-podcast-hosts-share-the-passion-of-helping-change-lives/
Transcription:

Joey Braun 00:00
So I decided to bring it back after I gave up for a couple of months and actually dm Avery on Twitter and I asked him if he wanted to be on the podcast because I saw the motivational videos he made and they hit me hard and they inspired me. So I was like, dang, this is someone that I wanted to do a podcast with.
This guy's an inspiration, he's motivational, and he'd be a great co-host. So that was how I initiated that with him, and he can kind of tell his side real quick.
Intro 00:28
Do you want to learn effective ways to build relationships, generate sales, and grow your business from successful entrepreneurs, startups, and CEOs without listening to a long, long, long interview?
If so, you've come to the right place. Gresham Harkless values your time and is ready to share with you precisely the information you are in search of. This is the I am CEO podcast.
Gresham Harkless 00:55
Hello, hello, hello, this is Gresh from the I am CEO podcast and I have two very special guests on the show today. I have Joey Braun and I have Avery Chatman of the Mind Shape Podcast. Gentlemen, it's awesome to have you on the show.
Joey Braun 01:04
Thank you for having us.
Gresham Harkless 01:05
No problem. Super excited to have you on. And what I wanted to do was just read a little bit more about Joey and Avery and Joey and Avery are two men who had never met before, but both share the passion of helping people change their lives.
So they decided to create a podcast. Joey and Avery, are you ready to speak to the I am CEO community?
Joey Braun 01:19
Yeah, let's do it.