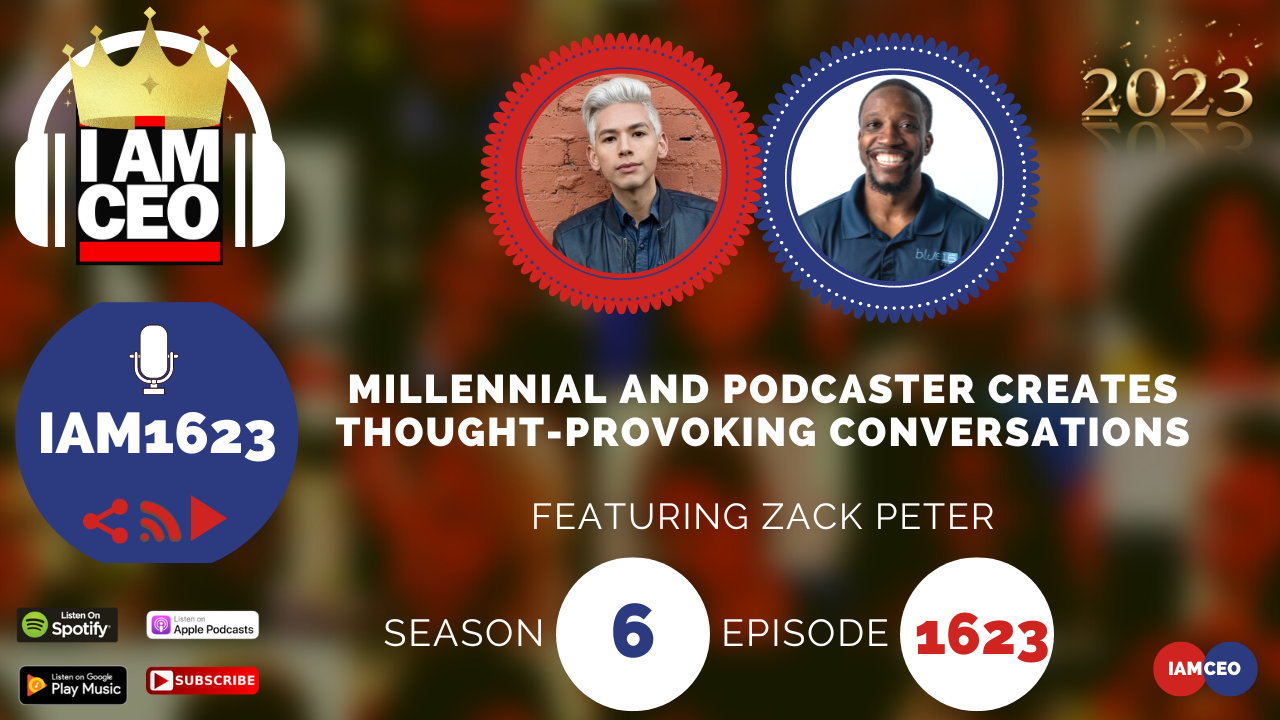 Why it was selected for "CBNation Architects": One of the most impactful things I heard over, and over and over again was the importance of the morning routine and while it seems obvious it is often overlooked. When starting something new and thinking of planning and preparation, don't forget about the morning routine. In addition to coffee and while filling up his cup, meditating and also listening to motivational videos. It was great to have Zack on the show and hear how his brother's autism sparked him and helped him to find his voice and sense of belonging. He also talked about the impact of gratitude in his life.
Check out premium content in the CBNation Library at http://cbnation.co/library and pick up our eBook to hear some of the best lessons at http://cbnation.co/shop.
Previous Episode: https://iamceo.co/2019/04/23/iam253-millennial-and-podcaster-creates-thought-provoking-conversations/
Transcription:

Zack Peter 00:00
One of them is my tenacity. I've always, anytime any wall or obstacle was kind of set up in my way, I've always found a way to kind of navigate around it. I think people that have listened to each of my podcasts know that the past seven months have been extremely challenging with all the new growths and career opportunities and challenges that have come my way.
So I think just staying tenacious and staying true to your gut and your passion will always get you through, anything. 
Intro 00:27 Do you want to learn effective ways to build relationships, generate sales, and grow your business from successful entrepreneurs, startups, and CEOs without listening to a long, long, long interview?
If so, you've come to the right place. Gresham Harkless values your time and is ready to share with you precisely the information you are in search of. This is the I am CEO podcast. 
Gresham Harkless 00:51
Hello, hello, hello. This is Gresh from the I am CEO podcast and I have a very special guest on the show today. I have Zach Peter of #NoFilterwithZach Peter, and #AdultingLifeHacks to get your shit together.
Zach it's awesome to have you on the show. 
Zack Peter 01:06
Hi, how are you? 
Gresham Harkless 01:07
I'm doing phenomenal. Phenomenal. And what I want to do is just read a little bit more about Zach so you can hear about all the awesome things that he's doing. Zack Peter isn't your average green-juice drinking millennial. As a writer, he has published a total of four books, with work featured on Yahoo!, Men's Health, Bustle, People, and more.
In between collagen-martinis, you can catch his signature wit and gift-of-gab as host and producer of the hit weekly podcasts, #NoFilter with Zack Peter and #Adulting: Life Hacks to Get Your Sh*t Together. He currently serves as the Executive Director for Jenny McCarthy's autism foundation, Generation Rescue, and can be regularly seen on POPSUGAR and Maria Menounos's AfterBuzz TV network.  Zach, are you ready to speak to the I am CEO community? 
Zack Peter 01:49
I am so ready.