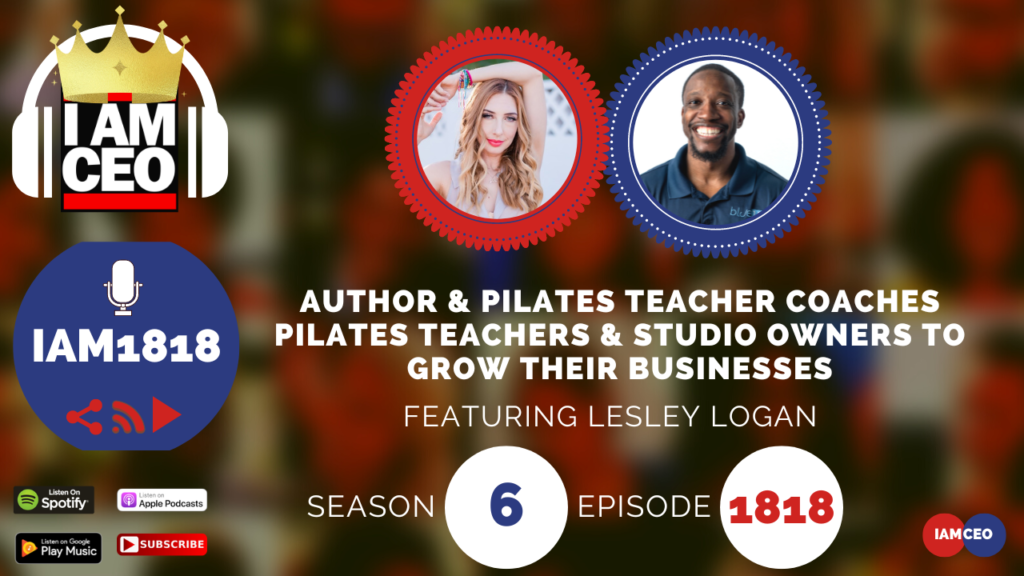 Why it was selected for "CBNation Architects":
In this episode of the I AM CEO Podcast, host Gresham Harkless interviews Lesley Logan, an author and Pilates teacher who coaches Pilates teachers and studio owners on how to grow their businesses. Lesley has been teaching Pilates for ten years and has led Pilates retreats in Siem Reap, Cambodia, and Maui, Hawaii. After publishing her book "Profitable Pilates: Everything But the Exercises," she turned her focus towards coaching and helping other Pilates professionals achieve business success.
Lesley shares insights and strategies on how Pilates teachers and studio owners can effectively grow their businesses. She emphasizes the importance of taking care of scheduling and prioritizing personal goals within one's calendar. Lesley also encourages individuals to make choices that align with their aspirations and start from where they currently are.
Throughout the episode, Lesley highlights the value of freedom and bringing value to more people as a CEO. She discusses her websites, including profitablepilates.com, lesleyloganpilates.com, and onlinepilatesclasses.com, as well as her social media profiles on Facebook and Instagram.
Overall, this episode provides valuable advice for Pilates professionals seeking to expand their businesses and make a positive impact on their clients' lives. Lesley's experience and expertise in the industry make her insights highly relevant and useful for anyone in the Pilates teaching or studio ownership field.
Check out our CEO Hack Buzz Newsletter–our premium newsletter with hacks and nuggets to level up your organization. Sign up HERE. 

I AM CEO Handbook Volume 3
 is HERE and it's FREE. Get your copy here: 
http://cbnation.co/iamceo3
. Get the 100+ things that you can learn from 1600 business podcasts we recorded. Hear Gresh's story, learn the 16 business pillars from the podcast, find out about CBNation Architects and why you might be one and so much more. Did we mention it was FREE?
Download it today!
Transcription:
The full transcription is only available to CBNation Library Members. Sign up today!
Lesley Logan Teaser 00:00
I am a big fan of taking care of my schedule first. So any scheduling software that you like, I say is a hack. You have to put your goals for your life and your business in the schedule every week, like standing appointments. So white space for creating.
Intro 00:19
Do you want to learn effective ways to build relationships, generate sales, and grow your business from successful entrepreneurs, startups, and CEOs without listening to a long, long, long, long interview?
If so, you've come to the right place. Gresham Harkless values your time and is ready to share with you precisely the information you're in search of.
This is the I AM CEO podcast.
Gresham Harkless 00:45
Hello. Hello. Hello. This is Gresh from the I AM CEO podcast, and I appreciate you listening to this episode. If you've been listening this year, you know that we've hit 1600 episodes at the beginning of this year. We're doing something a little bit different. Where we're repurposing our favorite episodes around certain categories, topics, or as I like to call them, business pillars that we think are going to be extremely impactful for CEOs, entrepreneurs, and business owners, just like you, what I like to call the CB nation architects who are looking to level up their organizations.
This month, we are focusing on CEO Hacks and CEO Nuggets. This is by far one of my favorite questions I asked on the show. In other words, I asked what are the apps, books, and habits that make you more effective and efficient? Those were the CEO Hacks. Then I asked for a word of wisdom or a piece of advice or something that you might tell your younger business self if you were to hop into a time machine. Those were the CEO Nuggets. That's what we'll focus on this month and some of the top ones that can instantly impact your business.
I love all the questions, but with every episode, I felt I would walk away with something I could look at and implement right there to save the precious resources, time, and money. Or I would also learn about the advice, tips, and tidbits or tools of the trade on how to level up our organization. So you'll hear some of these this month. So sit back and enjoy this special episode of the I AM CEO podcast.
Hello, hello, hello. This is Gresh from the I AM CEO podcast and I have a very special guest on the show today. I have Lesley Logan of lesleyloganpilates.com. Lesley, it's awesome to have you on the show.
Lesley Logan 02:21
Thank you so much for having me.
Gresham Harkless 02:23
What I wanted to do was read a little bit about Lesley so you can hear like all the awesome things that she's been able to accomplish and do and learn a little bit more about her.
So Lesley Logan has been teaching Pilates for 10 years, leading Pilates retreats in Siem Reap, Cambodia, and Maui, Hawaii for two years after publishing her book, Profitable Pilates, Everything but the Exercises. She has been a Pilates coach and teacher and studio owner on helping business owners to grow their businesses.
Lesley, are you ready to speak to the I AM CEO community?
Lesley Logan 02:53
Let's do it.