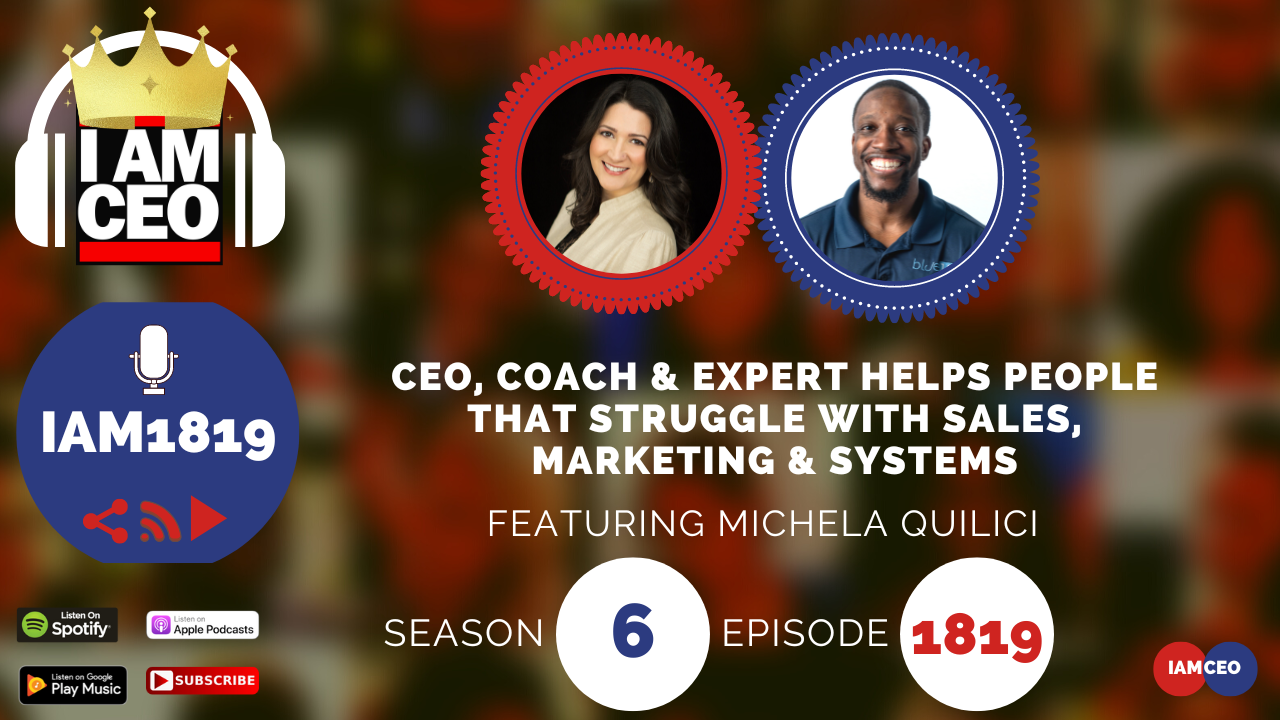 Why it was selected for "CBNation Architects":
In this episode of the I AM CEO Podcast, host Gresham Harkless interviews Michela Quilici, CEO of MQ Consulting and Business Training Inc. Michela is a business growth and marketing expert who is passionate about helping coaches, consultants, and service professionals who struggle with sales, marketing, and systems. With over 17 years of coaching and consulting experience, she has helped hundreds of entrepreneurs globally to take their businesses to new levels of success.
During the discussion, Michela talks about the six main blocks/bottlenecks to business growth which include mindset, skills, strategy, positioning, productivity, and leverage. She also mentions the value of going through a values exercise and shares her insights on effective leadership.
Listeners can learn more about Michela and her work on her website, LinkedIn, Twitter, and Facebook.
Overall, this episode provides valuable insights and strategies for entrepreneurs looking to grow their businesses and overcome common obstacles in sales and marketing. Michela's extensive experience and expertise make this episode a worthwhile listen for anyone looking to gain more exposure, attract qualified buyers, and double their revenues.
Check out our CEO Hack Buzz Newsletter–our premium newsletter with hacks and nuggets to level up your organization. Sign up HERE. 

I AM CEO Handbook Volume 3
 is HERE and it's FREE. Get your copy here: 
http://cbnation.co/iamceo3
. Get the 100+ things that you can learn from 1600 business podcasts we recorded. Hear Gresh's story, learn the 16 business pillars from the podcast, find out about CBNation Architects and why you might be one and so much more. Did we mention it was FREE?
Download it today!
Transcription:
The full transcription is only available to CBNation Library Members. Sign up today!
Michela Quilici Teaser 00:00
My mission has really evolved to help empower business owners and leaders to firstly lead themselves and then to become more of who they really are.
Intro 00:12
Do you want to learn effective ways to build relationships, generate sales and grow your business from successful entrepreneurs, startups, and CEOs. Without listening to a long, long, long interview?
If so, you've come to the right place. Gresham Harkless values your time and is ready to share with you precisely the information you're in search of.
This is the I AM CEO podcast.
Gresham Harkless 00:37
Hello. Hello. This is Gresh from the I AM CEO podcast and I appreciate you listening to this episode. If you've been listening this year, you know that we've hit 1600 episodes at the beginning of this year. We're doing something a little bit different where we're repurposing our favorite episodes around certain categories, topics, or as I like to call them business pillars that we think are going to be extremely impactful for CEOs, entrepreneurs, and business owners, just like you, what I like to call the CB nation architects who are looking to level up their organizations.
This month, we are focusing on CEO Hacks and CEO Nuggets. This is by far one of my favorite questions I asked on the show. In other words, I asked, what are the apps, books, and habits that make you more effective and efficient? Those were the CEO Hacks. And then I asked for a word of wisdom or a piece of advice or something that you might tell your younger business self, if you were to hop into a time machine. Those were the CEO Nuggets. That's what we'll focus on this month and some of the top ones that can instantly impact your business.
I love all the questions, but with every episode, I felt I would walk away with something I could look at and implement right there to save the precious resources, time, and money. Or I would also learn about the advice, tips, and tidbits or tools of the trade on how to level up our organization. So you'll hear some of these this month. So sit back and enjoy this special episode of the I AM CEO podcast.
Hello. Hello. Hello. This is Gresh from the I AM CEO podcast. I have a very special guest on the show today. I have Michela Quilici of MQ Consulting and Business Training Incorporated. Michela is the CEO of MQ Consulting and Business Training Incorporated. Michela is an international business growth and marketing expert passionate about supporting coaches, consultants, and service professionals who struggle with sales, marketing, and systems to gain exposure, magnetize qualified buyers, and double revenues with much less effort.
Over the past 17 years, she has coached and consulted hundreds of entrepreneurial-minded companies globally from startups to 20-plus million-dollar companies to make business owners and take their business owners and their businesses to the next level of excellence. Michela has been featured in USA Weekly, Canadian Living Magazine, and Profit Magazine. She is a member of the Forbes Coaches Council and is a contributing author in the bestselling book, Conscious Business.
Michela, are you ready to speak to the I AM CEO community?
Michela Quilici 03:07
I'm ready. I'm ready.