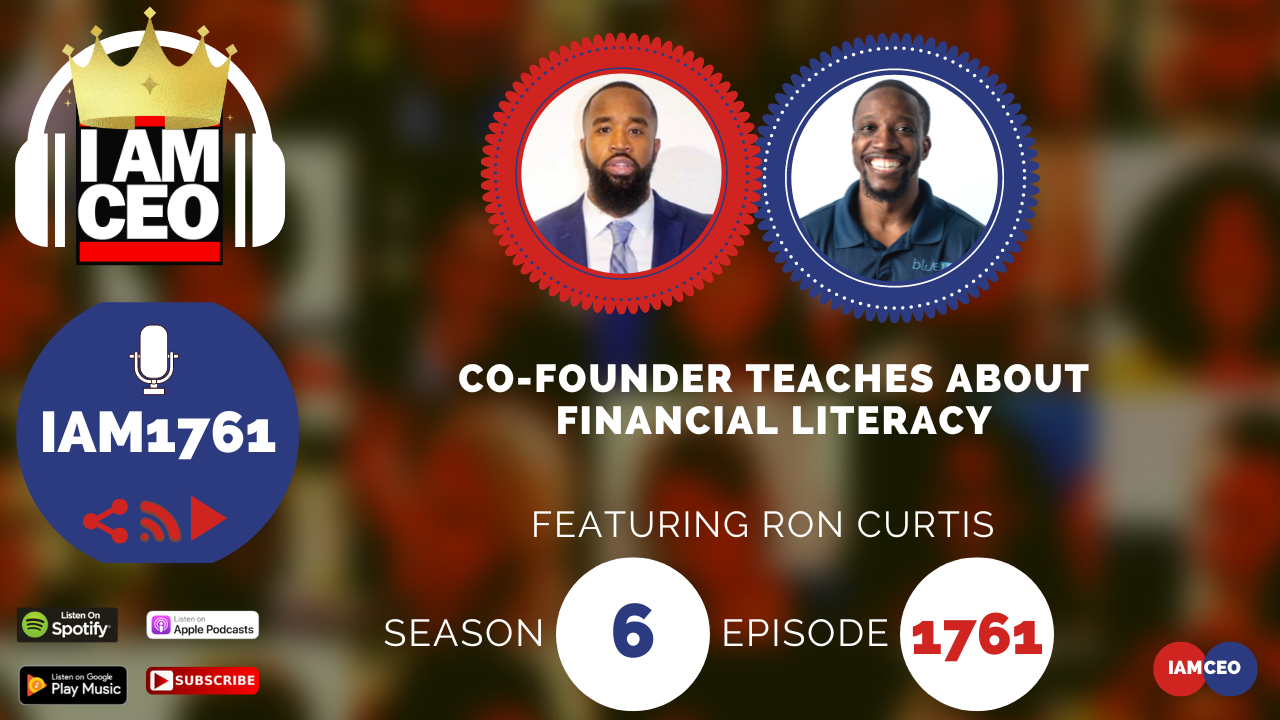 Why it was selected for "CBNation Architects":
In episode IAM728 of the CEO Chat podcast, host Gresham Harkless interviews Ron Curtis, co-founder of the non-profit organization First Base Inc., author, and credit repair consultant. Ron is a natural-born leader and serial entrepreneur with a passion for helping others, particularly in the area of financial literacy.
In the interview, Ron talks about his personal journey and how his experiences led him to become a credit repair consultant and co-founder of First Base Inc. He emphasizes the importance of financial literacy and shares his approach to teaching others about financial management. Ron also discusses the challenges of starting a non-profit organization and the rewards of making a positive impact on the community.
Ron shares his CEO hacks and nuggets, which include being a lifelong learner and surrounding yourself with a supportive team. He also defines what being a CEO means to him, which involves being a visionary and leading by example.
Overall, the episode provides valuable insights into the importance of financial literacy and the impact of non-profit organizations on the community. Ron's experience and passion for helping others make this episode a must-listen for anyone looking to improve their financial literacy skills or interested in starting a non-profit organization.
Check out one of our favorite CEO Hack's CEO Web Shop. Get your free audiobook and check out more of our favorite CEO Hacks HERE.

I AM CEO Handbook Volume 3
 is HERE and it's FREE. Get your copy here: 
http://cbnation.co/iamceo3
. Get the 100+ things that you can learn from 1600 business podcasts we recorded. Hear Gresh's story, learn the 16 business pillars from the podcast, find out about CBNation Architects and why you might be one and so much more. Did we mention it was FREE? Download it today!
Previous Episode: https://iamceo.co/2020/08/10/iam728-co-founder-teaches-about-financial-literacy/
Transcription:
The full transcription is only available to CBNation Library Members. Sign up today!
Ron Curtis Teaser 00:00
One thing that I can definitely say, that quality or trait that makes me unique is transparency and also former relationships with my clients. With that being said, especially being in the financial services industries, finance is something that they don't teach us in school.
Intro 00:15
Do you want to learn effective ways to build relationships, generate sales, and grow your business from successful entrepreneurs, startups, and CEOs without listening to a long, long, long interview?
If so, You've come to the right place. Gresham Harkless values your time and is ready to share with you precisely the information you're in search of.
This is the I AM CEO podcast.
Gresham Harkless 00:42
Hello, hello, hello, this is Gresh from the I AM CEO podcast and I appreciate you listening to this episode. If you've been listening this year, you know that we hit 1600 episodes at the beginning of this year. We're doing something a little bit different where we're repurposing our favorite episodes around certain categories, topics, or as I like to call them, business pillars that we think are going to be extremely impactful for CEOs, entrepreneurs, and business owners, or what I like to call the CB Nation architects. Those that are looking to level up their organizations.
In this month, we are focusing on knowing thy numbers. I could hear the phrases from Mr. Wonderful on Shark Tank, and if you understand or don't understand exactly what numbers is, think finance, economics, accounting, capital, investment funding, bootstrapping, anything that's around numbers. So, We have to understand how important it is to know your numbers and how important that is for you to forecast, make decisions, and to be able to truly strategize around your business and do that successfully.
So things are gonna be a little bit different obviously, this month. So look for CEO hacks and CEO nuggets and interviews that focus around this. But more than everything else, make sure that you know your numbers because they're extremely important to the life of your business.
Hello, hello, hello. This is Gresh from the I AM CEO podcast and I have a very special guest on the show today. I have Ron Curtis of Wavy Tech. Ron, it's awesome to have you on the show.
Ron Curtis 02:06
Thanks for having me on the show, Gresh. I really appreciate it.
Gresham Harkless 02:09
No problem. Definitely appreciate you for taking some time out. And before we jumped in, I wanted to read a little bit more about Ron so you can hear about all the awesome things that he's doing.
And Ron is an author of Financial Lit Volume One Understanding Credit. He also is a credit repair consultant of Max Credit score, and he's the co-founder of a nonprofit called First Base Inc.
He's a natural-born leader and also a serial entrepreneur who has a passion for helping others. He aspires to teach as many people as he can about financial literacy. So Ron, are you ready to speak to the I AM CEO community?
Ron Curtis 02:39
Yeah, most definitely. I'm ready, I'm ready to talk to them.