Foods
I AM CEO PODCAST
IAM1719 – CEO Hires the Differently Abled Individuals for Ice Cream Business
Podcast Interview with Robin Rinearson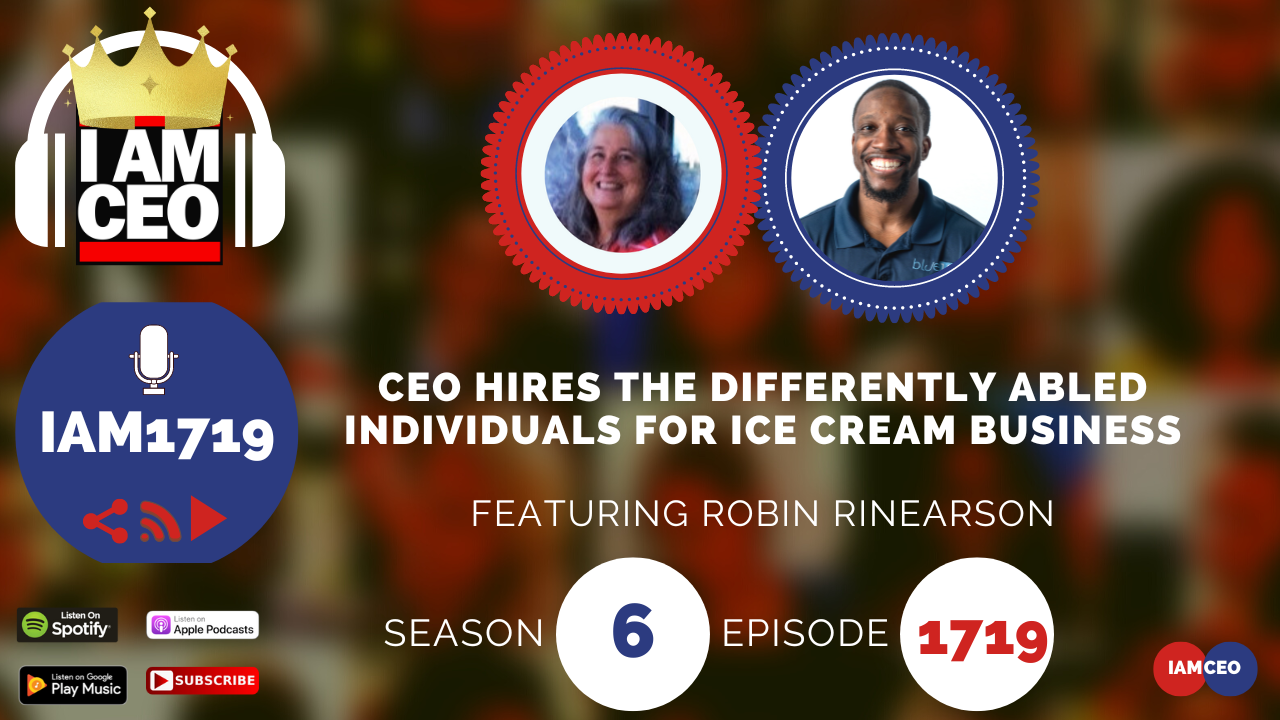 Why it was selected for "CBNation Architects": It's awesome to hear why Robin started her business and everything she launched and how she approached hiring. There's also a reminder of creating a way out of no way. It was sad to hear Jake's story but I loved how Robin decided to be the change rather than allow life to happen to Jake and the other differently-abled people. I also love her resilient and maybe even defiant mentality of making sure there will be a success.
I AM CEO Handbook Volume 3 is HERE and it's FREE. Get your copy here: http://cbnation.co/iamceo3. Get the 100+ things that you can learn from 1600 business podcasts we recorded. Hear Gresh's story, learn the 16 business pillars from the podcast, find out about CBNation Architects and why you might be one and so much more. Did we mention it was FREE? Download it today! 
Previous Episode: https://iamceo.co/2022/03/26/iam1321-ceo-hires-the-differently-abled-individuals-for-ice-cream-business/
Robin Rinearson Teaser 00:00
It's not for me, it's for Jake. I said I will do whatever it takes to keep him busy, to give him a reason to get up in the morning, to give him a social life, to give him a reason to function. And I said, and while I'm at it, I can help a bunch of other kids.
Intro 00:15
Do you want to learn effective ways to build relationships, generate sales, and grow your business from successful entrepreneurs, startups, and CEOs without listening to a long, long, long interview? If so, you've come to the right place. Gresham Harkless values your time and is ready to share with you precisely the information you're in search of.
This is the I AM CEO Podcast.
Gresham Harkless 00:42
Hello, hello, hello. This is Gresh from the I AM CEO podcast and I appreciate you listening to this episode. If you've been listening this year, you know that we hit 1600 episodes at the beginning of this year. We're doing something a little bit different where we are repurposing our favorite episodes around certain categories, topics or as I like to call them, business pillars that we think are going to be extremely impactful for CEOs, entrepreneurs, and business owners, and what I like to call the CB nation architects who are looking to level up their organizations.
This month we are focused on technology. We're a technology company that does dot, dot, dot. Technology is no longer an afterthought or something that you might do and is actually a core part of your business. If you are a real estate investor, you're using it. If you're a financial firm, if you're a cleaning company, author, or speaker, you are using technology. If you are in any business you are using technology, and if you're not, then you're probably going to be disrupted by an organization that is.
So this month we are going to look into purposing episodes that are around technology, whether that be firms or organizations that are actually using and investing in technology as a core part of their products and services, or potentially those individuals that are using and leveraging CEO hacks and CEO nuggets that center around technology and sharing ways that we can leverage it as well. Remember that you are a technology company that does dot.dot.dot. Sit back and enjoy this special episode of the I am CEO podcast.
Hello, hello, hello, this is Gresh from the I AM CEO podcast. I have a very special guest on the show today. I Robin Rinearson of Jake's Ice Cream.
Robin, super excited to have you on the show.
Robin Rinearson 02:13
Thanks, I'm delighted to be here. Thank you for asking.
Gresham Harkless 02:15
Yes, excited to have you on and hear about all the awesome things that you're doing. And before we jump into that interview, I want to read a little bit more about Robin so you can hear about some of those things.
Robin is a retired optometrist who specializes in developmental disorders. She has opened an ice cream parlor, located in Falls Church, Virginia, employing around 20 individuals who are differently abled, along with several conventionally abled people. The business model recognizes that it sometimes takes help from a job coach or a team member to get things done.
The entire staff is expected to learn all the integral pieces of working in this business.
Robin, super excited to have you on the show again. Are you ready to speak to the I AM CEO community?
Robin Rinearson 02:53
I am. I am.