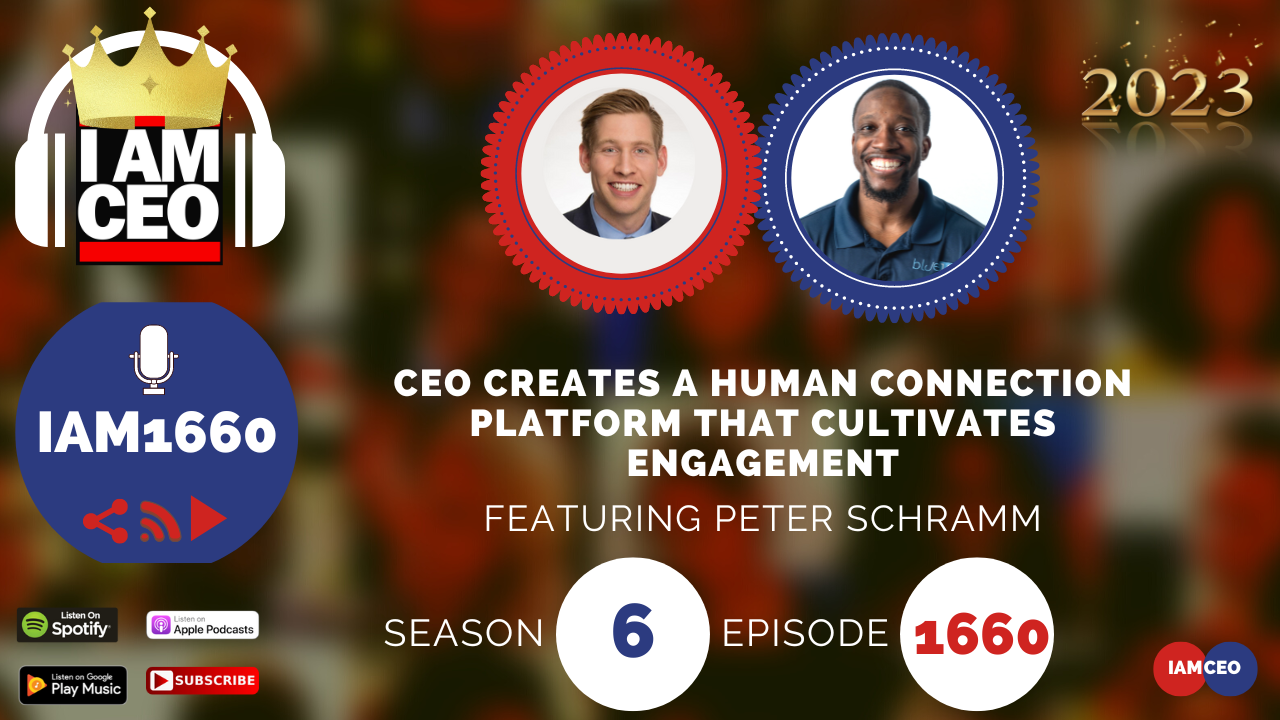 Why it was selected for "CBNation Architects": Peter gets how important it is to connect with people so it's awesome to hear everything that he has been able to build with the awareness. He also has loads of CEO Hacks and books he shared in this episode.
Check out premium content in the CBNation Library at http://cbnation.co/library and pick up our eBook to hear some of the best lessons at http://cbnation.co/shopv.
Previous Episode: https://iamceo.co/2022/02/06/iam1273-ceo-creates-a-human-connection-platform-that-cultivates-engagement/
Transcription:

Peter Schramm Teaser 00:00
We'll talk to you about a mentor, a buddy, a champion, a sponsor different ERGs, employee resource groups. How do you find those people? How do you track those conversations over time?
Intro 00:11
Do you want to learn effective ways to build relationships, generate sales, and grow your business from successful entrepreneurs, startups, and CEOs without listening to a long, long, long interview? If so, you've come to the right place. Gresham Harkless values your time and is ready to share with you precisely the information you're in search of. This is the I am CEO podcast.
Gresham Harkless 00:38
Hello, hello, hello, this is Gresh from the I am CEO podcast and I appreciate you listening to this episode. And if you've been listening this year, we're doing something a little bit different where we're repurposing our favorite episodes under certain categories or topics that we think are gonna be extremely impactful for CEOs, entrepreneurs, and business owners. This month is going to be about not forgetting about the human part of the business. Often we forget about the human part of life. We often forget about the human part of the business. So look forward, to self-care tips, fitness, burnout, purpose, biz and personal, personal branding, motivation, drive success, understanding your why, and of course, how important customer service is. But at the heart of it, it's all about, remembering the human part of the business. So sit back and enjoy this special episode of the I am CEO podcast.
Hello, hello, hello. This is Gresh from the I am CEO podcast. I have a very special guest on the show today I have Peter Schramm of Lattus. Pete, it's great to have you on the show.
Peter Schramm 01:35
Gresham, thanks for having me on. Excited to chat and look forward to what we're gonna dig into today.
Gresham Harkless 01:40
Yes, absolutely. Excited as well too. And before we jump into that, I wanted to read a little bit more about Pete so you can hear about some of the awesome things that he's doing. And Pete grew up on a farm, in Butler Pennsylvania, studied mechanical engineering at a college in DC, played basketball and track, and then studied abroad in Hong Kong. While finishing his master's, he started working at Lockheed Martin, a defense contractor and traveled around the world building systems and leading teams to help keep our soldiers safe. He then worked at a smaller defense contractor leading a team of a hundred people building robots for the Army. And he realized that his true purpose was connecting people. And so in March 2018, Pete decided to start a company around this. Pete has been working at Lattus full-time since October 2020, and as of December 20, 2021, Lattus is working with 60-plus organizations around the country, and will be launching with the Army in early 2022. Pete, exciting news, all to hear about the opportunity that you're creating and the connection that you're doing. So looking forward to, you know, connecting with you as well too. Are you ready to speak to the I a CEO community?