I AM CEO PODCAST
PodCEO
IAM1644 – Entrepreneur Shares Raw Lessons of his Journey
Podcast Interview with Jake Jorgovan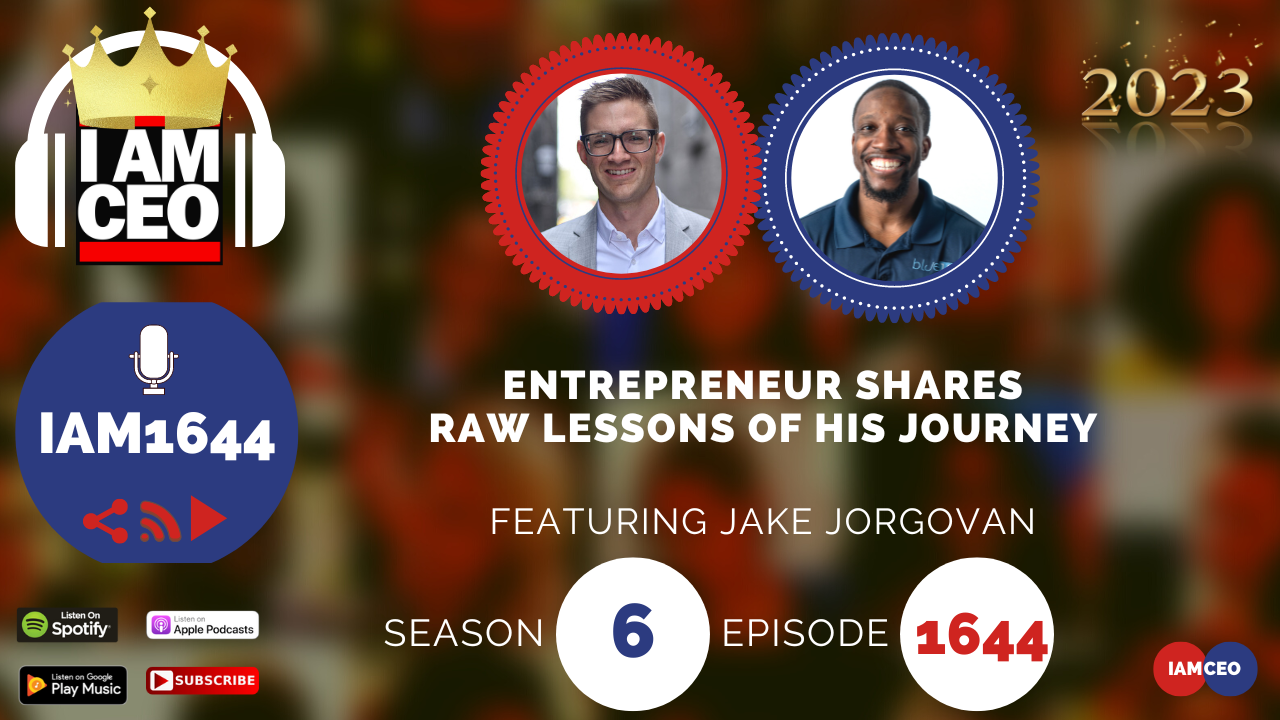 Why it was selected for "CBNation Architects": Jake is a wealth of knowledge and it's always great to have another podcaster in the podcast community on the show. He talked about the entrepreneurial journey and the things that we learn along the journey. I also loved hearing the questions or prompts he uses to journal as well which is a space that's created to reflect on the journey.
Check out premium content in the CBNation Library at http://cbnation.co/library and pick up our eBook to hear some of the best lessons at http://cbnation.co/shop.
Previous Episode: https://iamceo.co/2021/09/20/iam1134-entrepreneur-shares-raw-lessons-of-his-journey/
Transcription:

Jake Jorgovan :00:00
Yeah, one of my favorites, my first business advisor, Alex McClafferty. He's one of the co-founders of WP Curve, which they did a phenomenal thing and then went off and sold the GoDaddy and started working with him. And that was like a key turning point in my life and business. And one of the things that he said to me that has always stuck with me is, your business is a reflection of yourself.
Intro 00:20
Are you ready to hear business stories and learn effective ways to build relationships, generate sales, and level up your business from awesome CEOs, entrepreneurs and founders. Without listening to a long, long, long interview? If so, you've come to the right place. Gresh values your time and is ready to share with you the valuable info you're in search of. This is the I am CEO podcast.
Gresham Harkless 00:46
Hello, hello, hello. This is Gresh from the I am CEO podcast and we're doing something a little bit different this year with some of our episodes. We're repurposing some of our favorite episodes around specific topics related to entrepreneurship. This month we're focusing on entrepreneurship and community. Us, we, our, together and we're gonna look at entrepreneurship and industries and different types of entrepreneurship and ultimately what that really means. But we're also gonna delve deeper into the importance of community, networking, niche communities and how that supports being a CEO, entrepreneur, and business owner. So sit back and enjoy these special episodes around entrepreneurship and community.
Hello, hello, hello. This is Gresh from the I am CEO podcast and I have a special guest on the show today. I have Jake Jorgovan of Jake- jorgovan.com. Jake, it's great to have you on the show.
Jake Jorgovan 01:32
Thanks for having me on here, Gresham.
Gresham Harkless 01:33
Super excited to have you on. And before we jumped into the interview, I wanted to read a little bit more about Jake so you could hear about all the awesome things that he's doing. Jake is a serial entrepreneur, author, podcaster, and business advisor. He's the founder of Content Allies and Lead Cookie. Through these companies he has generated. $40M+ million in sales for his new clients. Jake is the host of the Working Without Pants Podcast and Leaders of B2B podcast. He also shares the raw lessons of his entrepreneurial journey on his site, and Jake's professional focus is on building companies that enable freedom of time and financial profitability.
He does that by being an active entrepreneur in the trenches and through training others on entrepreneurship, leadership and sales and marketing. Jake has degrees in entrepreneurship from Belmont University and has been awarded Nashville's Youth Entrepreneur of the Year. He has spoken at conferences such as South by Southwest and has been featured in publications such as Inc and Forbes. Always super excited to have a fellow podcaster, especially one that focuses and has so much knowledge on B2B. So Jake, super excited to have you on the show. Are you ready to speak to the I am CEO community?
Jake Jorgovan 02:29
I'm ready.