CBNation
I AM CEO PODCAST
IAM1739 – Specialist Helps in Digital Advertising Campaigns
Podcast Interview with Ameet Khabra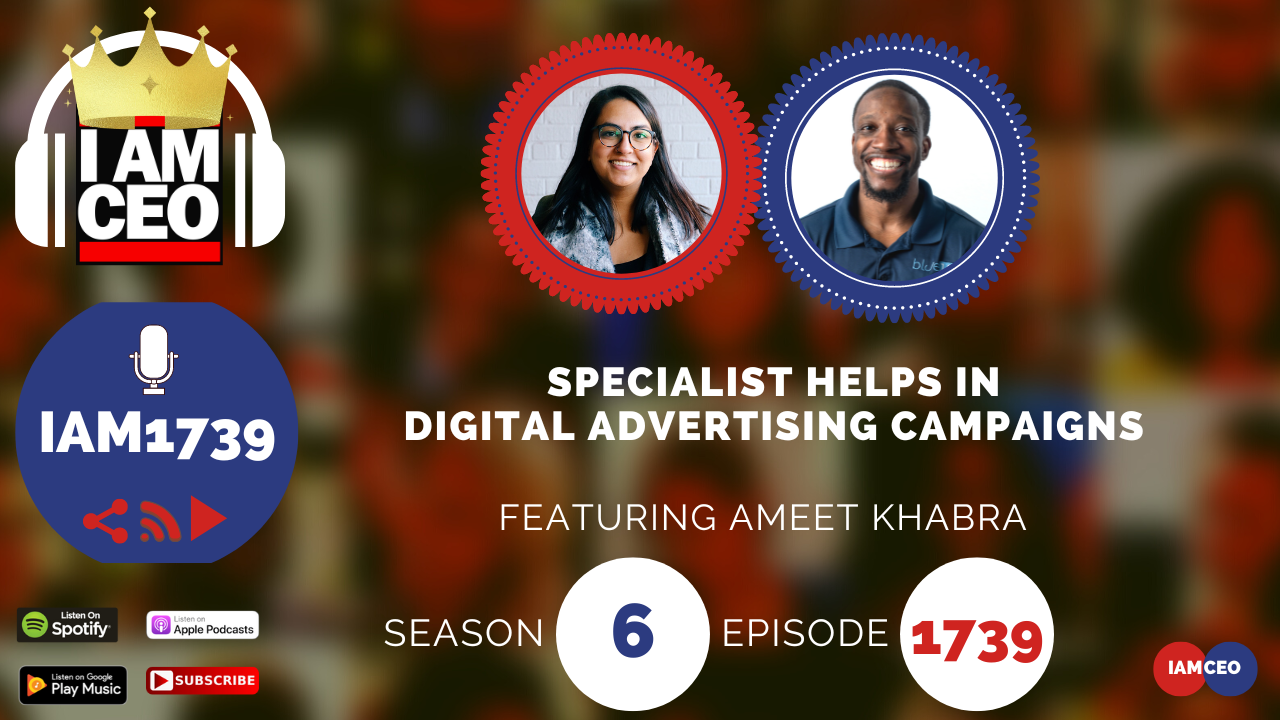 Why it was selected for "CBNation Architects": In this episode of the CEO Podcast, host Gresham Harkless interviews Ameet Khabra, a veteran PPC advertising specialist and CEO of Hop Skip Media. Khabra has helped clients achieve up to a 500% increase in ROI from their digital advertising campaigns, managing over $4 million in ad spend for a single client.
During the interview, Khabra shares her CEO Hack, which is relying on her team for support. She also shares her CEO nugget, which is trusting her gut instincts and believing in herself. Often Khabra defines being a CEO as taking control of one's future.
Khabra discusses her journey to entrepreneurship, which began with her passion for numbers and her experience in pay-per-click advertising. She started her own company after working at an agency and becoming the go-to Google person in her city. Her company, Hop Skip Media, has become a highly-effective PPC campaign management solution provider, taking accounts from zero to hero and providing meaningful and measurable results for startups and small businesses.
One of the things that's not talked about enough is the less-than-glamorous side of business and what it's really like. Especially when you are thinking about hiring (even your clients) and what that looks like when it doesn't go well. Overall, the podcast provides insights into Khabra's expertise in digital advertising campaigns and offers valuable advice for entrepreneurs and business owners looking to improve their ROI through effective PPC advertising.
Check out one of our favorite CEO Hack's CEO Web Shop. Get your free audiobook and check out more of our favorite CEO Hacks 
HERE
.
I AM CEO Handbook Volume 3
 is HERE and it's FREE. Get your copy here: 
http://cbnation.co/iamceo3
. Get the 100+ things that you can learn from 1600 business podcasts we recorded. Hear Gresh's story, learn the 16 business pillars from the podcast, find out about CBNation Architects and why you might be one and so much more. Did we mention it was FREE? Download it today!
Previous Episode: https://iamceo.co/2020/10/06/iam785-specialist-helps-in-digital-advertising-campaigns/
Transcription:
Ameet Khabra Teaser 00:00
For us, our main focus is trying to cut the fat really at this point. So looking at what's been sucking the money out of the campaigns and what hasn't been. Because sometimes, especially if we're talking about Google ads, it can get pretty deceitful to a certain degree where you'll sit there and be like, oh, I made one conversion and it costs us, let's say $25 or something along those lines.
But what ends up happening is that if you actually do the math, it might actually cost you 10 bucks for that one conversion and a lot of agencies don't tend to do that.
Intro 00:26
Do you want to learn effective ways to build relationships, generate sales, and grow your business from successful entrepreneurs, startups, and CEOs without listening to a long, long, long interview?
If so, you've come to the right place. Gresham Harkless values your time and is ready to share with you precisely the information you're in search of.
This is the I AM CEO podcast.
Gresham Harkless 00:53
Hello, hello, hello. This is Gresh from the I AM CEO podcast and I appreciate you listening to this episode. If you've been listening this year, you know that we hit 1600 episodes at the beginning of this year. We're doing something a little bit different where we're repurposing our favorite episodes around certain categories or topics or as I like to call them business pillars that we think are going to be extremely impactful for CEOs, entrepreneurs, and business owners, and what I like to call the CB nation architects who are looking to level up their organizations.
This month we are focused on our greatest asset talent management and hiring. Think from great resignation to the great renovation. And if you disagree with me, maybe these episodes might be especially for you. Life and especially business has changed. It has forced those that are within organizations to look differently at talent, and how it's being managed.
When we talk about change, think about it, we have to realize that business as usual is no longer here. That's evident in attracting and retaining clients but also in setting up people within organizations to succeed. Think onboarding, think DEI- diversity, equity, inclusion, and belonging. How it is working from home and even going back into the office.
Things are different in this month. We are going to explore these topics by featuring CEO hacks and CEO Nuggets, but also interviews that focus on these changes and how organizations can make sure they care for and attract the most valuable asset- their people. Sit back and enjoy this special episode of the I AM CEO podcast.
Hello, hello, hello, this is Gresh from the I AM CEO podcast and I had a very special guest on the show today. I have Ameet Khabra of Hop Skip Media. Ameet, it's awesome to have you on the show.
Ameet Khabra 02:24
Hi. Thank you for having me.
Gresham Harkless 02:26
No problem. Super excited to have you on and before we got started with the podcast and jump into the questions, I wanted to read a little bit more about Ameet so you can hear about all the awesome things that she's doing.
As a veteran PPC advertising specialist, Ameet has helped clients achieve as high as 500% increased ROI from their digital advertising campaigns. Her work has included managing over 4 million in ad spend for a single client, as well as providing meaningful and measurable results for startups and small businesses.
Her company, Hop Skip Media, formerly Ameet Khabra Marketing Incorporated, has carved out a position as a highly effective PPP campaign management solution provider. Hops Skip Media takes accounts from zero to hero, working from scratch, as well as taking over from other firms to get results for their clients.
Ameet, are you ready to speak to the I AM CEO community?