Healthy CEO
I AM CEO PODCAST
IAM1645 – CEO Creates a Rugby Brand Delivering Content, Community & Clothing
Podcast Interview with Scott Flear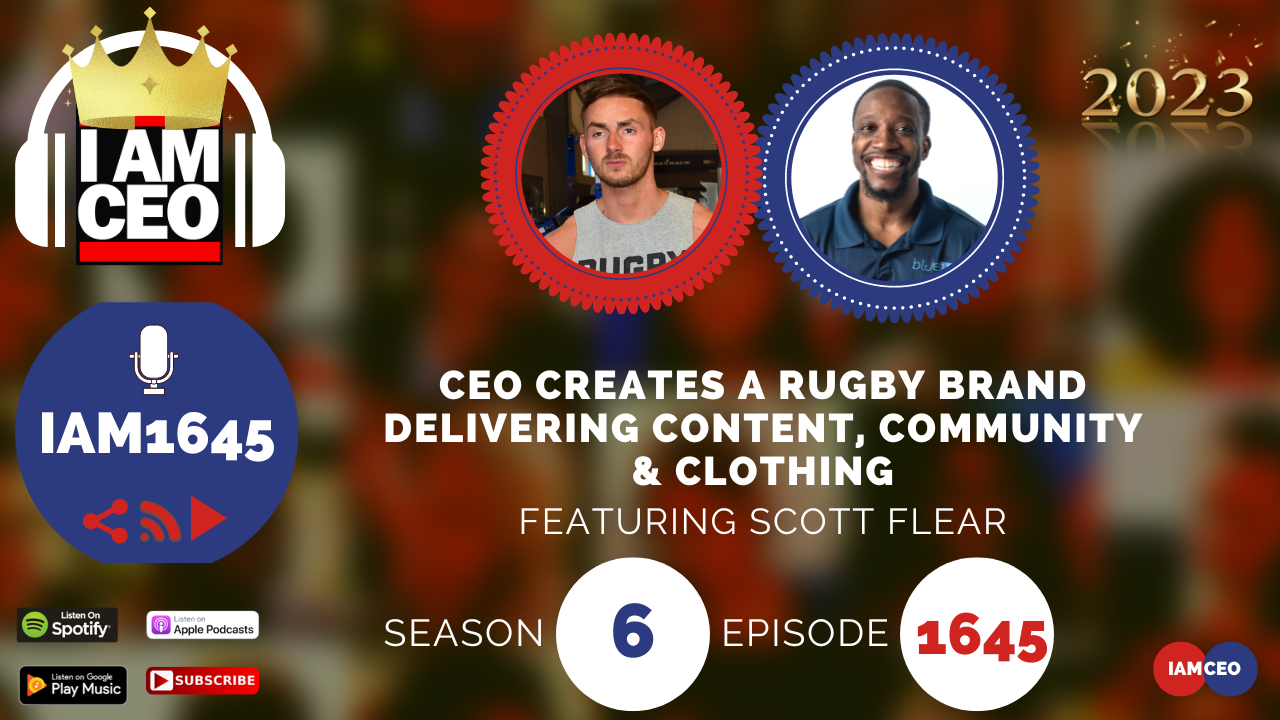 Why it was selected for "CBNation Architects": It was awesome to hear Scott's approach to community and his 3 C's (content, community & clothing) that I think we all can learn from. I think it's in alignment with "Being Your Own Media Company." It was also great to hear how he uniquely approached and executed in his business.
Check out premium content in the CBNation Library at http://cbnation.co/library and pick up our eBook to hear some of the best lessons at http://cbnation.co/shop.
Previous Episode: https://iamceo.co/2018/08/27/054-ceo-creates-a-rugby-brand-delivering-content-community-clothing/
Transcription:

Scott Flear Teaser 00:00
So, obviously the design is unique, custom, massive selling point, but I just think the community and the content is unique as well. Having all of that together, bringing people into the design process, and also we let people speak one-to-one with professional rugby players. In our private Facebook group.
Intro 00:19
Do you want to learn effective ways to build relationships, generate sales, and grow your business from successful entrepreneurs, startups, and CEOs without listening to a long, long, long interview? If so, you come to the right place. Gresham Harkless values your time and is ready to share with you precisely the information you're in search of. This is the I am CEO podcast.
Gresham Harkless 00:43
Hello, hello, hello. This is Gresh from the I am CEO podcast and we're doing something a little bit different this year with some of our episodes. We're repurposing some of our favorite episodes around specific topics related to entrepreneurship. This month we're focusing on entrepreneurship and community. Us. we, our, together and we're gonna look at entrepreneurship and industries in different types of entrepreneurship and ultimately what that really means. But we're also gonna delve deeper into the importance of community, networking, niche communities and how that supports being a CEO, entrepreneur, and business owner. So sit back and enjoy these special episodes around entrepreneurship and community.
Hello, hello, hello. This is Gresh from the I am CEO podcast and I have a very special guest on the show today, I have Scott Flear of Rugby Warfare. Scott, it is awesome to have you on the show.
Scott Flear 01:30
It's going to be here, hopefully, your guests can understand the Welsh accent.
Gresham Harkless 01:35
Yeah, exactly. Exactly. We'll try to make it work. Well, I appreciate you for being on the show again, Scott. And what I wanted to do was just read a little bit more about you so people can get a better idea of all the awesome things that you're doing. Scott Flear is the CEO of Rugby Warfare, which is a rugby clothing company based in the UK. Scott, as a self-taught internet marketer, having built and sold his first fitness site by the age of 19. Rugby warfare started as a side hustle while he was working as the head of CEO for a luxury games rooms retailer, and then performance marketing manager for a social sports club in London. He's an avid rugby fan and player and saw a gap in the market for a rugby brand to deliver the three Cs. Content, community, and clothing. Scott, are you ready to speak to the I am CEO community?
Scott Flear 02:21
Yeah, man let's do it.