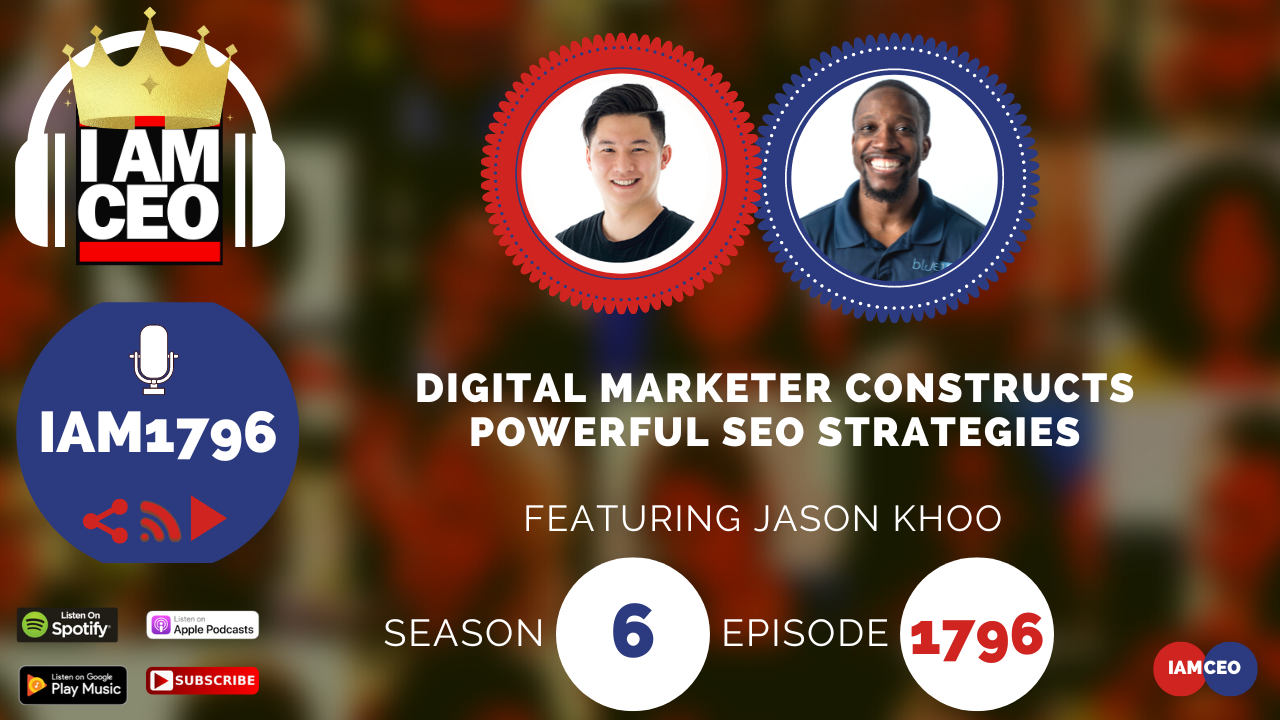 Why it was selected for "CBNation Architects":
In this episode, host Gresham Harkless Jr. interviews Jason Khoo, the founder of Zupo, an SEO consulting agency that helps clients construct powerful long-term SEO strategies. Jason shares his journey in digital marketing, including his experience freelancing in college, co-founding an SEO and web design agency, and ultimately selling it.
He also discusses the importance of building a strong foundation for SEO, including conducting thorough keyword research, optimizing website content, and building high-quality backlinks.
Additionally, Jason shares practical tips and advice for entrepreneurs looking to improve their SEO efforts, including the importance of staying up-to-date with industry trends and understanding the needs of the target audience.
Overall, the episode provides valuable insights and inspiration for anyone looking to improve their website's search engine rankings and drive more traffic to their business.
Check out one of our favorite CEO Hack's CEO Web Shop. Get your free audiobook and check out more of our favorite CEO Hacks HERE.

I AM CEO Handbook Volume 3
 is HERE and it's FREE. Get your copy here: 
http://cbnation.co/iamceo3
. Get the 100+ things that you can learn from 1600 business podcasts we recorded. Hear Gresh's story, learn the 16 business pillars from the podcast, find out about CBNation Architects and why you might be one and so much more. Did we mention it was FREE? Download it today!
Transcription:
The full transcription is only available to CBNation Library Members. Sign up today!
Jason Khoo Teaser 00:00
Yeah, so I think a big thing for me is we've taken a different angle when it comes to SEO. I haven't been in the space where I unintentionally with my first agency became, I don't wanna say a churning business, but we helped a lot of local, small businesses who didn't have big budgets.
So what ended up happening is we had 30 clients and me being like the main account manager.
Intro 00:20
Do you want to learn effective ways to build relationships, generate sales, and grow your business from successful entrepreneurs, startups, and CEOs without listening to a long, long, long interview?
If so, you've come to the right place. Gresham Harkless values your time and is ready to share with you precisely the information you are in search of.
This is the I AM CEO podcast.
Gresham Harkless 00:47
Hello, hello, hello. This is Gresh from the I AM CEO podcast and I appreciate you listening to this episode. If you've been listening this year, you know that we hit over 1600 episodes at the beginning of this year. We're doing something a little bit different where we are repurposing our favorite episodes around certain categories, topics, or as I like to call them, the business pillars that we think are gonna be extremely impactful for CEOs, entrepreneurs, business owners, and what I like to call CB Nation architects who are looking to level up their organizations.
This month we are focused on the visibility game, a.k.a. Marketing, Advertising, PR, and Sales. I often say the name of the game is being found, and these tools will help you to do that. We have heard the philosophical question, if the tree falls in the forest and no one is around, does it make a sound? If there's a really, really great product or service and no one knows about it, how great is it really? What impact does it ultimately make? This is where we will go into this month. Looking at visibility, branding, marketing, public relations, sales being the lifeblood of businesses, building many companies, and so much more.
This is probably one of the most exciting and probably the most excruciating topics, but we hope this month to demystify or maybe even vanquish the fear and help and arm you with the tools to be able to increase your visibility. So buckle up and sit back and enjoy this special episode of the I AM CEO podcast.
Hello, hello, hello, this is Gresh from the I AM CEO podcast. I have a very special guest on the show today. I have Jason Khoo of Zupo. Jason, it's awesome to you on the show.
Jason Khoo 02:16
Happy to be here.
Gresham Harkless 02:17
Super excited to have you on. Before we jumped in, I wanted to read a little bit more about Jason so you can hear about all the awesome things that he's doing.
And Jason Khoo started doing digital marketing freelancing back in college. When graduating, he co-founded an SEO and web design agency that he ultimately sold. He now is the founder of Zupo which is an SEO consulting agency, that helps construct powerful long-term SEO strategies for their clients.
Jason also enjoys multiple cups of tea a day, hiding away on weekends, catching up on reading, and re-watching the Simpsons for the 20th time.
Jason, are you ready to speak to the I AM CEO community?
– End