I AM CEO PODCAST
IAM1617 – Startup Founder and a #1 Best-selling Author Speaks on Living Life on Cloud Nine
Podcast Interview with Jordan Gross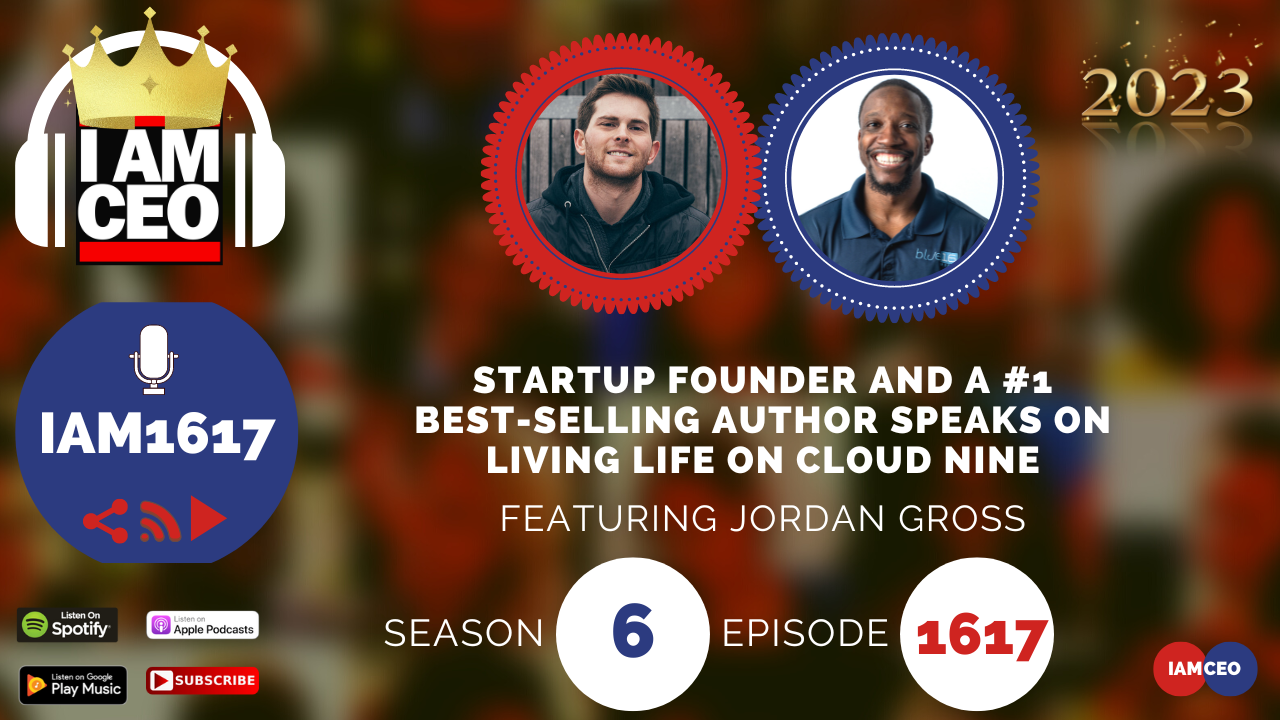 Why it was selected for "CBNation Architects": One of the reasons I started the podcast was to have people that had contributed before on the blog to be featured on the podcast. Very similar to what Jordan did with his book and followed the idea that "success leaves clues," we are working on too. Also, Jordan had an ambitious goal of being on 90 podcasts in 90 days and our podcast was a part of that.
Check out premium content in the CBNation Library at http://cbnation.co/library and pick up our eBook to hear some of the best lessons at http://cbnation.co/shop.
Previous Episode: https://iamceo.co/2019/09/02/iam385-startup-founder-and-a-1-best-selling-author-speaks-on-living-life-on-cloud-nine/
Transcription:

1617
Jordan Gross Teaser 0:00
In the meantime is create a coaching platform around it where I'm helping people uncover and really clear their own skies as to how they can navigate through the clouds and create certainty in their life's purpose, their sense of meaning and what makes them most fulfilled. In addition to that, I've been doing a lot of speaking, a lot of podcasting and ultimately just following my own Cloud9 Journey every single day, which is based on my interpretation of the person who I know I can become just living according to that.
Intro 0:32
Do you want to learn effective ways to build relationships, generate sales, and grow your business from successful entrepreneurs, startups and CEOs without listening to a long long long interview? If so you've come to the right place Gresham Harkless values your time and is ready to share with you precisely the information you're in search of. This is I am CEO podcast.
Gresham Harkless 0:59
Hello, hello, hello this is Gresh from the I am CEO podcast and I have a very special guest on the show today. I Jordan Gross of Journey to Cloud Nine. Jordan it's awesome to have you on the show.
Jordan Gross 1:10
Hey what's up Gresham. Thank you so much for having me on I've been super excited for this one as we connected first about a little over a year ago on one of your blogs. So this is nice to to finally get back in touch and add some value to maybe a new audience, maybe the same one but do it in a podcast form which is always fun.
Gresham Harkless 1:30
Yeah absolutely that's the beauty of all this technology. We had the opportunity to feature you on the blog which is always very much so appreciated and then get the opportunity to hear you over the Airways as well too which is impressive as well.
Jordan Gross 1:43
Yeah.
Gresham Harkless 1:43
To kick everything off I wanted to read a little bit more about Jordan so you can hear about all the awesome things that he's doing. Jordan is a Northwestern and Kellogg School of Management graduate, a two-time startup founder, a tedx speaker and a number one best-selling author. His upcoming book, The Journey to Cloud9 provides a new approach to the personal development world by using fictional storytelling to reveal some of life's most meaningful principles. Jordan has been asking hundreds of people around the world how they live their lives on cloud nine and he cannot wait to share this with you all. Jordan are you ready to speak to the I am CEO community?
Jordan Gross 2:19
I am more than ready. Let's do this.