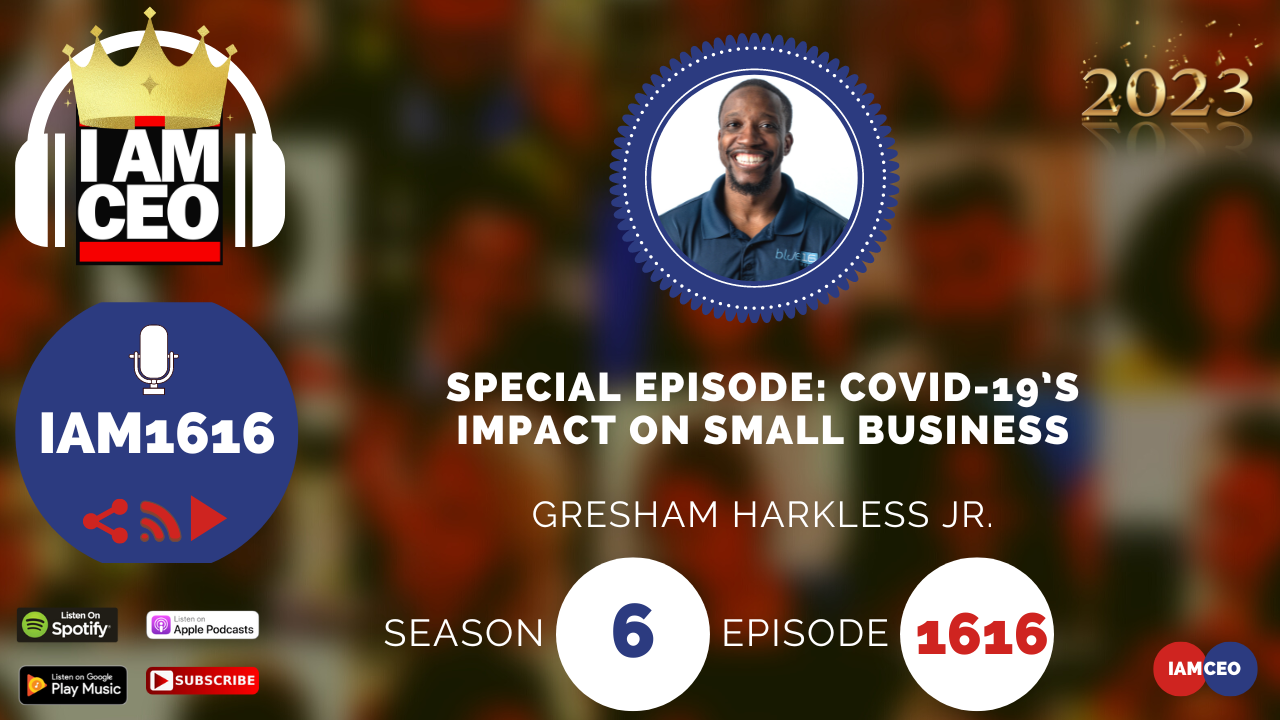 Why it was selected for "CBNation Architects": This was an unexpected episode but talks about the impact of COVID-19 on businesses and organizations and is still being felt to this day. There have been huge shifts and changes.
Check out premium content in the CBNation Library at http://cbnation.co/library and pick up our eBook to hear some of the best lessons at http://cbnation.co/shop.
Previous Episode: https://iamceo.co/2020/03/31/iam596-special-episode-covid-19s-impact-on-small-business/
Transcription:

Gresham Harkless Teaser 0:00
I always want to hopefully try to showcase during this podcast is, the really phenomenal stories of entrepreneurs and business owners doing really great things. But I think that as with business as in life there are so many kinds of ups and downs and things that happen, things that can be catastrophic that happen within our businesses and within our lives, there could be some really phenomenal glorious times as well too but I hope this podcast is a conduit by which you can hear from those different stories of these entrepreneurs and business owners.
Intro 0:32
Do you want to learn effective ways to build relationships, generate sales and grow your business from successful entrepreneurs, startups, and CEOs without listening to a long long long interview? If so you've come to the right place, Gresham Harkless values your time and is ready to share with you precisely the information you're in search of. This is the I am CEO podcast.
Gresham Harkless 1:02
Hello, hello, hello this is Gresh from the I am CEO podcast, and this is a little bit of a different episode. I usually try to do special episodes and you will hear a special episode come up in a few episodes but with that being said I had a little bit of a change, obviously to everybody who's probably listening to this, depending on when you're listening to this I'm actually recording this in the second or third week of March and when it'll go live or probably a little bit later right now in March. But I actually had a guest on my show who was in the travel industry and because of the COVID-19, a lot of things have changed for a lot of Industries and for a lot of businesses. But I think especially you'll find one of the businesses or Industries hardest hit has been the travel industry. So I actually had Rob on my podcast, a really great episode and he has a lot of trip hacks for DC. So anybody traveling to DC, especially with the chair of lots of time of the year and people coming getting the opportunity to hear from him from his expertise and all the people that you know work with him as well too ,just exactly what you would want to know about find, and see when you travel to DC, but because of the COVID virus there's been a lot of changes in business for most entrepreneurs and business owners and definitely for people in the travel industry. You find it again in the food and beverage and there's a lot of different Industries and there should be a roundup that's going live on CEO Blog Nation to hear from some business owners and entrepreneurs exactly how they've been affected by that but with that being said.