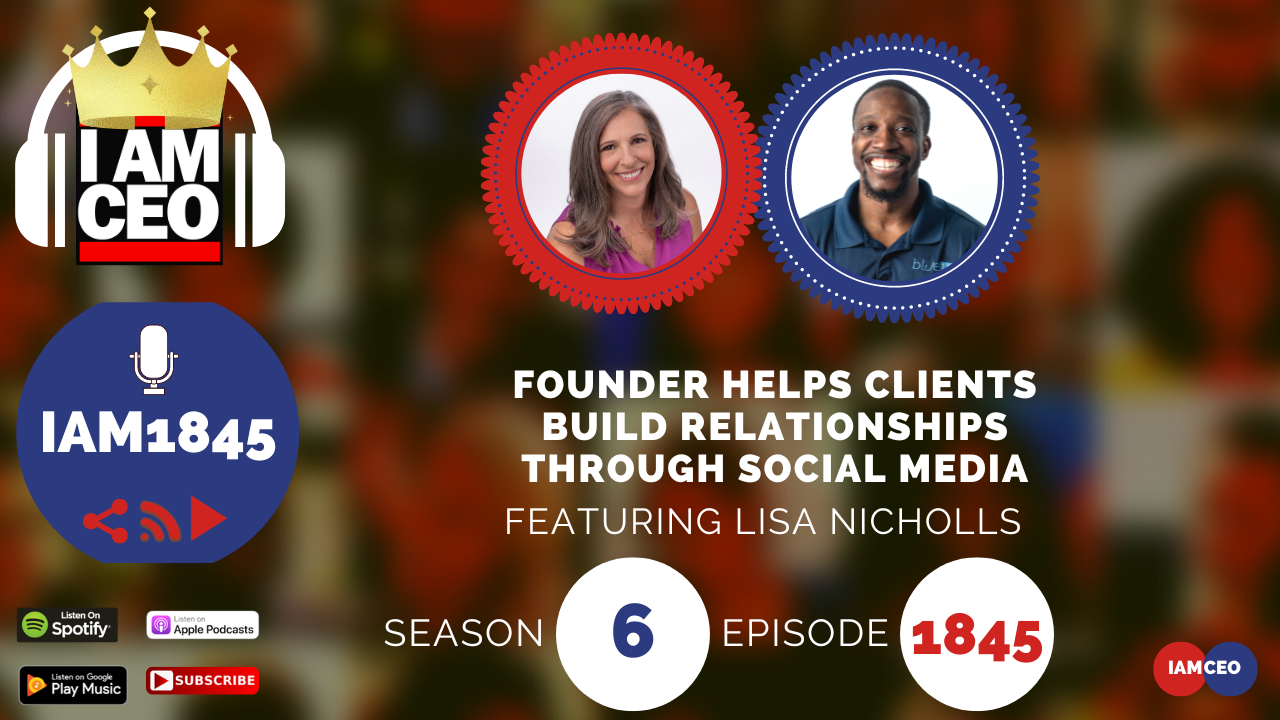 Why it was selected for "CBNation Architects":
This episode titled "IAM843- Founder Helps Clients Build Relationships Through Social Media" features Lisa Nicholls, the founder of Tira! Strategies. Lisa is a skilled networker and community builder who specializes in forming genuine connections with people both offline and online.
With her consultancy, she helps small business owners navigate the complex world of social media and leverage relationship-building and communication strategies to establish meaningful connections with customers.
In the podcast episode, Lisa shares insights, including the importance of finding support in both business and personal life.
She also defines being a CEO as having autonomy to make decisions and being the leader one wants to be.
Check out our CEO Hack Buzz Newsletter–our premium newsletter with hacks and nuggets to level up your organization. Sign up 
HERE
. 

I AM CEO Handbook Volume 3
 is HERE and it's FREE. Get your copy here: 
http://cbnation.co/iamceo3
. Get the 100+ things that you can learn from 1600 business podcasts we recorded. Hear Gresh's story, learn the 16 business pillars from the podcast, find out about CBNation Architects and why you might be one and so much more. Did we mention it was FREE? Download it today!
Transcription:
The full transcription is only available to CBNation Library Members. Sign up today!
Lisa Nicholls 00:00
We can't post about these other things that relate to your business and help them understand more about what you do. And I think I'm really good at that. I think I'm really good at building a community rather than just followers.
So we focus on engagement, but we focus on getting people invested into what you sell rather than just liking it. We create, for lack of a better word brand loyalists and evangelicals about your brand so that they really just are gung ho and 100% behind you.
Intro 00:26
Do you want to learn effective ways to build relationships, generate sales, and grow your business from successful entrepreneurs, startups, and CEOs without listening to a long, long, long interview?
If so, you've come to the right place. Gresham Harkless values your time and is ready to share with you precisely the information you are in search of.
This is the I AM CEO podcast.
Gresham Harkless 00:53
Hello, hello, hello. This is Gresh from the I AM CEO podcast and I appreciate you listening to this episode. If you've been listening this year, you know that we hit 1600 episodes at the beginning of this year. We're doing something a little bit different where we're repurposing our favorite episodes around certain categories, topics, or as I like to call them business pillars that we think are going to be extremely impactful for CEOs, entrepreneurs, and business owners, or what I like to call the CB nation architects who are looking to level up their organizations.
This month, we are focused on leadership, management and coaching. When we think of leadership, management and coaching, we often think of doing all of the things, but often it's the person that's able to build up their team, that's able to cultivate a creative and innovative culture so that people can excel and actually be their own leaders. So that's why this month we're focusing on those three big topics because they make a huge impact on the organizations that we're part of.
Now you'll hear some of those topics this month, of course some really great perspectives on how people are even defining leadership, which I think is extremely exciting. So sit back and enjoy this special episode of the I am CEO podcast.
Hello. Hello. Hello. This is Gresh from the I AM CEO podcast, and I have a very special guest on the show today. I have Lisa Nicholls of Tira Strategies. Lisa, it's awesome to have you on the show.
Lisa Nicholls 02:12
Hi, thank you. I'm excited to be here. Thank you so much for having me. And yeah, this is going to be fun.
Gresham Harkless 02:17
No problem. Super excited to have you on as well, too. Before we jumped in, I want to read a little bit more about Lisa. So you can hear about all the awesome things that she's doing.
Lisa is a consummate networker and community builder who intuitively understands how to form genuine connections with people in real life and online. After a career holding customer-focused positions across a variety of industries in 2009, Lisa founded Tira Strategies, a consultancy dedicated to helping small business owners navigate the complex and dynamic world of social media.
Lisa leverages her deep expertise in relationship building and communications to help her clients form meaningful relationships with customers online, building communities of loyal and devoted customers.
Lisa, are you ready to speak to the I AM CEO community?
Lisa Nicholls 02:59
I am so ready. Yes.