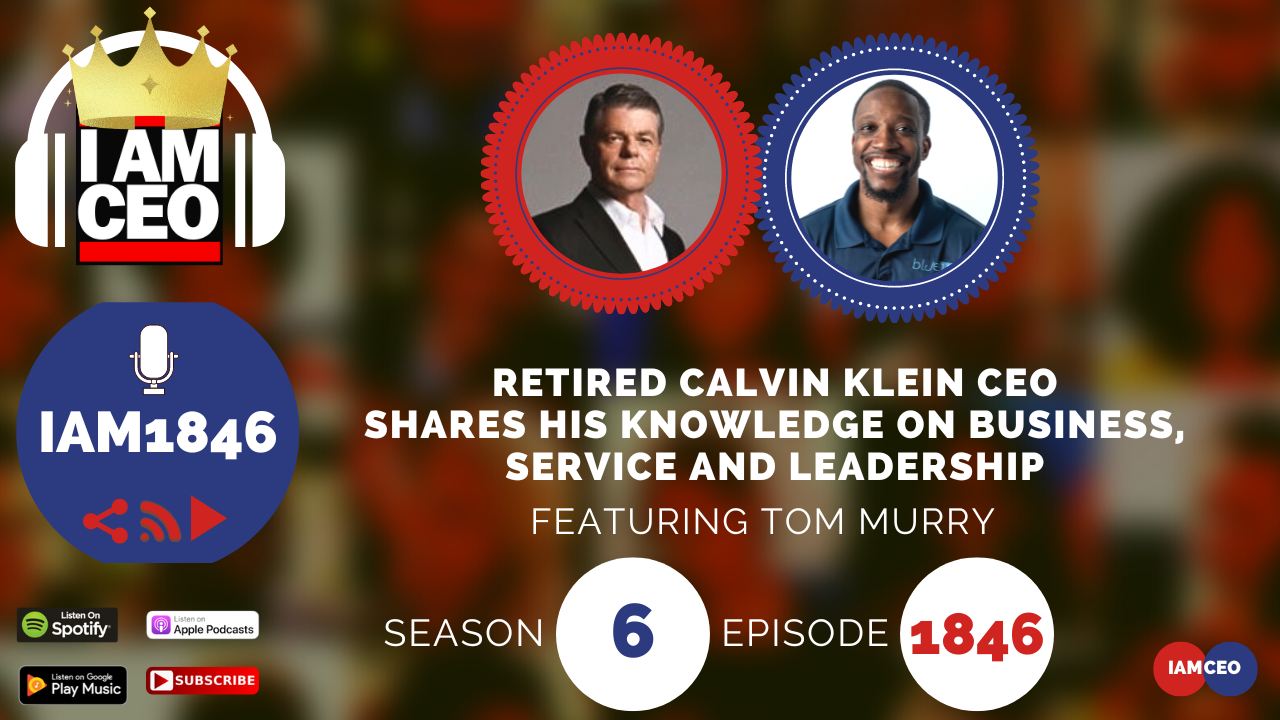 Why it was selected for "CBNation Architects":
This episode of the CEO Podcast features Tom Murry, the retired CEO of Calvin Klein. Throughout his 17-year term, he led the brand's growth from $2.8 billion to $8 billion. Prior to joining Calvin Klein, Tom Murry had an extensive career working with iconic fashion brands such as Tahari and Evan Piccone.
Murry shares his wisdom about business, leadership, and creating a career that serves others while being something to take pride in. He upholds a no-nonsense approach gained from working with the most recognized names in the fashion industry and business leaders.
During the episode, Murry talked about his CEO hack – his book that contains his knowledge and experiences. His CEO nugget emphasizes the importance of surrounding oneself with talented individuals and having clear goals and objectives.
When asked to define what being a CEO meant to him, he described it as a role that entailed a great deal of responsibility.
Check out our CEO Hack Buzz Newsletter–our premium newsletter with hacks and nuggets to level up your organization. Sign up 
HERE
. 

I AM CEO Handbook Volume 3
 is HERE and it's FREE. Get your copy here: 
http://cbnation.co/iamceo3
. Get the 100+ things that you can learn from 1600 business podcasts we recorded. Hear Gresh's story, learn the 16 business pillars from the podcast, find out about CBNation Architects and why you might be one and so much more. Did we mention it was FREE? Download it today!
Transcription:
The full transcription is only available to CBNation Library Members. Sign up today!
Tom Murry Teaser 00:00
Have a vision for what you want to become and have goals and never give up because it's not going to be easy. They're going to be difficult times as there always are in any career and surround yourself with positive, strong people that have a lot of talent.
Those are really the kinds of things that I use to accomplish my objectives.
Intro 00:21
Do you want to learn effective ways to build relationships, generate sales, and grow your business from successful entrepreneurs, startups, and CEOs without listening to a long, long, long interview?
If so, you've come to the right place. Gresham Harkless values your time and is ready to share with you precisely the information you're in search of.
This is the I AM CEO podcast.
Gresham Harkless 00:46
Hello. Hello. Hello. This is Gresh from the I AM CEO podcast and I appreciate you listening to this episode. If you've been listening this year, you know that we hit 1600 episodes at the beginning of this year. We're doing something a little bit different where we're repurposing our favorite episodes around certain categories, topics, or as I like to call them business pillars that we think are going to be extremely impactful for CEOs, entrepreneurs, and business owners, or what I like to call the CB nation architects who are looking to level up their organizations.
This month, we are focused on leadership, management, and coaching. When we think of leadership, management, and coaching, we often think of doing all of the things, but often it's the person that's able to build up their team, that's able to cultivate a creative and innovative culture so that people can excel and actually be their own leaders. So that's why this month we're focusing on those three big topics because they make a huge impact on the organizations that we're a part of.
Now you'll hear some of those topics this month and of course, some really great perspectives on how people are even defining leadership, which I think is extremely exciting. So sit back and enjoy this special episode of the I AM CEO podcast.
Hello. Hello. Hello. This is Gresh from the I AM CEO podcast and I have a very special guest on the show today. I have Tom Murry, who's the retired CEO of Calvin Klein. Tom, it is awesome to have you on the show.
Tom Murry 02:07
It's my pleasure. Thank you.
Gresham Harkless 02:08
No problem. What I want to do is just read a little bit more about Tom. So you hear about all the awesome things that he's been able to do.
Tom Murry is a retired CEO of Calvin Klein, where he ran the company for 17 years and facilitated the brand's growth from $2.8 billion to $8 billion. Prior to that, he spent the majority of his career working for iconic fashion brands, including Tahari and Evan Piccone.
He has worked with and learned from the most recognized names in fashion, as well as titans of the business world. With the same no-nonsense approach that he applies to fashion, Tom shares his knowledge about business, leadership and creating a career that one can be proud of and one that is of service to others.
He and his beloved junior high sweetheart, Linda Murry, recently celebrated 43 years of marriage. Congratulations. And they now reside in Palm Beach, Florida.
Tom, are you ready to speak to the I AM CEO community?
Tom Murry 03:00
Yes, I am.