I AM CEO PODCAST
PodCEO
IAM1601 – CEO Coaches Leaders to Create a Strategy with Purpose
Podcast Interview with Richard Medcalf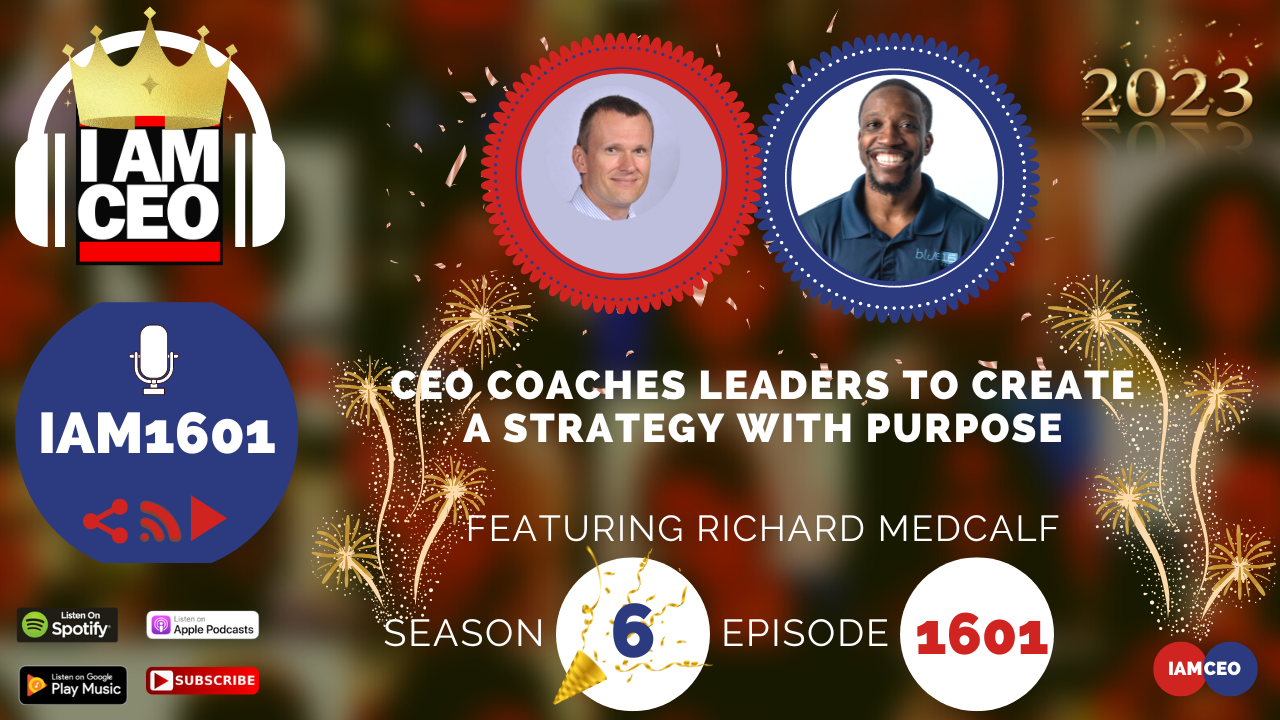 Why it was selected: There's great importance to being able to not just charge through things. After you reach a certain level in business it's important that you create space to strategize. In Richard's podcast, we talk a lot about this and how you can go farther by pausing and taking time, asking those legacy questions, and being aware of the intersection of strategy, leadership and purpose (e.g. What's your North Star?) and how to go to the next level.
Check out premium content in the CBNation Library at http://cbnation.co/library and pick up our eBook to hear some of the best lessons at http://cbnation.co/shop
Previous Episode:
https://iamceo.co/2022/02/28/iam1295-ceo-coaches-leaders-create-a-strategy-with-purpose/
Transcription:

Richard Medcalf Teaser 0:00
There are two ways to increase impact, you can go faster or you can change gear. But you can't change gear when your foot is on the accelerator. So you do have to slow down to speed up. It's a bit of a cliche, but when you try to go faster, you just hit the ceiling of complexity and you max out.
Intro 0:19
Do you want to learn effective ways to build relationships, generate sales and grow your business from successful entrepreneurs, startups and CEOs without listening to a long, long, long interview? If so, you've come to the right place. Gresham Harkless values your time and is ready to share with you precisely the information you're in search of. This is I am CEO podcast.
Gresham Harkless 0:46
Hello, this is Gresh from the I am CEO podcast. I have a very special guest on the show today. I have Richard Medcalf of X quadrant. Richard, it's great to have you on the show.
Richard Medcalf 0:55
Hi Gresham, looking forward to this. Thank you for having me.
Gresham Harkless 0:58
Yes, definitely excited about having you on as well, and about all the awesome things that you're doing. And before we jump into the interview, I want to read a little bit more about Richard to hear about some of those awesome things. Richard describes himself as what you would get if you were to put a McKinsey consultant and a slightly unorthodox pastor in an entrepreneur into a blender. He's an executive coach and leadership consultant for some of the top CEOs on the planet and their leadership teams. Richard is by national English and French, lives near Paris and is happily married and proud father of two.
Richard, super excited to have you on the show again and about the work that you do. Are you ready to speak to the I AM CEO community?
Richard Medcalf 1:34
Absolutely. Let's do this.