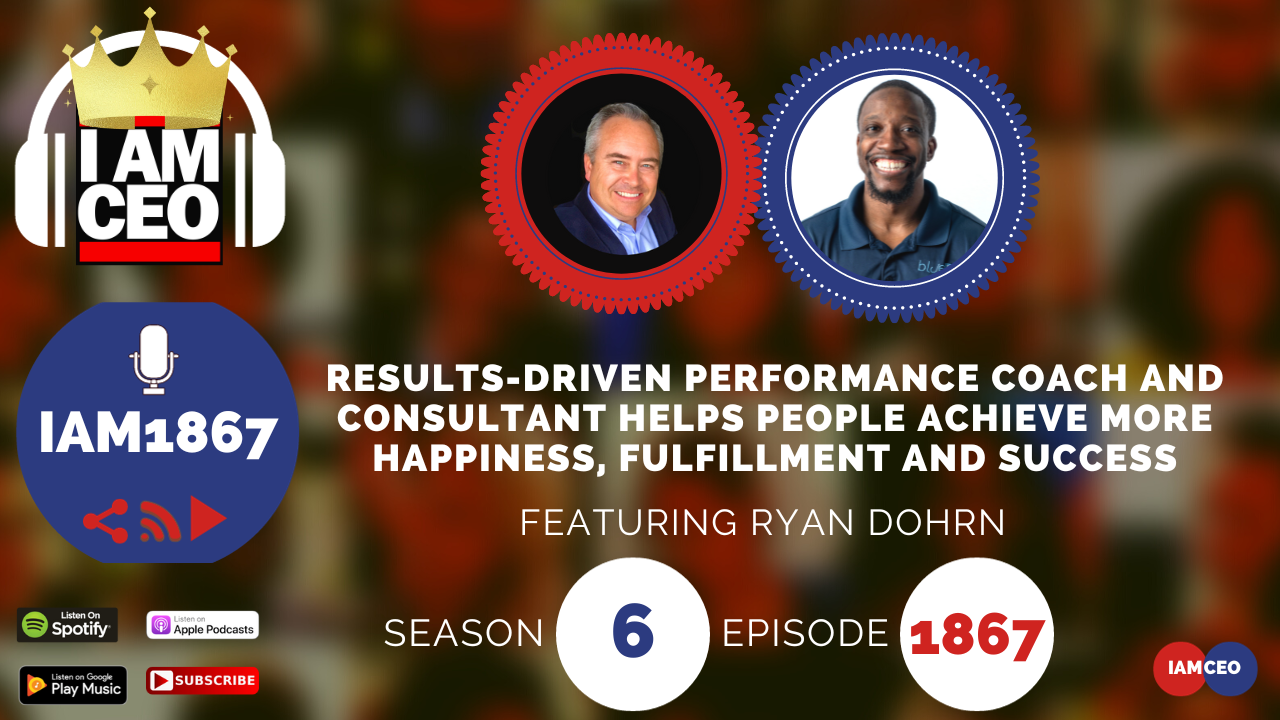 Why it was selected for "CBNation Architects"
:
In this episode of the IAMCEO Podcast, Ryan Dohrn, a 30-year global sales and marketing advisor to over 200 companies in 15 industries, shares his insights on helping sales marketers create repeatable patterns of success. With experience in the media and marketing business and a Psychology of Leadership Certification from Cornell, Ryan has trained over 30,000 salespeople and impacted more than half a billion dollars in sales.
CEO Story: Growing up on a farm and learning a strong work ethic, Ryan started his career in the media and marketing business. His entrepreneurial spirit was born out of necessity, with the help of his wife and partner. Ryan discovered his passion for supporting salespeople, marketers, and sales marketers to grow and retain customers.
Business Service: Ryan's coaching focuses on laying out a plan creating repeatable patterns of success and paying attention to details. He serves as a sales and marketing advisor for various businesses.
Secret Sauce: Actively selling and running businesses, Ryan provides the best advice by staying engaged with the sales process himself.
CEO Hack: Ryan suggests that proper timing, subject lines, and structure are essential when sending emails, ensuring the success of communications.
CEO Nugget: Ryan advises identifying random elements in business and deciding whether to accentuate or eliminate them. He emphasizes that goals with mini-goals are just dreams.
CEO Defined: In Ryan's perspective, a CEO's role is helping their team achieve things they only dreamed were possible, fostering growth and accomplishment.
Check out our CEO Hack Buzz Newsletter–our premium newsletter with hacks and nuggets to level up your organization. Sign up 
HERE
. 

I AM CEO Handbook Volume 3
 is HERE and it's FREE. Get your copy here: 
http://cbnation.co/iamceo3
. Get the 100+ things that you can learn from 1600 business podcasts we recorded. Hear Gresh's story, learn the 16 business pillars from the podcast, find out about CBNation Architects and why you might be one and so much more. Did we mention it was FREE? Download it today!
Ryan Dohrn Teaser 00:00
Because I believe the best advice, not all advice, but some of the best advice comes from people that are actively on the street selling right now. That's why as much as writing books is tough, it's hard, after 4 editors, I still find spelling errors. It makes you crazy.
But, it's important to be active and involved if you're going to give really good advice, in my opinion.
Intro 00:22
Do you want to learn effective ways to build relationships, generate sales, and grow your business from successful entrepreneurs, startups, and CEOs without listening to a long, long, long interview?
If so, you've come to the right place. Gresham Harkless values your time and is ready to share with you precisely the information you're in search of.
This is the IAMCEO podcast.
Gresham Harkless 00:49
Hello. Hello. Hello. This is Gresh from the IAMCEO podcast, and I appreciate you listening to this episode. If you've been listening this year, you know that we hit 1600 episodes at the beginning of this year. We're doing something a little bit different where we're repurposing our favorite episodes around certain categories, topics, or as I like to call them business pillars that we think are going to be extremely impactful for CEOs, entrepreneurs, and business owners, or what I like to call the CB nation architects who are looking to level up their organizations this month, we are focused on leadership management and coaching.
When we think of leadership, management, and coaching, we often think of doing all of the other things, but often it's a person that's able to build up their team, that's able to cultivate a creative and innovative culture, so that people can excel and actually be their own leaders. So that's why this month we're focusing on those 3 big topics, because they make a huge impact on the organizations that we're part of.
Now, you'll hear some of those topics this month, of course, some really great perspectives on how people are even defining leadership, which I think is extremely exciting. So sit back and enjoy this special episode of the IAMCEO podcast.
Hello, hello, hello. This is Gresh from the IAMCEO podcast. I have a very special guest on the show today. I have Ryan Dohrn of ryandohrn.com. Ryan, super excited to have you on the show.
Ryan Dohrn 02:07
Hey, thanks for having me. Love to fulfill my mission of helping people take their entrepreneurship dreams to places, the only dream possible.
Gresham Harkless 02:15
Nice. I absolutely love that mission. I know we were talking a little bit about how much you love entrepreneurship and some of the awesome things that you're doing. So, before we jump in and do that, I want to read a little bit more about Ryan so you can hear about some of those awesome things.
Ryan is a 30-year global sales and marketing advisor to over 200 companies in 15 industries. He holds a Psychology of Leadership Certification from Cornell and has trained over 30, 000 salespeople.
Ryan has been featured in USA Today, on CNN and on Forbes.com. He is a multiple best-selling book author, and Emmy winner, and his sales strategy ideas have impacted over half a billion dollars in sales. He's a proud military dad and has been married for 26 years. Ryan loves good coffee, 80s rock music and seeing others succeed.
Ryan, super excited to have you on the show. Are you ready to rock and roll in the IAMCEO community?
Ryan Dohrn 03:03
Yeah, absolutely. We got to send this recording to my mom. That's like the best read bio ever Gresh, so you're going to get props for that.
Gresham Harkless 03:10
Hey, it's easy. It's easier to read. It's probably a lot harder to do all the awesome things you're doing. So I definitely appreciate you for doing it and making it easy for me.
Ryan Dohrn 03:17
You bet.