I AM CEO PODCAST
IAM1450 – Coach Helps Executive Leaders Solve Business Challenges
Podcast Interview with Sara Sheehan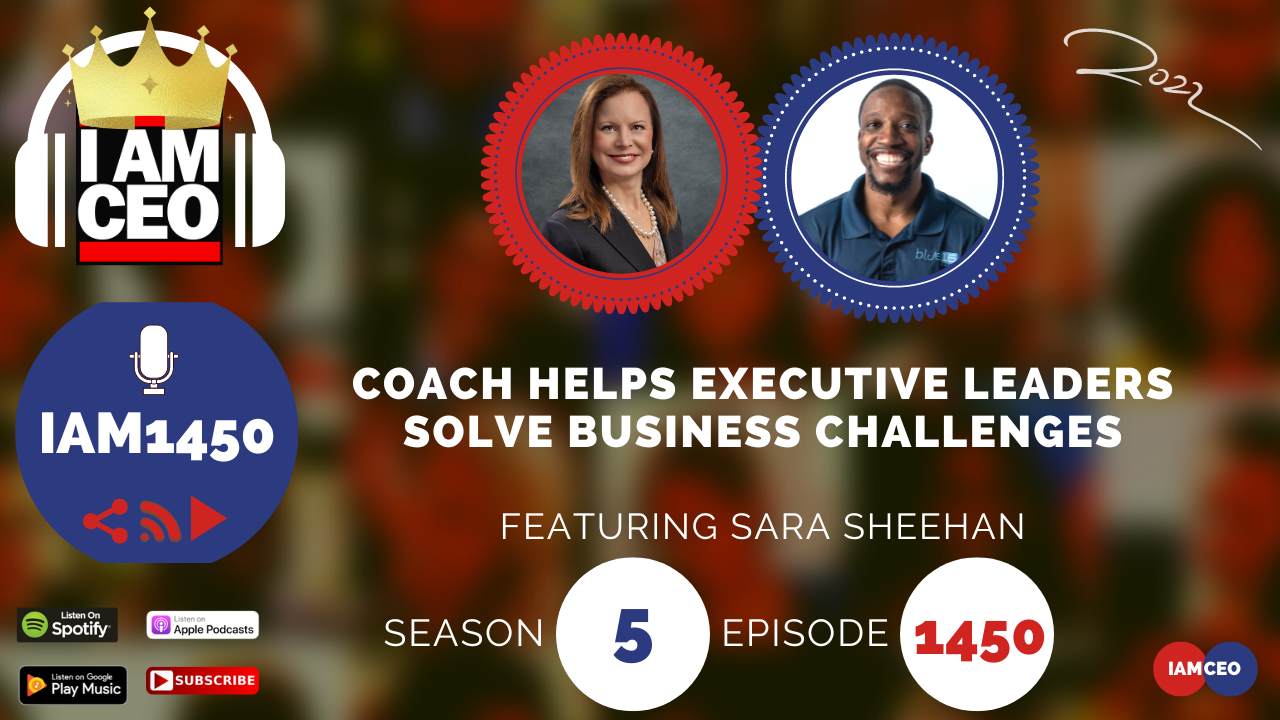 Sara Sheehan, PCC, is a consultant and Executive Coach who works with C-Level executive leaders in designing organizations, developing business strategies, managing change, optimizing talent and leadership development, and solving complex human performance problems. Through executive coaching, Sara helps leaders sprint their way up the corporate ladder and increase their performance.
During Sara's 25+ years in business, she has worked with leaders, teams, and organizations in Fortune 100 companies and individuals. Sara specializes in change management, talent and leadership development, executive coaching, and organization design. As a collaborative, results-orientated coach, Sara provides support and practical feedback to help clients effectively navigate change and address business challenges. She also integrates coaching techniques, methods, and approaches to help her clients develop change capabilities and learn to apply them right away. With a servant leadership mindset, she supports her clients in building new skills and customizes frameworks to her client's project needs. Sara works with clients based on her network, referrals, and appointment.
Sara has been featured both nationally and internationally on podcasts as an expert on topics of change management, talent and leadership development, executive coaching, and organization design.
CEO Story: Working for over 25 years with big consulting firms and fortune 100 clients. The pandemic has been a big pivot for Sara. Engaging more with her clients whether in consulting or in the executive coaching side of the business. Vaulting into the next opportunity, be it a higher level, bigger purpose, or making a bigger difference.
Business Service: Consulting, executive coaching, leadership development, organization design. Digital transformation, adopt and adapt.
Secret Sauce: Help companies to be more people-oriented. Behavior changes. Standing on the shoulders of giants.
CEO Hack: 3-7 priorities per day. App mention –

Monday.com

(planning and collaboration with the team) Clickup (collaborate and more organic), Mural (for brainstorm/engage your team for ideation)
CEO Nugget: Think outside of the box. Talk about business challenges and share new and emerging approaches.
CEO Defined: The power to choose who to work with. The opportunity to share your authentic self.
Linkedin: sara-sheehan , sara-sheehan-consulting
---
Check out one of our favorite CEO Hack's Audible. Get your free audiobook and check out more of our favorite CEO Hacks HERE