I AM CEO PODCAST
Life Style
IAM1403 – Speaker, Author and International Radio Host Helps People Elevate Their Lives
Special Throwback Episode - Podcast Interview with Sean Douglas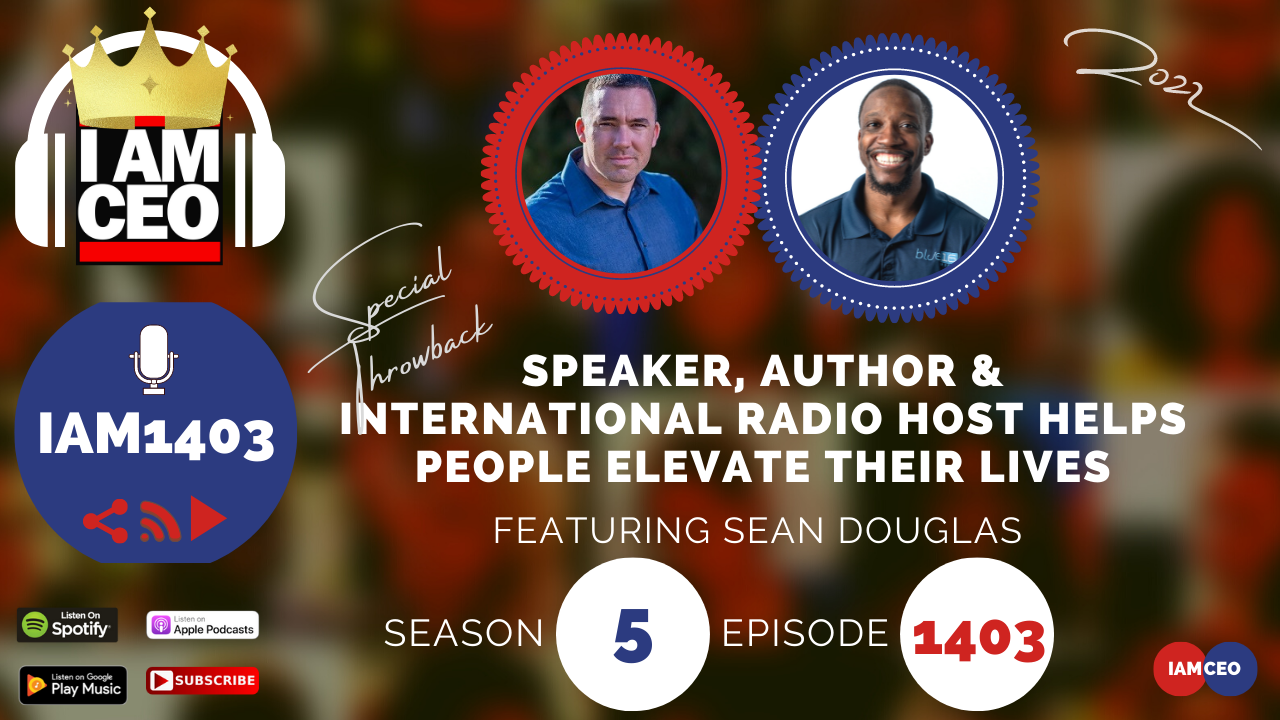 Sean Douglas is a U.S. Air Force Veteran, TEDx Speaker, Master Resilience Implementer, Suicide Awareness Trainer, Performance Enhancement Expert, International Radio Show Host, and Author. His WHY is he's a suicide survivor who hit rock bottom with no purpose or passion. He believes that you were created for a purpose, and once you unlock your true potential, you will elevate your life, which is why he founded The Success Corps. In a highly interactive and engaging environment, utilizing online mentoring sessions and face to face workshops, Sean provides a framework for success to Millennials up to 50-year-old Professionals, Military Veterans, Speakers, Entrepreneurs, and Business Owners that reduces anxiety, stress, and depression in your personal and professional life.
CEO Story: The difficulties that Sean experienced while still young, made him grow stronger and help more people through his company. His first business was in the entertainment company, DJing. Then found his purpose through mentoring other people in need.
Business Service: Tailored made program/coaching/speaker.
Secret Sauce: Specialize in event aftercare. Extra time with the people, connecting and building relationships.
CEO Hack: 

Play Bigger

 by Christopher Lockhead and create a problem only you can solve e.g. founder of Priceline and 

Indeed.com

. Google Alerts.
CEO Nugget: "Say yes and figure it out" and live a life of gratitude (count 3 blessings a day). Build your resourcefulness muscle.
CEO Defined: Putting it all on the line. Ask: (1) What are you willing to do more of? (2) What are you willing to do differently? (3) How are you connecting with the people you serve and those that serve you?
Website: https://www.thesuccesscorps.com
TEDx talk video: https://youtu.be/CKudfG39Vs4
Facebook Page: http://www.Facebook.com/SeanDouglasSpeaks
LinkedIn: http://www.LinkedIn.com/in/sean-douglas-a0890473
Amazon: http://www.Amazon.com/author/seandouglas
Book – https://amzn.to/2Dryb0q
Radio Show: www.BlogTalkRadio.com/LifeTransformationRadio
iTunes Link: https://itunes.apple.com/us/podcast/life-transformation-radio/id1210888786?mt=2
Episode Link: https://iamceo.co/2018/09/27/iam073-speaker-author-international-radio-host-helps-people-elevate-their-lives
---
Check out one of our favorite CEO Hack's Audible. Get your free audiobook and check out more of our favorite CEO Hacks HERE