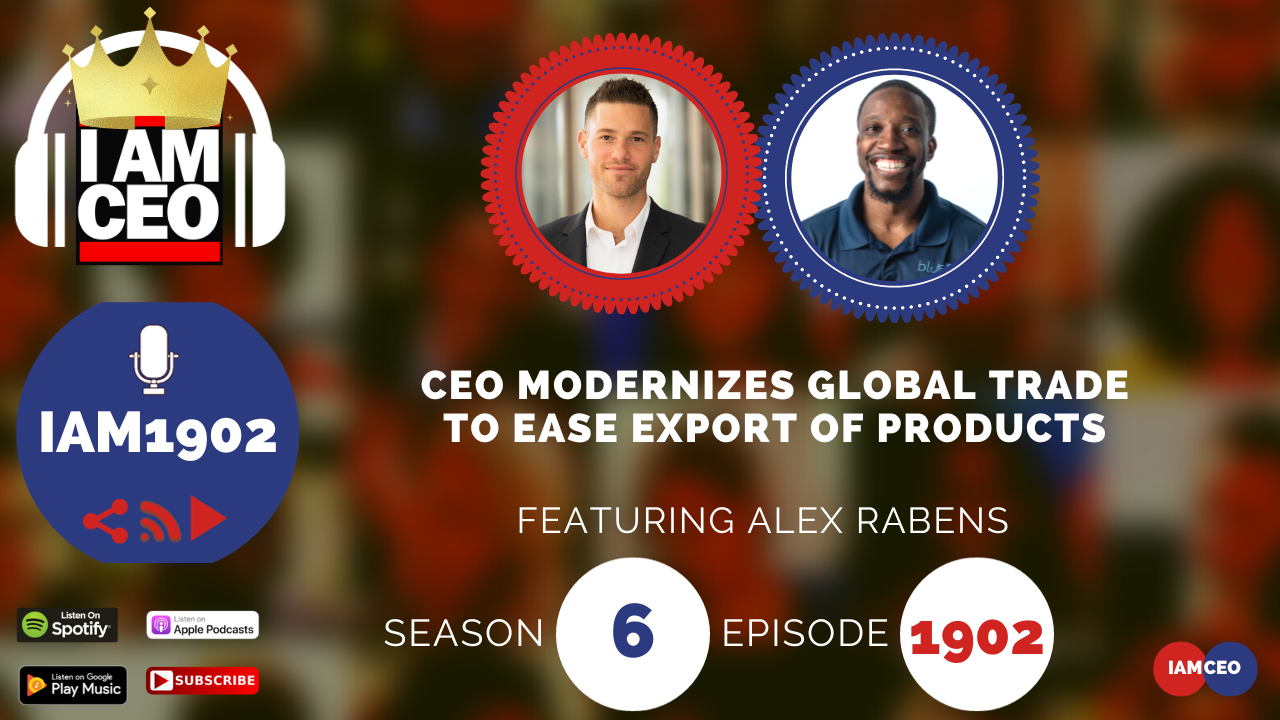 Why it was selected for "CBNation Architects":
In this episode of IAMCEO podcast, Alex Rabens, CEO and Co-Founder of Mickey, shares his journey of revolutionizing the global trade industry. Mickey is a commoditech company that simplifies the export of products for small and mid-sized suppliers. Alex and co-founder Jesse Solomon aim to modernize how raw materials and commodities are sourced and exported out of the United States.
Before founding Mickey, Alex served as Vice President at Endeavor, where he built media properties with companies like Lionsgate, Warner Brothers, and Paramount Pictures. He was also responsible for the development of Endeavor Content Live, the organization's live production arm founded in 2018.
Key insights from the podcast include:
CEO Story: Alex, a successful talent manager, was impressed by the international deals he encountered with the son of Alibaba. This inspired him to co-found Mickey, envisioning it as the next Alibaba in America.
Business Service: Mickey provides a platform for sellers to sell their commodity products online, bridging the gap between sellers and purchasers.
Secret Sauce: Initially started as an accelerator, Mickey has an intangible value, creating a class of companies.
CEO Hack: Alex advocates allotting dedicated time for conversations with the team and blocking time for tasks like emails and phone calls.
CEO Nugget: Alex emphasizes the importance of understanding the economics of the business you're disrupting.
CEO Defined: To Alex, being a CEO means making hard decisions quickly to ensure the company's survival, efficiency, and continued growth.
Check out our CEO Hack Buzz Newsletter–our premium newsletter with hacks and nuggets to level up your organization. Sign up 
HERE
. 

I AM CEO Handbook Volume 3
 is HERE and it's FREE. Get your copy here: 
http://cbnation.co/iamceo3
. Get the 100+ things that you can learn from 1600 business podcasts we recorded. Hear Gresh's story, learn the 16 business pillars from the podcast, find out about CBNation Architects and why you might be one and so much more. Did we mention it was FREE? Download it today!
Transcription:
The full transcription is only available to CBNation Library Members. Sign up today!
Alex Rabens Teaser 00:00
One of the biggest hacks that we've had is when I can actually just get on the phone and make sure that I'm rolling calls with our team, customers, with clients with buyers, with sellers that has been the most valuable part of probably every single week that I have.
Intro 00:18
Do you want to learn effective ways to build relationships, generate sales, and grow your business from successful entrepreneurs, startups, and CEOs without listening to a long, long, long Interview.
If so you've come to the right place. Gresham Harkness values your time and is ready to share with you precisely the information you're in search of.
This is the IAMCEO podcast.
Gresham Harkless 00:45
Hello. Hello. Hello. This is Gresham from the IAMCEO podcast, and I appreciate you listening to this episode. If you've been listening this year, you know that we hit 1600 episodes at the beginning of this year, and we're doing something a little bit different where we're repurposing our favorite episodes around certain categories, topics, or as I like to call them, the business pillars that we think are going to be extremely impactful for CEOs, entrepreneurs, business owners, and what I like to call the CB Nation architects who are looking to level up their organizations.
This month, we are focusing on operations. The systems will set you free. So think about systems, think about flow, sustainability, potentially working out in your morning routine, waking up early, e commerce, different business models, think of the operations in the models that basically set up the foundation to allow the creativity within organizations, but also to make sure the trains are running on time and things are going as they should.
Now, this is extremely important because we often can turn to the sexy parts of business and forget about the operations and how they're. So I really want to focus this month on this specific topic. Sit back and enjoy this special episode at the IAMCEO podcast.
Hello, hello, hello. This is Gresh from the I am CEO podcast. I have a very special guest on the show today. I have Alex Rabens of Mickey. Alex, it's great to have you on the show.
Alex Rabens 02:03
Thank you, Gresham. It's nice to be here. And I am a fan of the IAMCEO podcast so it's exciting to get a chance to talk to you.
Gresham Harkless 02:14
Yeah, absolutely. It's always exciting to get the opportunity to talk shop, so to speak. I love all the awesome things that you're doing in your shop, so to speak. I'm looking forward and super excited about diving a little bit deeper. But before we do that, I want to read a little bit more about Alex so you hear about all the awesome things that he's working on.
And Alex is CEO and co founder of Mickey, a commodity tech company focused on modernizing global trade by making it easier for small to midsize suppliers to export products globally. He, along with his co founder, Jesse Solomon, set out to launch a platform with the goal of wiping out the global trade crisis. Today, Mickey is modernizing the way raw materials and commodities are sourced and exported out of the United States. In his role, Alex is helping to grow the future of Mickey with fundraising, recruiting top talent in the industry and overseeing the operations of the company.
Prior to co-founding Mickey, Alex served as the vice president at Endeavor building media properties with companies such as Lionsgate, Warner Brothers and Paramount Pictures. In this role, Alex was responsible for the buildout of Endeavor Content Live, the organization's live production arm founded in 2018.
Alex received his bachelor's of arts in ethnomusicology from UCLA. I'll try to say that three times fast, but Alex, I'm sure you could do so much better. Are you ready to speak to the IAMCEO community?
Alex Rabens 03:29
No, that was great. That was a wonderful. Honestly, it made me want to invest in Mickey. Hope maybe you can go and do our VC pitches.