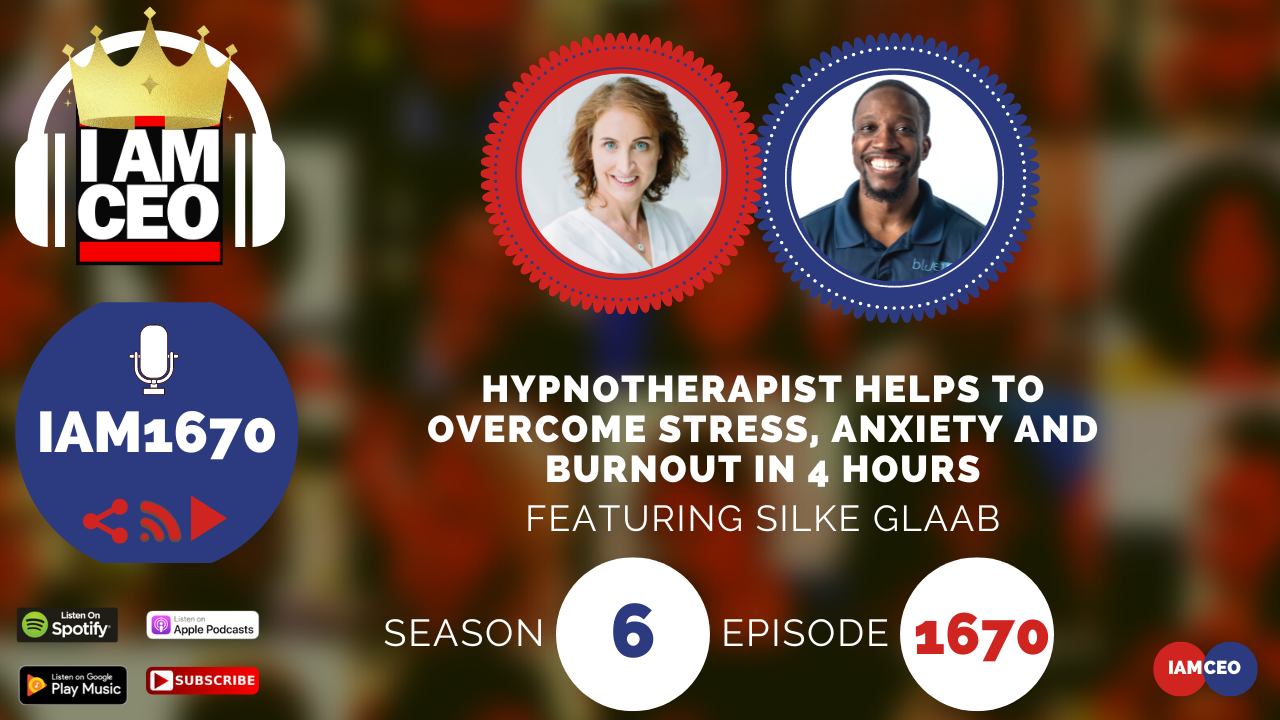 Transcription:

Silke Glaab Teaser 00:00
The method I'm using, as you already mentioned it in the first ally, is my systemic work. How we crack the code is through hypnotherapy and also rewriting will be with hypnotherapy. And then the last session is whatever the clients may need, it can be some affirmative recordings or whatever you to really settle down the program.
Intro 00:28
Do you want to learn effective ways to build relationships, generate sales, and grow your business? Successful entrepreneurs, startups, and CEOs without listening to a long, long, long interview?
If so, you've come to the right place. Gresham Harkless values your time and is ready to share with you precisely the information you're in search of. This is the I am CEO podcast.
Gresham Harkless 00:55
Hello. Hello, this is Gresh from the I am CEO podcast and I appreciate you listening to this episode. And if you've been listening this year, we're doing something a little bit different where we're repurposing our favorite episodes under certain categories or topics that we think are gonna be extremely impactful for CEOs, entrepreneurs, and business owners.
This month is going to be about not forgetting about the human part of business. Often we forget about the human part of life. We often forget about the human part of business. So look forward to self-care tips, fitness, burnout, purpose, biz and personal, personal branding, motivation, drive, success, understanding your why, and of course, how important customer service is. But at the heart of it, it's all about, remembering the human part of business. So sit back and enjoy this special episode of the I am CEO podcast.
Hello, hello, hello. This is Gresh from the I am CEO podcast and I have a very special guest on the show today. I have Silke of SilkCelia. Silke it's awesome to have you on the show.
Silke Glaab 01:52
Thank you very much, Gresham to invite me on your show. I'm very, very excited.
Gresham Harkless 01:56
I'm excited as well. And what I want to do is just read a little bit more about Silke so you can hear about all the awesome things that she's doing. Hypnotherapist helps to overcome stress, anxiety, and burnout in four hours. Silke helps leaders who go through life-challenging situations and life changes resulting in burnout, stress, and anxiety. She holds an M.A. Degree in Psychology from Ludwig Maximilian University in Munich, Germany. She is a certified Clinical Hypnotherapist, NLP Master Practitioner, Rapid Transformation Therapy (RTT) Practitioner, Theta healer, and is trained in the family constellation and applied neuroscience coaching.
She developed her own method over 15 years to lift the heavy fog of exhaustion, and helplessness, and reduce fatality, and negative thoughts into well-being and zest in four sessions. Silke, are you ready to speak to the I am CEO community?
Silke Glaab 02:50
Yes, very much, very much. I'm very excited.