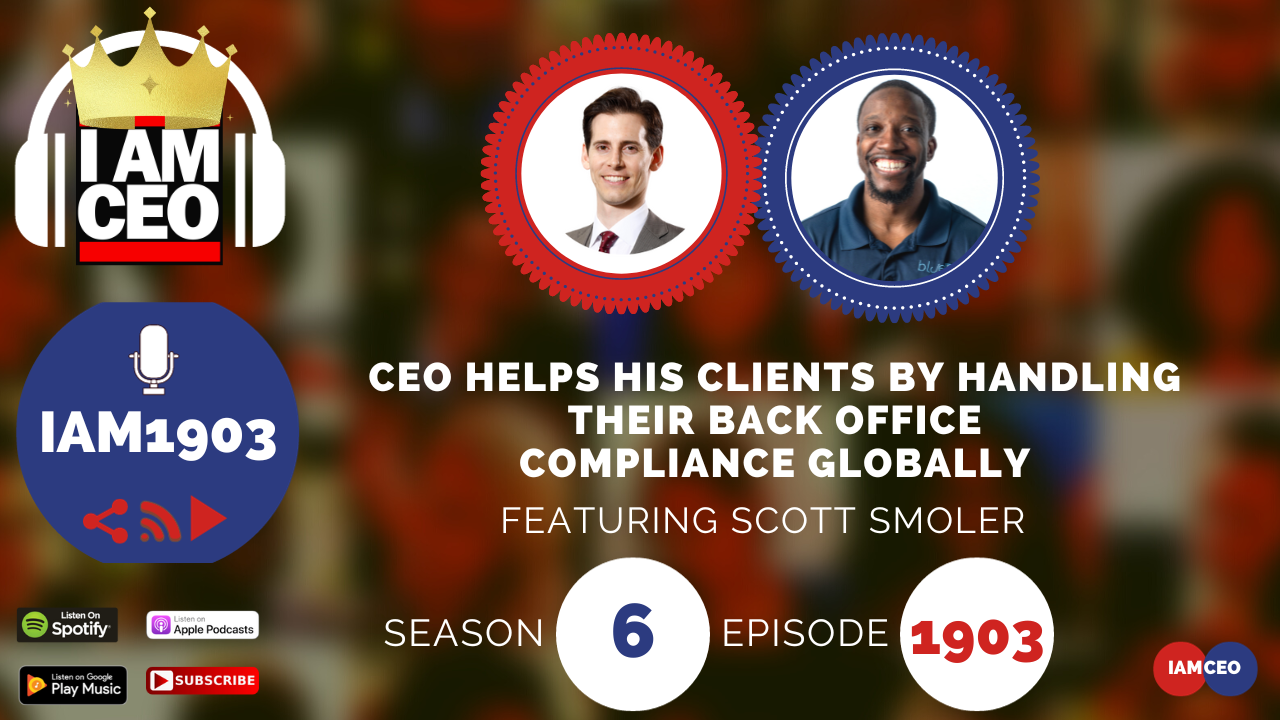 Why it was selected for "CBNation Architects":
In this episode of the IAMCEO podcast, Scott Smoler, CEO of weConnect, shares his journey of facilitating global business expansion. weConnect is one of the fastest-growing, privately-owned global expansion and operations companies. It streamlines global expansion for over a thousand multinationals by managing incorporation, accounting, tax, and HR services.
Scott held top-tier roles at Tricor before weConnect. After a decade in the payroll services and accounting industries, he aspired to transform and innovate these sectors. Driven by his passion for people, Scott understands that weConnect's growth pivots on client and employee satisfaction.
Some essential lessons from the podcast include:
CEO Story: Scott and his colleagues established their firm after confirming their vision for elevating their industry to another level.
Business Service: weConnect simplifies business expansion to any country worldwide by handling the back-office requirements, like accounting, taxes, and HR services, allowing clients to concentrate on their business operations.
Secret Sauce: The company follows a 'fresh start in one company' philosophy in which every new hire joins the mission to create the global solution, thus asserting a uniform solution from the start.
CEO Hack: Scott finds motivation from Elon Musk's interviews, advocating Musk's idea of 'first principles thinking'—dissecting problems to their core principles.
CEO Nugget: Scott underscores the importance of transparency during the hiring process, openly discussing the company's culture, vision, and role expectations.
CEO Defined: Being a CEO, to Scott, means setting a long-term vision that is inspiring and ensuring that the entire team is aligned and working towards the same direction.
Check out our CEO Hack Buzz Newsletter–our premium newsletter with hacks and nuggets to level up your organization. Sign up 
HERE
. 

I AM CEO Handbook Volume 3
 is HERE and it's FREE. Get your copy here: 
http://cbnation.co/iamceo3
. Get the 100+ things that you can learn from 1600 business podcasts we recorded. Hear Gresh's story, learn the 16 business pillars from the podcast, find out about CBNation Architects and why you might be one and so much more. Did we mention it was FREE? Download it today!
Transcription:
The full transcription is only available to CBNation Library Members. Sign up today!
Scott Smoler Teaser 00:00
We have what we call our six points of one, which is one team, one point of contact and one system, one platform, one process, one experience to just try and make that multi-country, especially multi-country solution is as seamless as possible.
Intro 00:16
Do you want to learn effective ways to build relationships, generate sales and grow your business from successful entrepreneurs, startups, and CEOs without listening to a long, long, long interview?
If so, you've come to the right place. Gresham Harkless values your time and is ready to share with you precisely the information you're in search of.
This is the IAMCEO podcast.
Gresham Harkless 00:44
Hello. Hello. Hello. This is Gresh from the IAMCEO podcast and I appreciate you listening to this episode. If you've been listening this year, you know that we hit 1600 episodes at the beginning of this year, and we're doing something a little bit different where we're repurposing our favorite episodes around certain categories, topics, or as I like to call them, the business pillars that we think are going to be extremely impactful for CEOs, entrepreneurs, business owners, and what I like to call the CB Nation architects who are looking to level up their organizations.
This month, we are focusing on operations. The systems will set you free. So think about systems, think about flow, sustainability, potentially working out in your morning routine, waking up early, e-commerce, and different business models. Think of the operations in the models that basically set up the foundation to allow the creativity within organizations, but also to make sure the trains are running on time and things are going as they should.
Now, this is extremely important because we often can turn to the sexy parts of business and forget about the operations and how important that is. So I really want to focus this month on this specific topic. So sit back and enjoy this special episode at the IAMCEO podcast.
Hello. Hello. Hello. This is Gresh from the IAMCEO podcast. I have a very special guest on the show today. I have Scott Smoler of weConnect.
Scott, it's great to have you on the show.
Scott Smoler 02:02
Thanks for having me.
Gresham Harkless 02:03
Yeah. Super excited to have you on. And before we jump into the interview, I want to read a little bit more about Scott so you can hear about all the awesome things that he's doing.
Scott is the CEO of weConnect the world's fastest growing privately owned global expansion and operations company. Scott has helped more than 1000 multinational companies expand globally with incorporation, accounting, tax, and HR services. Prior to weConnect, he held senior leadership positions at Tricor.
After 10 years of working in the accounting and payroll service industry, he set out to transform and innovate the industry. Scott has a passion for people and knows that the success of his business depends on happy clients and happy employees.
Scott, super excited to have you on again. Are you ready to speak to the IAMCEO community?
Scott Smoler 02:45
Yeah, I'm ready. Thanks. Great introduction.